Drafting architectural drawings by hand is still one of the traditions every aspiring architect must come to terms with when learning at school and the advantages of this are unquantifiable. Although this article will not be touching on the advantages of drawing by hand in the age of computer-aided design, it will still emphasize choosing an architect's desk, provide tips on choosing one and outline the top desk you should consider purchasing for your personal use.
The criteria for choosing a work desk are many for everyone is different and have their particular approaches to architectural design. Therefore, this article will focus on only the more important criteria that affect every aspect of an architect's work regardless of his or her personal working habits. Our chosen criteria are:
Versatility—drawing or drafting architectural plans is a continuous process which comes with many body movements, hand adjustments, and tool arrangement in order to secure a better drawing advantage.
Durability—most architects at one time or the other end up transferring a portion of their body weight onto their workspace. This makes it important for an architect desk to be durably built to support your work as well as last for the long haul of your architectural career.
WorkSpace—in architectural design, dimensions do matter both on and off your drawing sheet. Therefore the amount of space provided for drawing and tool storage plays an important role in determining the type of desk you should choose.
So here, we have the key criteria to be considered when choosing a desk for architectural work. These criteria serve as a precursor to the tips you have been promised, for choosing the perfect desk for your design work.
Tips for Choosing the Perfect Architect Desk
The tips to be included here will touch on everything relating to storing accessories, ensuring comfortability, posture concerns and ease of work. And today's tips are:
Select a work desk with compartments that allow you to store your drafting tools in easy to reach sections that wouldn't hamper your drafting speed.
Ensure the height of the chair and the desk you choose are compatible or simply go for an adjustable desk whose height can be tampered with.
Ensure the space under your desk is comfortable enough to fit your legs as well as enable you to cross your legs at the knee whenever you choose. This helps eliminate back pains that come from long working hours.
Choose an aesthetically pleasing desk that is quite attractive to your eyes. This is because a beautiful workspace can reduce the tediousness of continuous work and also increase your productivity.
Space is important. The more workspace available to you, the more comfortable you will feel thereby increasing the quality of work you produce.
These tips are simple tips that you can employ when buying a desk from your favorite store or online. For online purchases, simply go through the description section and see how prospective models fit into your criteria. Using these tips coupled with the above criteria, we have come up with a list of desk types that should actively fit your work style as an architect.
Top 5 Architect Desk You Should Consider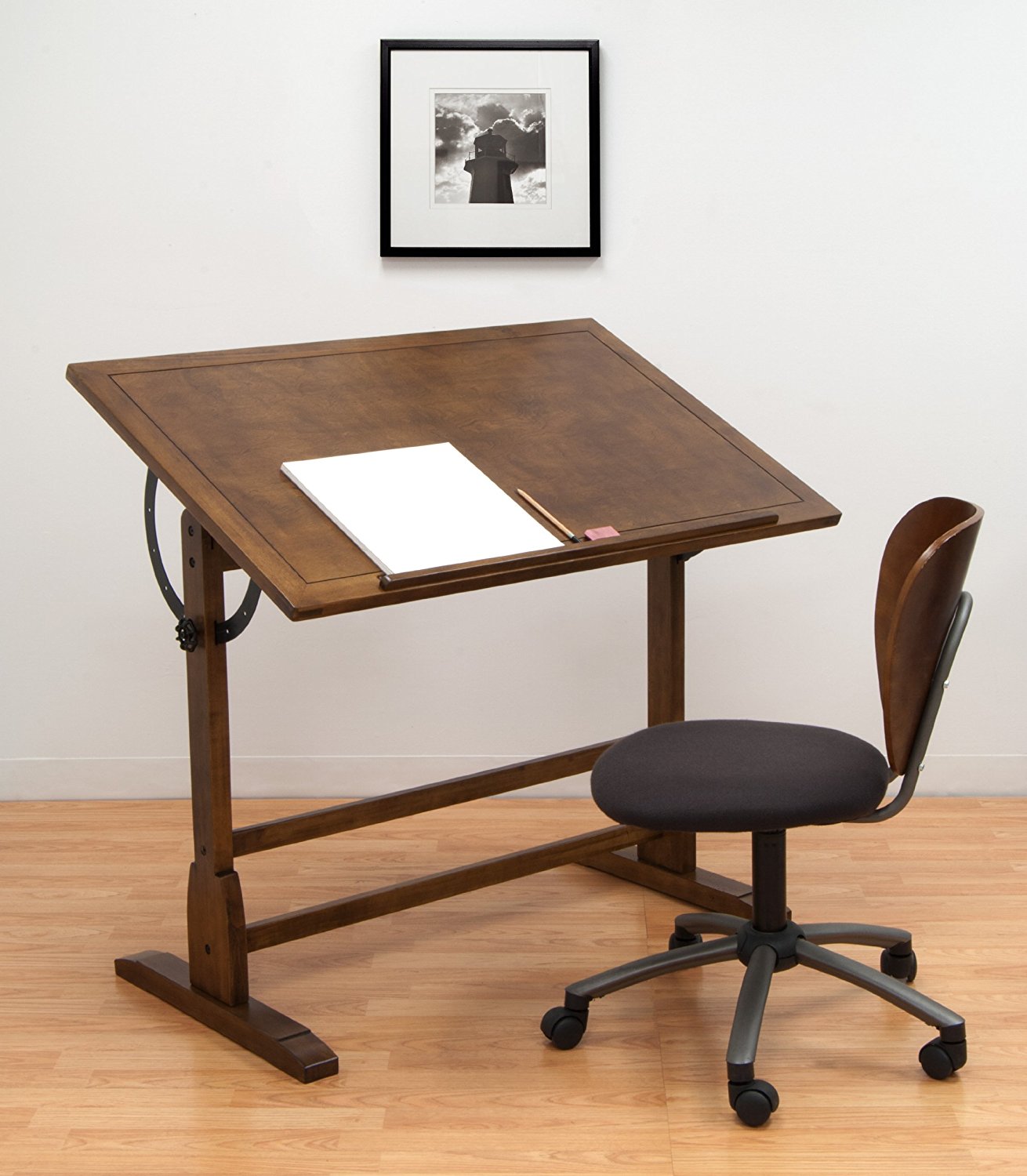 The Studio design is an architect's desk made for the sole purpose of providing an efficient working space for design work and it does its job rather well. The desk is vintage designed due to the use of Rustic Oak in building its entire structure and for those who know this material, it definitely brings durability and aesthetic beauty to the table.
In terms of design durability, the desk is held up by two rugged legs—support base—also built from Rustic Oak and its surface finish is smoothened out to ensure your work commences without no obstructions whatsoever. The Studio design is definitely a versatile desk for users who can adjust its drawing surface to a maximum of 90 degrees when pursuing a better view. Its antique design and finishing also include pencil grooves and a guarding edge for the storage of pencils and rulers during the work phase.
As stated earlier, the sturdiness of Rustic Oak, the smoothness of the table surface and the added pockets for managing accessories make the Studio design 13305 easy to use for architectural work. Lastly, its 42-inch width and 32-inch diameter workspace will provide you with all the space you need when drafting your work.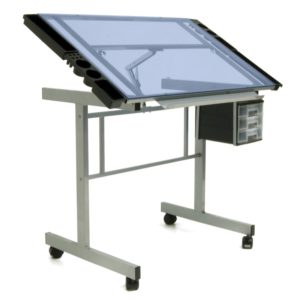 Personally, I believe the name for this desk 'Vision craft' comes from the use of transparent safety glass in designing the top surface. The desk also makes use of steel beams as its supporting features which are definitely a plus for stability. Now, talking about durability, we have a desk constructed from steel and its surface covered by blue safety glass which is resistant to cracks which make the vision craft one of the most durable desks an architect can buy.
The Vision Craft is also very versatile due to the features imbibed in it. Architects can take advantage of its adjustable surface which can be adjusted to 70 degrees. A look at the right end of the desk shows a desk compartment with multiple slide-in cupboards which are perfect for storing drawing accessories or tools.
All these features are topped up by the mobility tires added to its leg to enable you to move the Vision craft wherever you choose. This desk also offers a workspace consisting of a 35.5-inch width and a 24in diameter which is more than enough space for drafting extensive projects.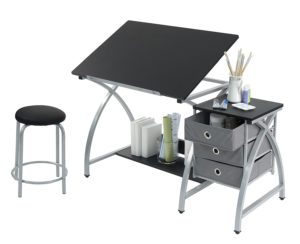 A steel desk is always a durable one for it is common knowledge that steel doesn't crack and the Comet Center is an epitome of this statement. This desk is aesthetically pleasing in many forms and it includes a stool that solves the desk/chair compatibility issue.
This desk is truly designed to last for the long run as the use of heavy gauge steel in designing its entire structure proves. The legs of this desk are tapered off with plastic stoppers which definitely makes it easy to move around and a storage shelf by its side and under the drawing, surface makes it a storage haven for architects. Therefore, as versatility goes, you can easily store items, adjust the drawing surface to 20 degrees and make use of the slide-up pencil ledge in a variety of ways.
Comet Center definitely simplifies the drafting process that defines architectural work. It does this by providing a smooth stable surface with a 36 inch by 23.75in workspace. Although this may be small compared to the latter options the ample storage space leaves it free from other interfering tools.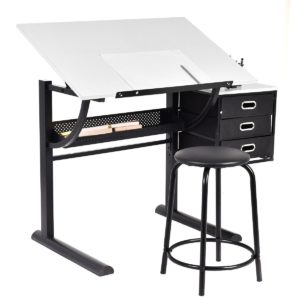 The Tangkula is an adjustable workstation that will provide you the durability and versatility needed to simplify the entire process of drafting architectural plans. The desk is constructed from powdered-coated steel and wooden structures throughout its ensemble.
The use of steel in designing drafting tables provide a really solid base which can support upper-body weight and the Tangkula definitely uses it for this very purpose. By its side is a three-section storage shelf that can be used for storing architectural tools and accessories. A support stool is also a part of the equation when you purchase the Tangkula package.
In terms of versatility, the Tangkula drafting table's surface can be adjusted to 70 degrees and has a hollow metal shelf under the drawing surface to store wet items. Although the drawing surface is of medium size, it is still more than enough to accommodate drawing papers of different sizes thereby making it a solid and effective table to use for architectural work.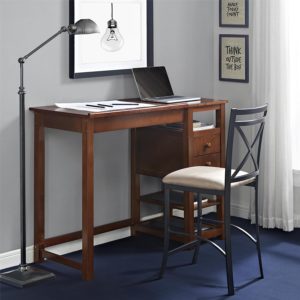 The Dorel drafting desk closely resembles a bedroom dressing tables but with an adjustable surface. The drafting table is made entirely of sturdy wood and an expresso finish was applied to its surface to give it that smoothness all tables rely upon for expressive work.
The desk is supported by sturdy legs and integrates the use of a versatile cupboard or shelf for saving drawing tools and accessories. Users can take advantage of its adjustable desktop when the need arises and a supporting extruded edge which keeps the paper on the table as well as other items that need to be prevented from sliding off. The Dorel living drafting desk also comes with ample leg space which allows you to cross your feet at the ankle while enhancing leg movement.
It is also a compact drafting desk that would work beautifully in cramped studio spaces or in college dormitories.
Here we come to the end of the important tips we believe should be considered when choosing a desk for architectural work. The average desk on this list goes for approximately $100 which makes them quite affordable due to the features integrated into each and every one of them.