The field of Robotics and Artificial Intelligence is here to stay. And for those who doubt this statement, a simple analysis of the great strides made by individuals and enterprises to take robotics mainstream in the last decade would definitely convince you. Now, every Tom, Dick and Harry, Kids or Adults can now participate in the robotics trend by simply purchasing a Kit and consulting its user manual or YouTube to design a sophisticated robot for his or her personal use. What can be more mainstream than this?
As for beginners as well as enthusiasts of the field of robotics, outlined below are multiple kits designed to help you either learn the basics of robotics and its sidekick—artificial intelligence—or allow you to take your passions to the next level through building your personal robot.
Robot kits for adults
Makeblock Ultimate Arduino Robot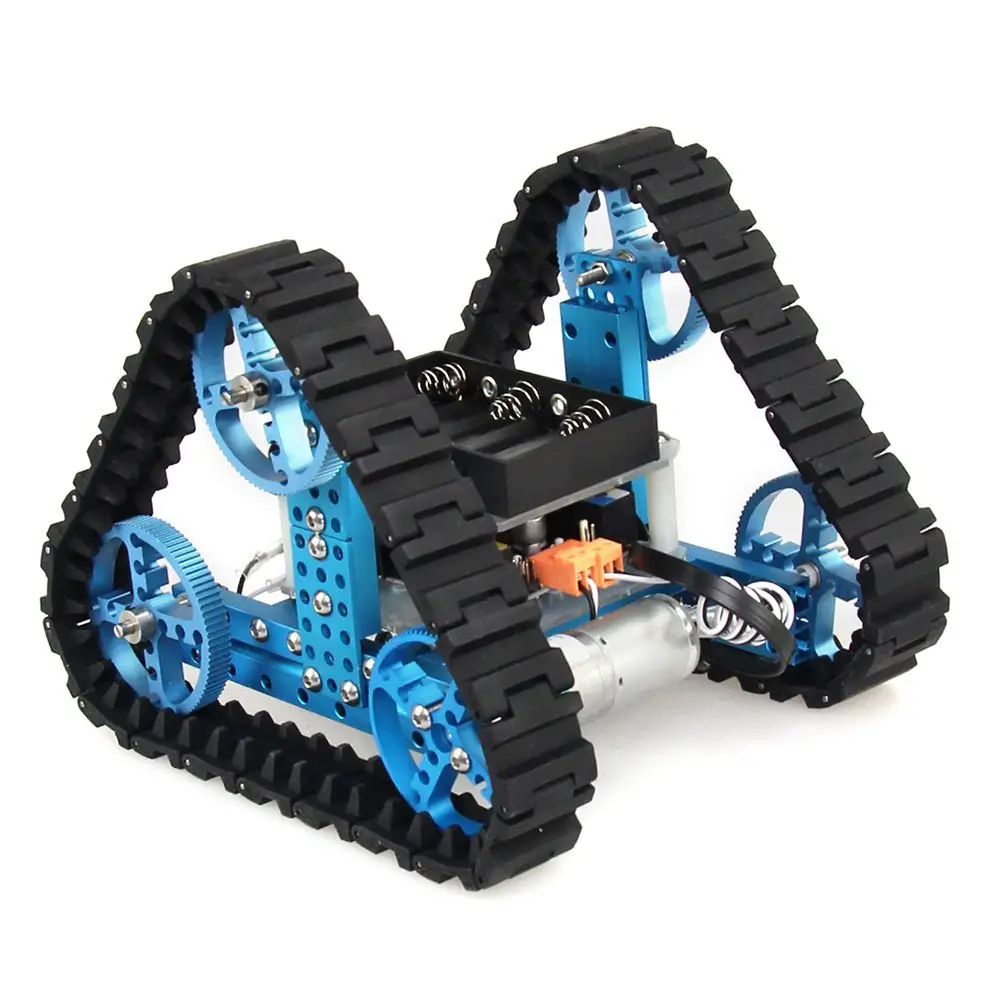 Introducing this kit without first discussing what Makeblock and Arduino bring to the table[1] in making it the versatile robotics starter pack it is. Makeblock is an open-source robotics platform that places its focus on building the mechanical and electronic components used in building a robot's hardware. And to get this hardware to function, Makeblock develops its codes and software ecosystem using the Arduino processing platform which makes this strategic partnership pop.
The Makeblock Ultimate Arduino Robot Kit Aluminum is a comprehensive robot kit designed to allow its users to experiment with building and programming robots[2] as a hobby. Its features include:
Multiple Building Forms: users can take advantage of the multiple building forms that can be developed using the tools—electronics, pincers, etc.—provided in the Ultimate's toolbox.
Wireless Control: one of the cool parts of robotics is its ability to integrate wireless control to the robots you design and Ultimate supports the use of wireless via its Makeblock application. The wireless network makes use of Bluetooth to connect your device—iPhone, iPad, Android device—via the app to your robot.
Makeblock Educational Starter Robot Build Kit Aluminum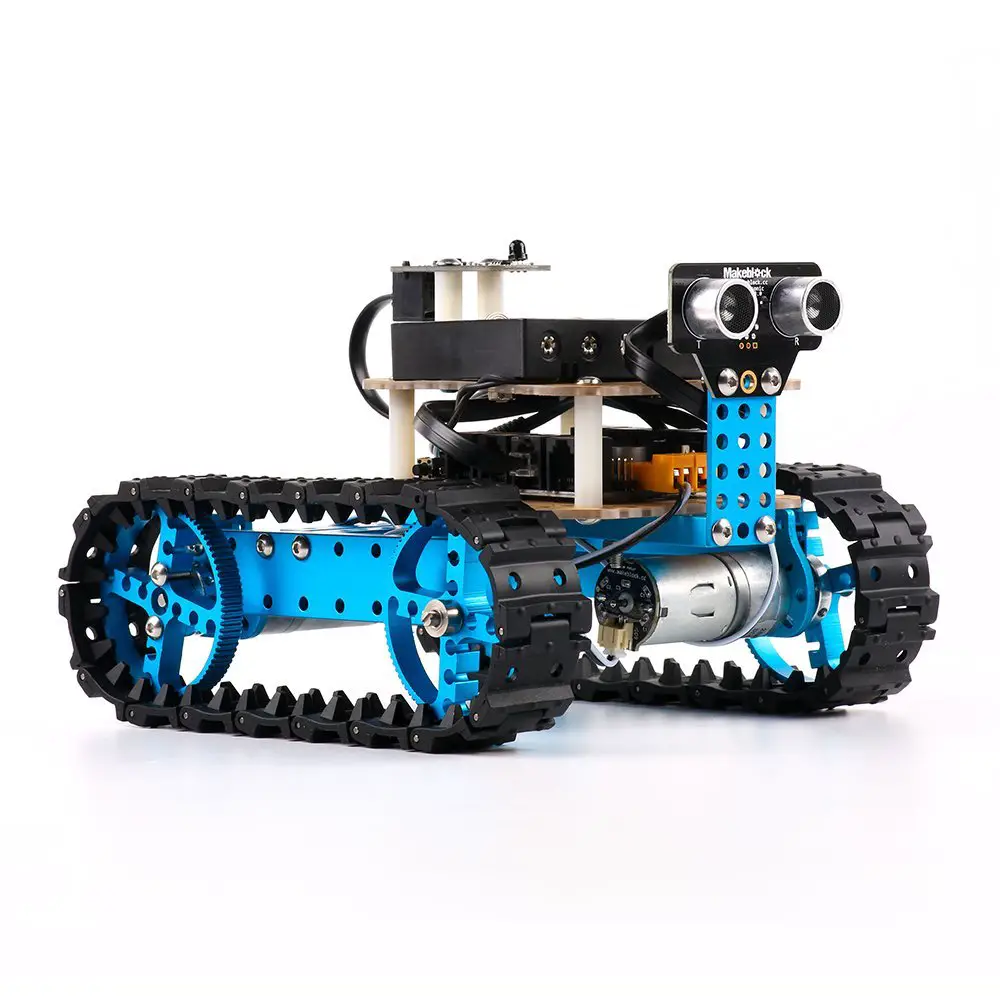 The 'starter robot kit' is another solid offering from the stables of Makeblock designed to introduce the field of robotics to students and individuals interested in the exciting field of robotics.
The kit comes well equipped with all the necessary electronic and mechanical components required to immediately get you started on building your own personal robot from scratch.
Its compatibility with LEGO components and Arduino programming is also a great incentive to experiment with building and programming. The features of the Starter Robot and its kit include:
Heavy-duty Mechanical Parts: the starter robot kit comes equipped with the necessary components needed to build a heavy-duty tank as well as a three-wheeler robotic car. The building components associated with them provide users the chance to learn about mechanical components as well as the technical details involved in putting them together to build the complete automobile.
Integrated Arduino Ecosystem: the starter robot kit works perfectly with Arduino microprocessors which power its electronic components adequately. The kit serves as an introduction to programing physical components using a microprocessor thereby making it a remarkable teaching tool.
Easy Wiring: the starter robot kit eliminates the need for complex wiring procedures and the use of soldering irons or any other wiring machines to install its wirings. The wiring procedure of the starter robot is simply done by connecting all its modules together in a quick and efficient way.
MiP Robot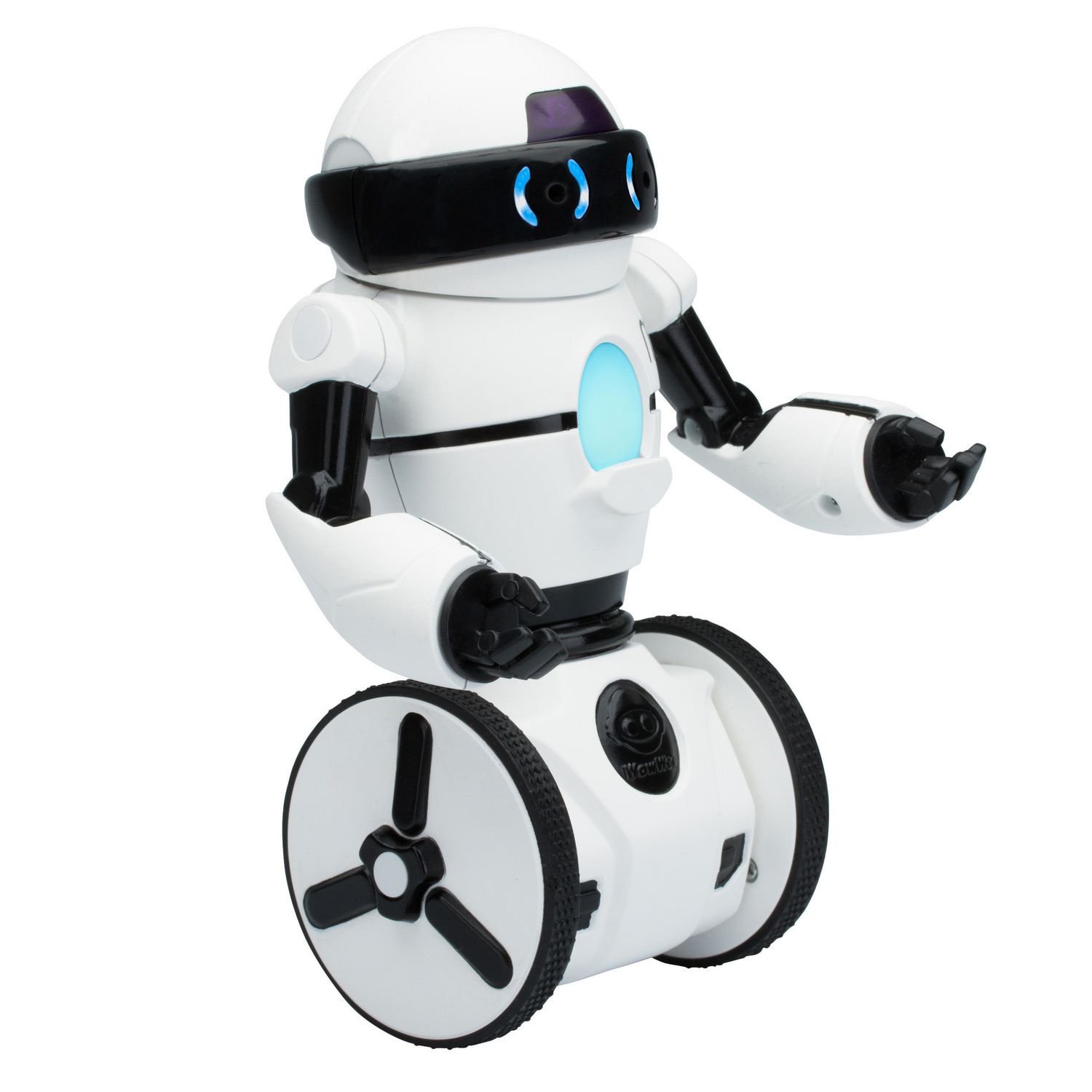 WowWe's latest offering to the world of robotics—the MiP Robot— is an innovative domestic robot built to provide everyone with a unique subject to better study and understand the feed of robotics.
The MiP should be viewed as not just a toy but as a technical helper designed to help you do certain chores as well as keep you and your kids entertained.
It also comes equipped with several game modes making it a stand-alone entertainment hub. Here are some of its features:
A Unique Build: the MiP robot is aesthetically built with a glossy finish designed to attract the eyes while its human-like features—an eye band, two working limbs and dual wheels serving as legs—provide it with the versatility needed to carry out preset tasks. And as 'The Force Awakens', the MiP can be viewed as your own personal R2-D2[3].
Usability Features: the MiP is a unique robot due to the fact that it responds to hand signals as well as has the ability to carry its own weight thereby earning the 'domestic helper' tag. Its ability to respond to hand signals coupled with its wireless controlled movement makes it a unique platform for gaming and navigation.
Meccano MeccaNoid G15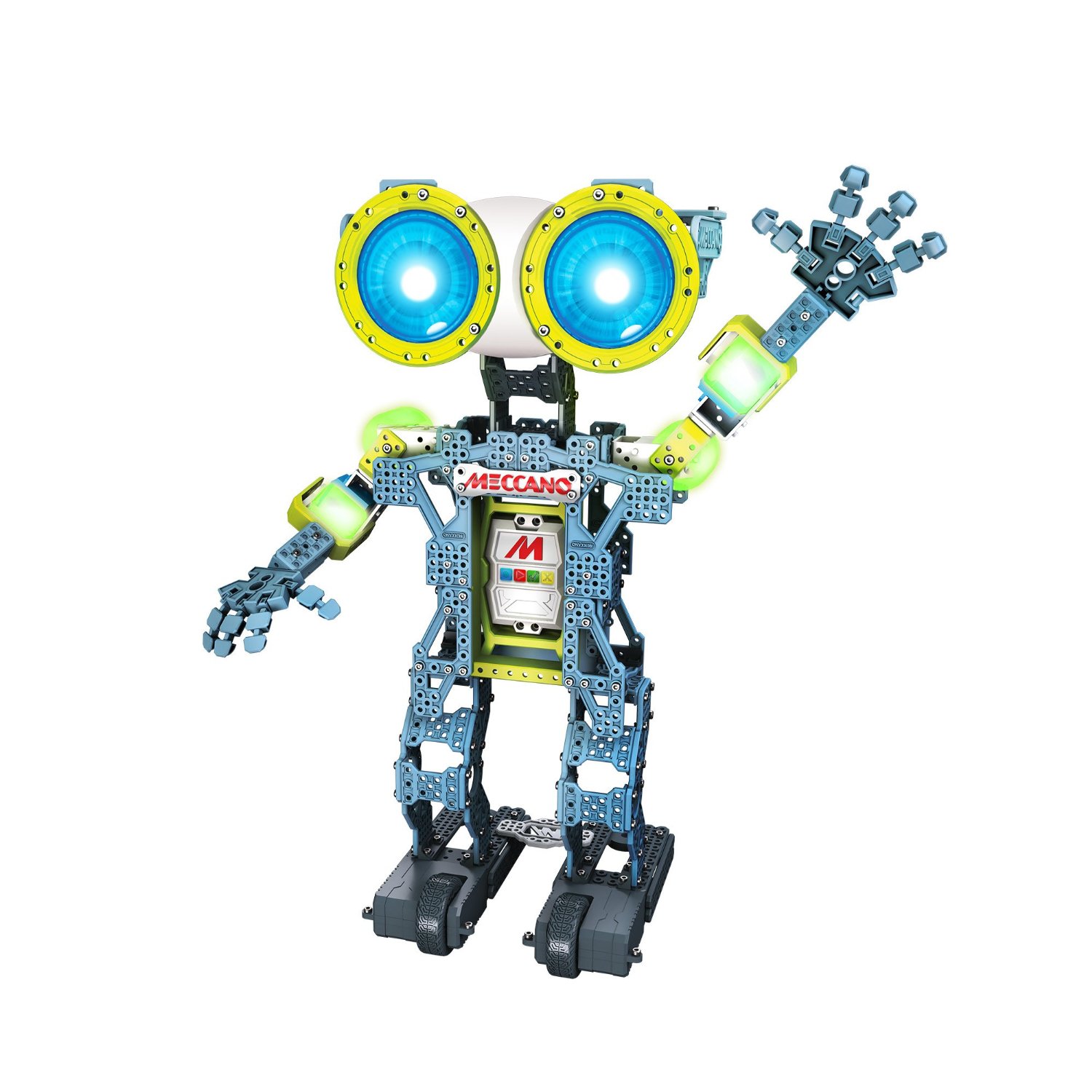 For those in search of a personal robot, the Meccano MeccaNoid G15 should be considered as one of the best options in today's robotics market.
The MeccaNoid comes as a robotic kit well equipped with different components designed to allow a user to build multiple objects including the traditional four-limbed humanoid robot Meccano is known for.
Its support for certain programming languages also makes it a suitable platform for learning robotics, artificial intelligence, and programming for both beginners and experts in any of these listed fields. The features of the MeccaNoid G15 includes:
Multiple Building Forms: the Meccano MeccaNoid G15 is equipped with diverse building components that allow its user to build different robotic forms such as the popular MeccaNoid, a dinosaur or a dog. Also note that the kit is equipped with the wiring, electronic and mechanical parts to design basically any shape.
Innovative Programming: it can be programmed using 3 alternative languages—Learned Intelligent Movement (LIM), Ragdoll Avatar and Motion Capture. MeccaNoid also comes pre-programmed with approximately 1000 words in its vocabulary, dancing, exercising and martial art abilities.
Wireless control: Bluetooth enabled smart devices to have the ability to control the MeccaNoid via Meccano's app which can be freely downloaded on any iOS and Android device.
OWI Robotic Arm Edge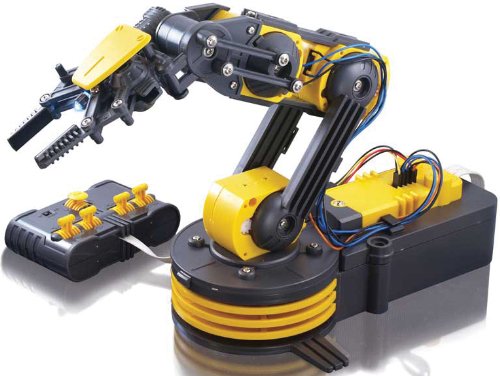 The OWI Robotic Arm Edge is an arm designed to introduce the average person t the world of robot technology via its simplistic assembling process and user interface.
As the name suggests, this item is simply an arm designed for the pickup and movement of objects according to the users' discretion. The features of the robotic arm include:
Simplistic Build and Aesthetics: the OWI Robotic Arm Edge kit comes equipped with the components necessary to build a robotic arm spotting 5 motors and 5 joints, each with their respective degrees of freedom.
Wired Controller and Built-in Searchlight: the OWI Robotic Arm Edge comes equipped with a 5S controller for moving the entire robotic arm as well as to control the actions of the gripper. The in-built searchlight, on the other hand, provides a measure of light when trying to operate the robotic arm in the dark.
Robotics has come to stay and the above-listed kits were chosen to provide both adults and kids with a first glimpse into the world of robotic technology. A majority of these kits can also be tweaked to accomplish more degrees of freedom, better shapes, designs, and functions. So do not hesitate to play around with them in other to achieve more.
[1] https://tutorial45.com/first-hand-on-the-arduino-uno-board/
[2] https://tutorial45.com/programmable-robot-toy-kids/
[3] http://starwars.wikia.com/wiki/R2-D2