Looking for a way to speed-up your programming skills? Yes, or no, it is vital. In today's world where robots and computers have taken over everything, there is no better way of improving your learning experience than introducing yourself to everyday growing technology.
They are more into robotics simply because it is the best way to go. Unlike the traditional non-operational dolls, Robot Kits forces the brain of a child to work. He or she has to figure out how to operate the robotic efficiently so as to maximize the fun. In short robot, the kit does not only enhance your programming skills but also help him or her improve skills in Mathematics, Physics and more. However, to make this happen, he or she needs a functional robot kit that will not disappoint. Don't look any further. Here are some of the top Robot Kits that are not only designed for fun but also suited for education.
Arduino robot building

kits
Crenova Robot Car Kit for Arduino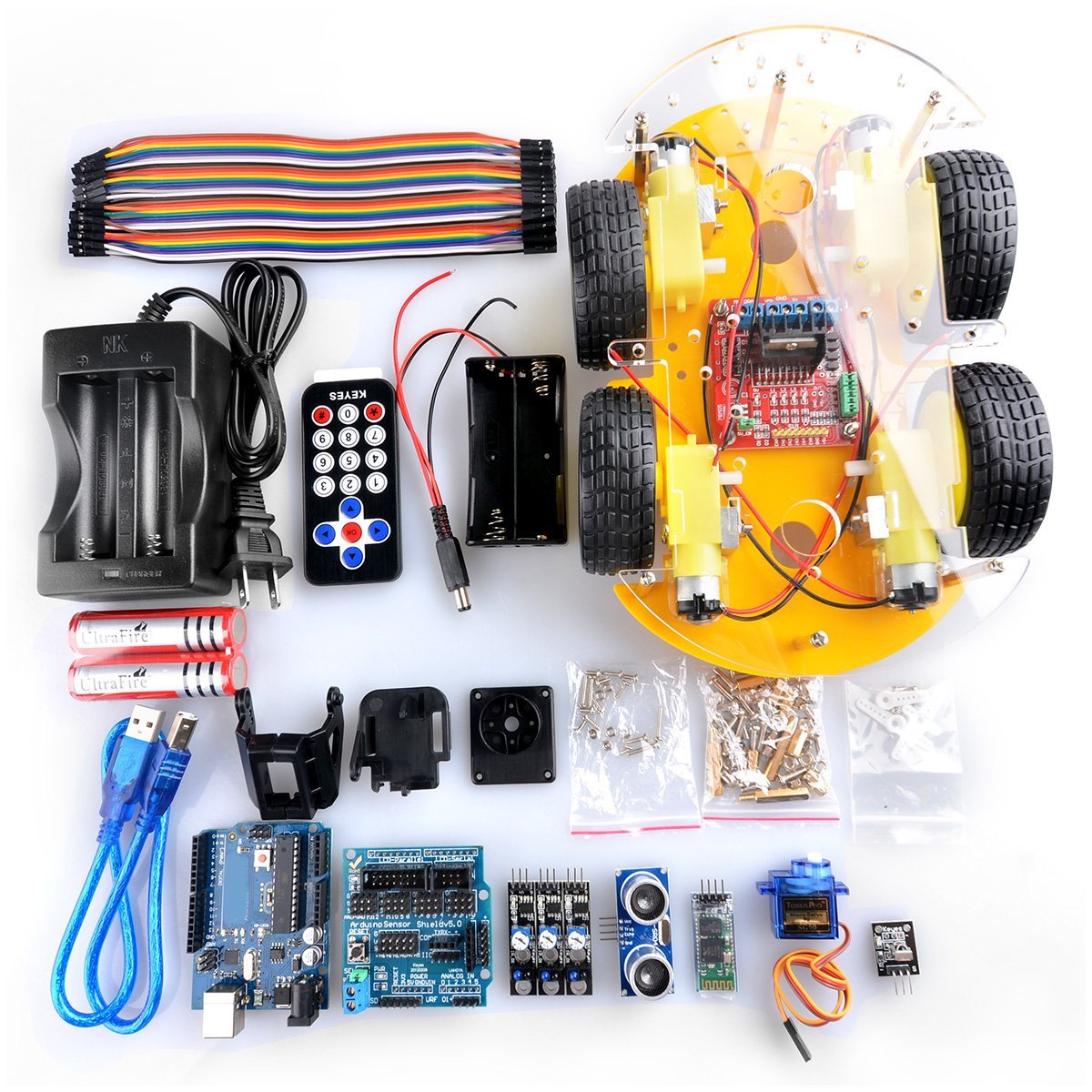 If you are looking for a robot kit with clear, simple instructions suited for learning, then Crenova Robot Car Kit for Arduino is your answer. It is easy to assemble, features a fun dynamic platform and the best part; it has almost everything you need to operate as well as figure out some useful programming techniques.
It is one of the best Bluetooth utility vehicles you will ever come across on the market. Carefully crafted for maximum fun, it features an external circuit module that is extended, more than enough fun procedures, obstruction avoidance sensor and more that enhances its functionality. Other features include 6-volt gear motor drive, Bluetooth communication module, Anti-drop control, 2.4 pounds weight and lastly, measures 10.2" x 6.1" x 4.6".
Makeblock Ultimate 2.0 Robot Kit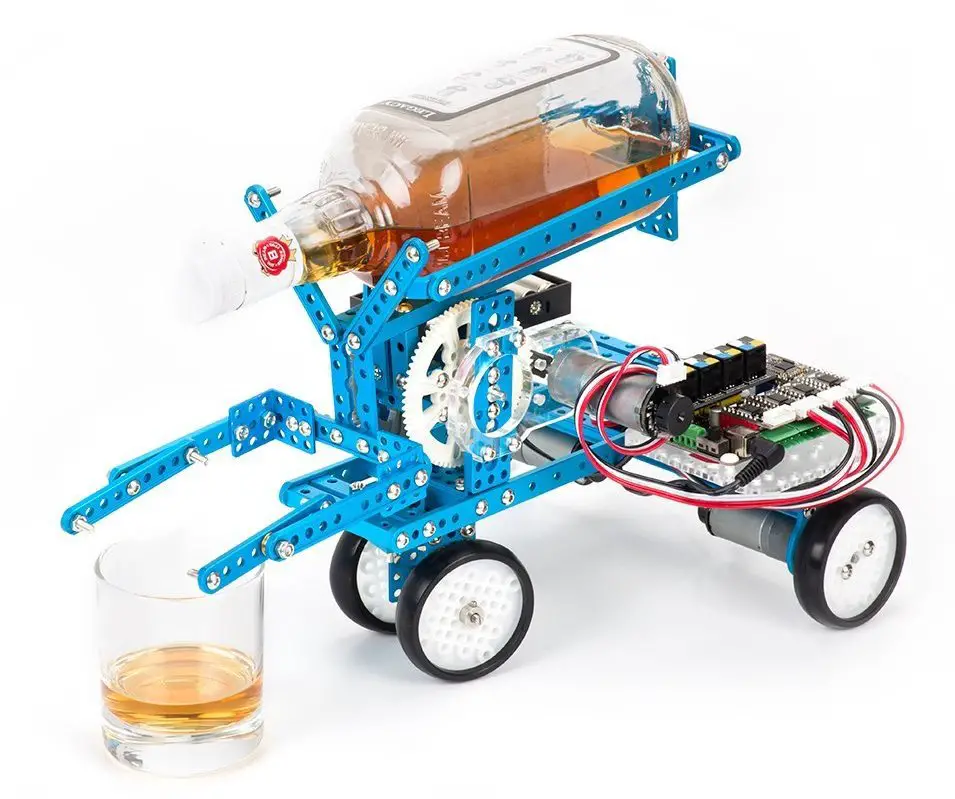 For real robot fanatics, Makeblock Ultimate robot comes as a gift. A combination of salient features and sturdy compatibility makes it easier for students to gain knowledge on programming, electronic modules, and mechanical structures. When used properly, this robot can hold an object, lift it up and take it to your desired destination.
With the help of a 360-swivel base and a mobile chassis, you can add a camera or a smartphone and set a path for it to follow. It is compatible with mBlock and Makeblock, meaning that you can easily program it using your PC or Tablet. Other useful specs include two encoder motors for self-balancing, MegaPI, a 3D capture and more. If you have some interest in robots, then it is the right time you give this one a try.
Kuman Sm5 Robot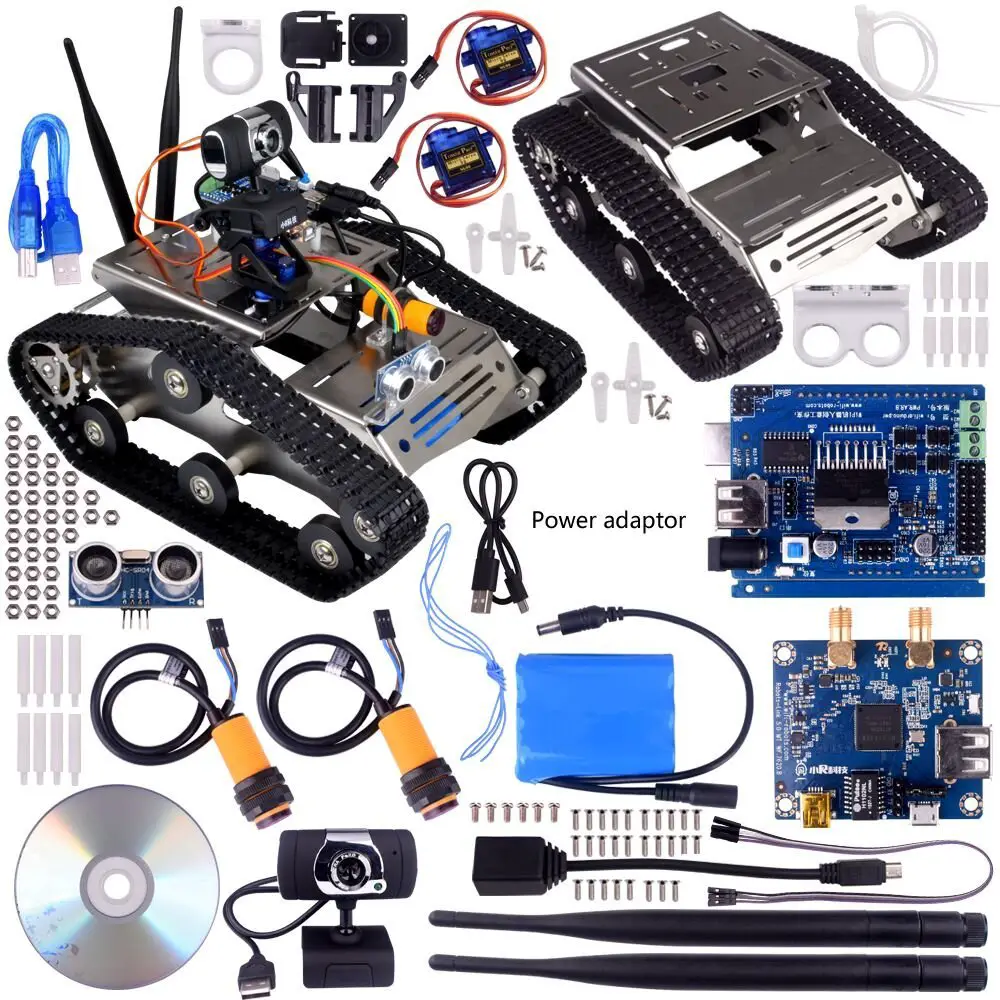 Kuman Sm5 Robot makes a perfect choice for assembling and programming a toy that can handle a good number of activities. It incorporates several electronic modules and mechanical parts that make it easier to explore the world of robotics. It comes with a built-in powerful 8A lithium battery that works best to maximize the playing time.
It is also compatible with Android, IOS, PC controller or any other smartphone making it one the most convenient robot kits on the market. Other features include Wi-Fi compatibility, Metal track Chassis, 9G Steering engine, Infrared Obstacle repellent, 720 pixels camera, 12-volt charger, Screwcap, USB cable, Nylon Column and more. Kuman Sm5 Robot combines both the fun and education in one happy playtime.
Arduino Robot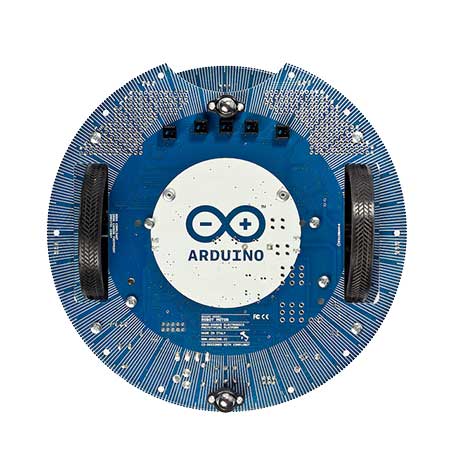 This one is the first Arduino Robot on wheels that have gained popularity for its astounding uniqueness. Designed for maximum performance, Arduino Robot comes with two processors each one placed on each of the two boards. For smooth operation, the manufacturers added a motor board that controls the motor's functionality and a control board that decides how the robot operates as well as reading the sensors.
The boards are fully programmable hence quite useful for anyone interested in programming. Unlike many other Arduino robots, it features two processes with a USB communication that project the robot to a computer as a COM port or as a CDC serial. With this robot, you can learn how it was made and also use its design to come up with your own version of it.
SunFounder Crawling programmable robot kits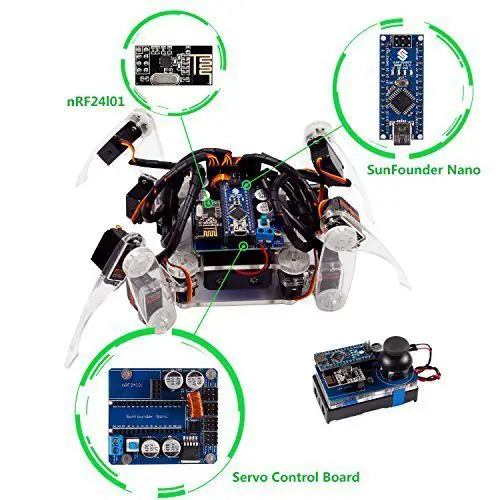 This one is one of the Arduino's best robot kits that has almost everything you need to create its quadruped robot. SubFounder package comes with two rechargeable 18650 lithium batteries, a mobile robot with four legs each having three joints that are driven by a servo.
For easy controls, the kit contains a remote controller that allows you to control your robot from a distance. Apart from the sample sketches provided by the manufacturers, you can also come up with your sketch vital for different movements. SubFounder isn't a playing tool like any other robot, but a learning platform designed to help students venture into the world of robotics.
Makeblock Starter for Arduino Learner
Makeblock Starter for Arduino Learner is a perfect choice for someone who is just being introduced to programming robotics, Arduino as well as electronics. It is compatible with iOS 7, Android 2.3 or the latest versions of the two. It weighs 3 pounds and measures 11" x 4.3" x 8.3". With Makeblock Starter, you can build a robot car with three wheels or even robot tanks just functions as the best ones of the market.
Build a Raspberry pi powered robot kits
Smart Video Car Kit for Raspberry Pi with Android App
We learn best when exposed to a useful user manual explaining every step clearly. That is what defines the Smart Video Car Kit for Raspberry Pi. This robot is one of the most efficient Android-compatible models you'll find on the market. It comes with a step-down DC to DC converter module that works best to reduce the voltage as well as the motor driver module.
It also features a webcam having a Wi-Fi adapter allowing you to view the videos in real-time using your smartphone or a computer. Using your PC, you can easily control the car's movement such as forward and backward movement as well as left and right movements.
PiStorms Starter Kit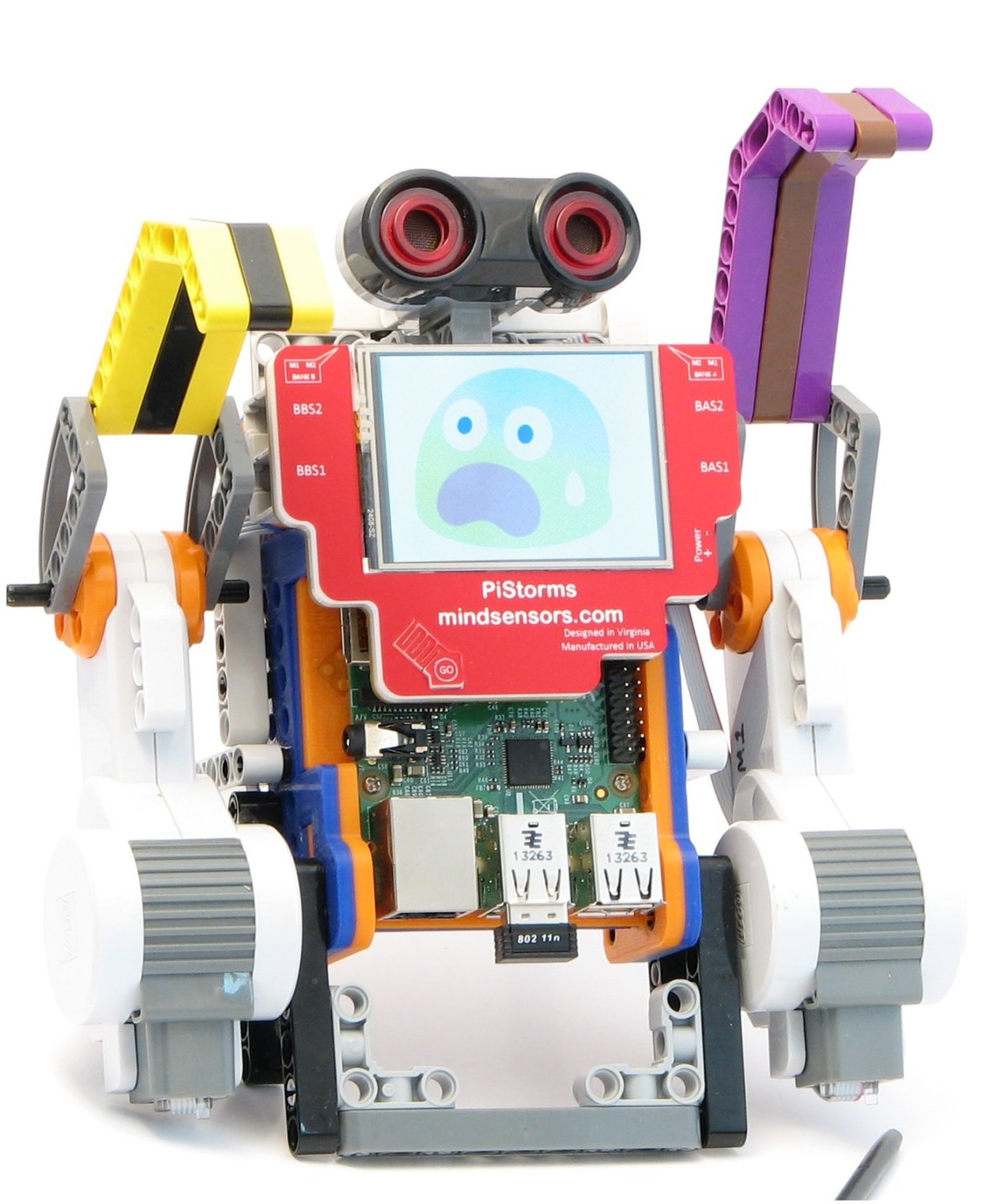 Humans learn best by interacting, and that is how PiStorms Starter Kit got into the market. Designed for maximum performance PitStorms Starter Kit features LEGO Mindstorm parts and a Raspberry Pi Brain making it easier for you or your kid to make a connection and interact with the robot.
It comes with a program that uses Python, it is compatible with LEGO and the best part incorporates an operating system that is ready to use. Other astounding specifications include a 6-AA battery holder, an SD card and a Wi-Fi adapter making it one of the robots that are easier to use on the market.
RazBot
RazBot is one of the most sophisticated and also one of the cheapest robot kits you'll come across. From salient features to smooth controls; it has almost everything a DIY student needs to stay engaged. It uses a Robot Operating system and a Raspberry Pi.
For easy controls, the manufacturers included four gear motors that make it simpler to drive the robot. You can either control it using a gamepad or using other soft wares. It also features lithium protection and a voltage regulator preventing the robot from damaging as a result of a short circuit or something related. It also comes with a neo-pixel LED that makes it easier for you to know what the robot thinks at a given time.
ROS programmable robot kits
Crazyflie 2.0 Nano Quadcopter Kit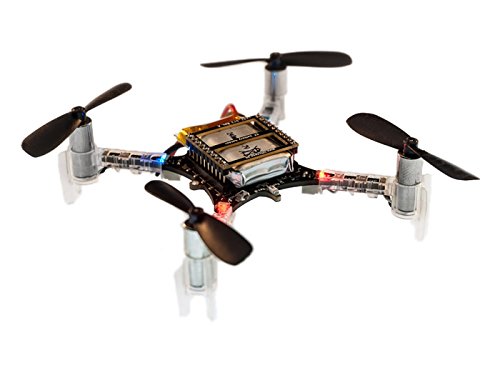 Crazyflie 2.0 Nano Quadcopter Kit is a perfect choice for beginners interested in copters. It is simple, easy to assemble, durable and the best part doesn't require soldering. It is compatible with Android, iOS, Windows, Linux as well as MacOSX.
The copter can be controlled from as far as a 1 km radio range making it one of the most enjoyable robotics for you. Other features include charging using a standard USB, Dual MCU architecture and more. Crazyflie 2.0 Nano Quadcopter Kit is not only for fun but also works best to keep students engaged in a learning environment.
Other programmable robot kits
Parallax ActivityBot Robot Kit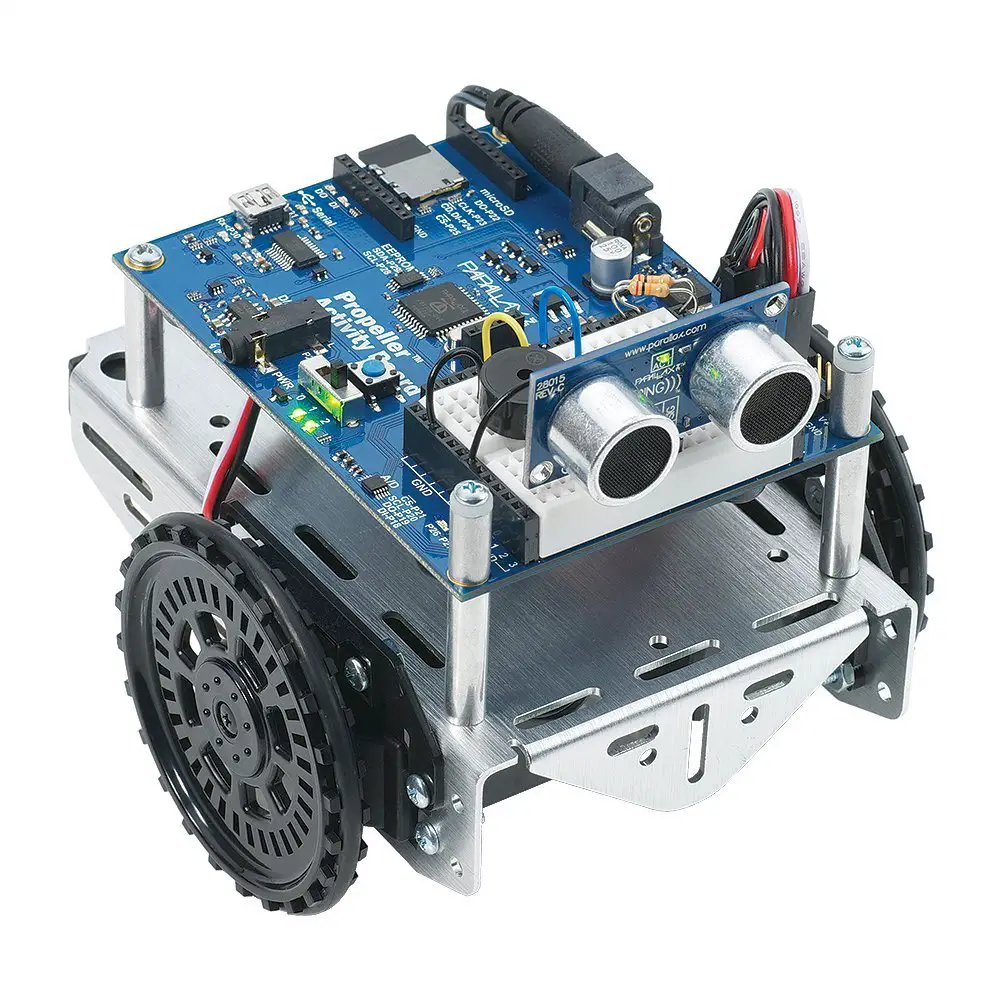 Parallax ActivityBot Robot is an activity Bot that is friendly, easy to control and the best part, open to new ideas. In fact, it is one of the greatest options for engineering courses in colleges as well as high schools. To make your work much easier, it comes with a step-to-step tutorial guide that is useful when programming its propeller chip, figuring out sensor systems as well as wiring the circuits on its motherboard.
Other useful features include High performing servo motors having optical encoders that make it easy to maneuver, headers with three pins and a breadboard that allows you to perform experiments on a regular electronic part and last but not least, a built-in slot for SD and micro SD card for data storage.
Crazepony MINI Quadcopter for Students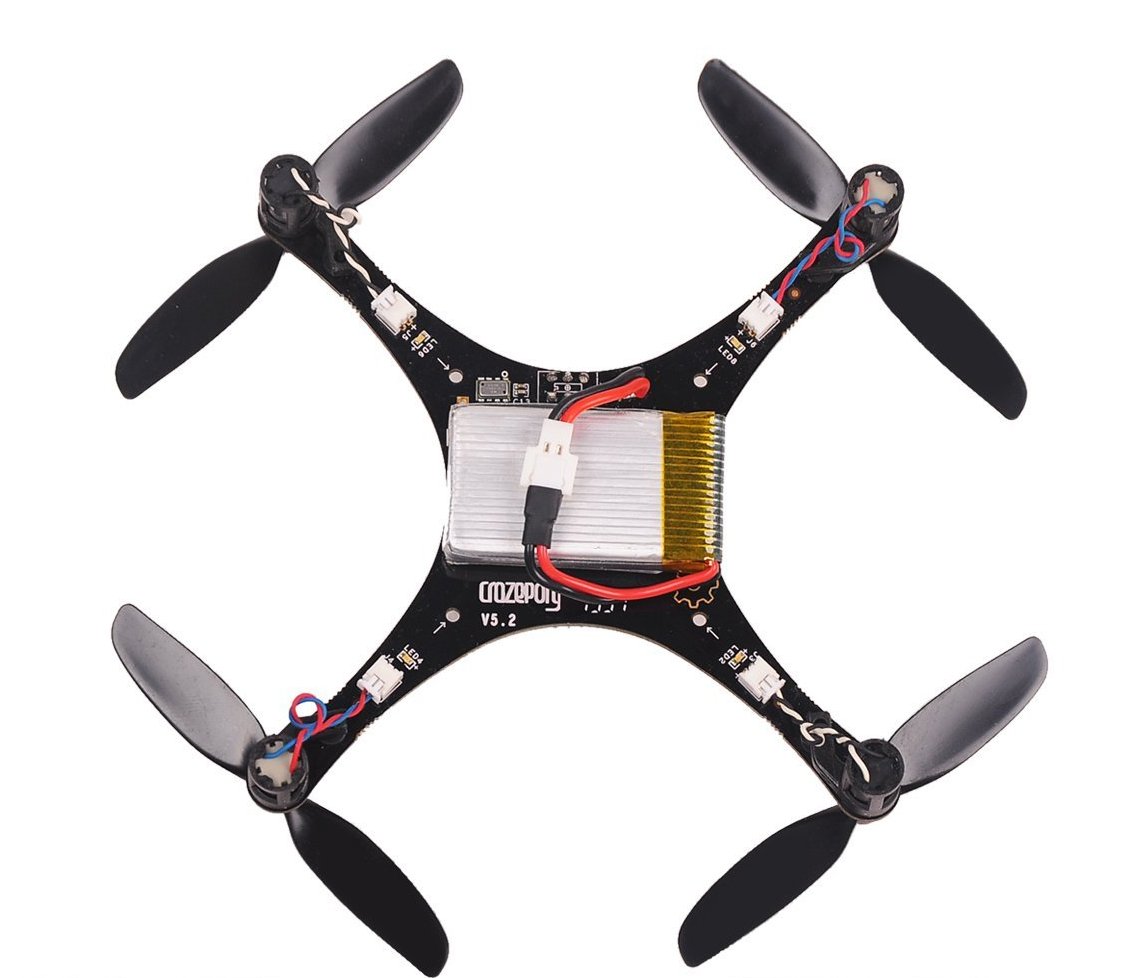 Crazepony MINI Quadcopter is one of the smallest quadcopters you'll come across on the market. It is a palm-sized kit designed to help you learn some new skills as well as experimenting. It comes with a small remote control that works best to control the copter through a low radiofrequency.
You can control it using your tablet or smartphone's Bluetooth having an Android client. The APP is not yet developed for iOS but on its way. Also included is a detailed 4-step instruction you'll find on its official website or at the side of its box.
LEGO Mindstorms EV3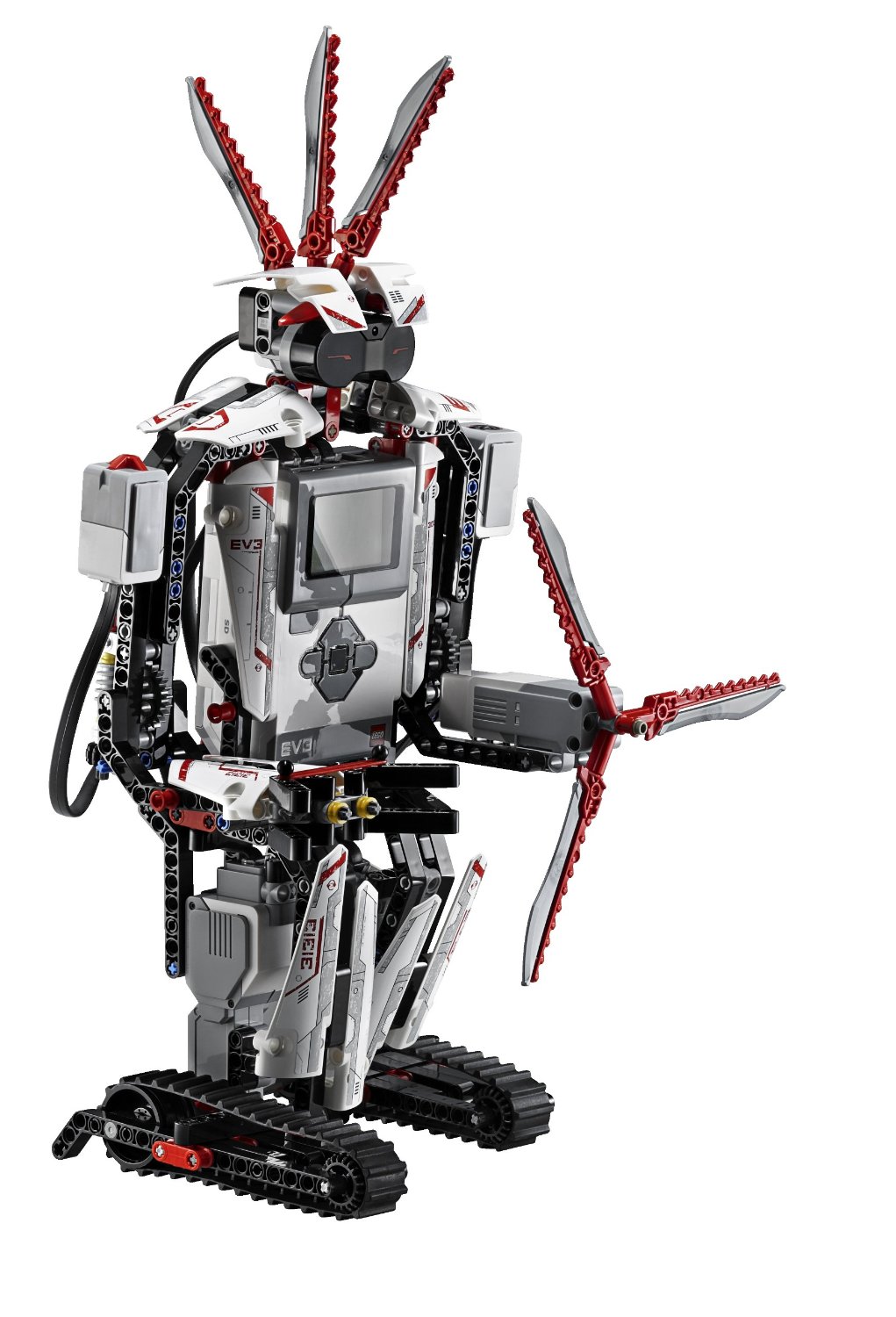 LEGO MindStorm is one of LEGO's best. Using an interface that allows you to drag and drop, you can program your robot to talk, walk, think and the best part, do anything you wish it could do. It also allows you to use several EV3 software advanced features on your Mac and PC.
You can also control it using the free Robot Commander app that you can easily access and download on your smart device app or use remote control. LEGO Mindstorms EV3 is designed to maximize the fun.
LHI 250 mm Quadcopter Race Copter Frame Kit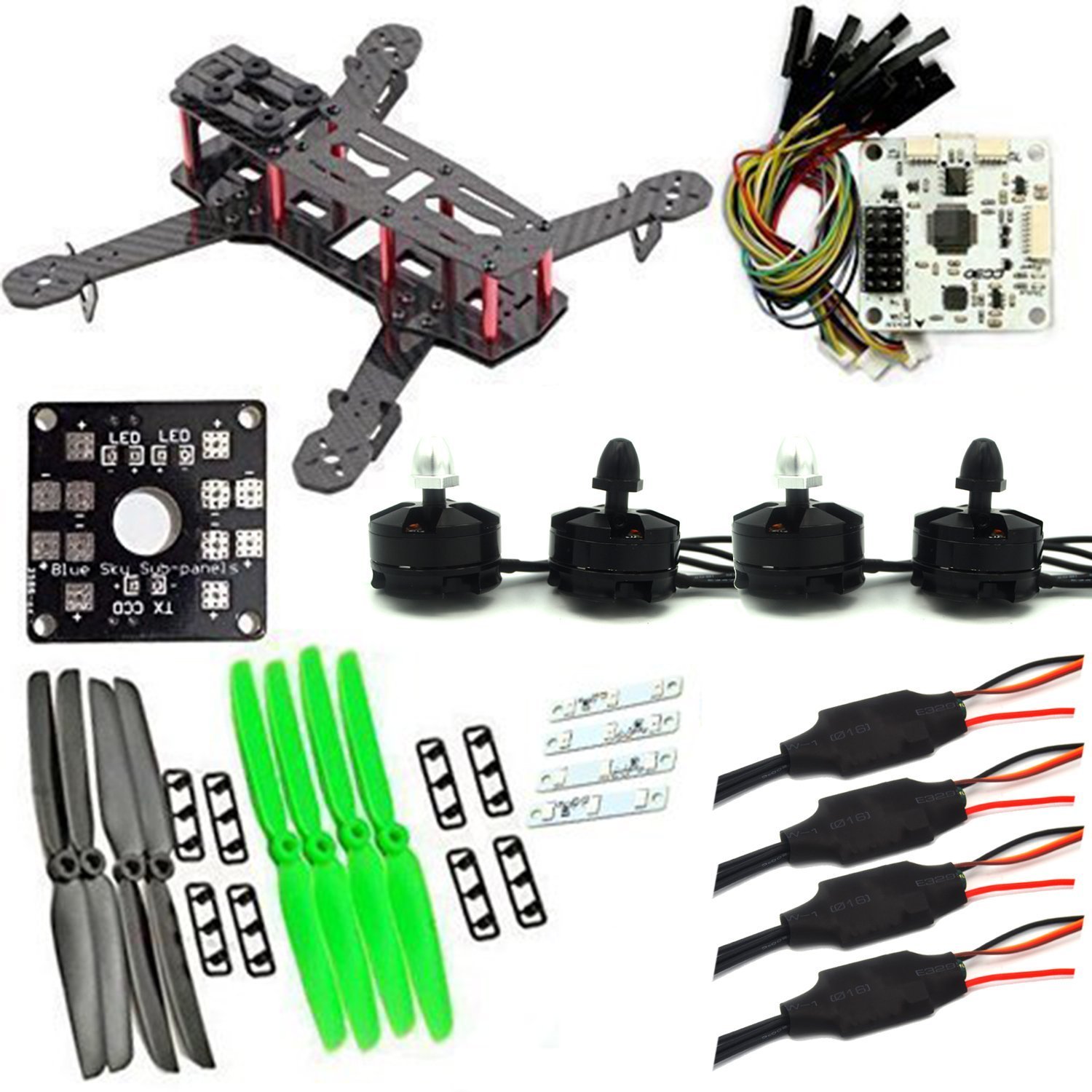 LHI 250 mm Quadcopter Race Copter Frame Kit is designed to suit both the beginners and pros making it one of the most convenient kits you will ever come across. It is a mini-sized copter with a 250mm wheelbase, an effective flight controller, and a reliable power system.
Its mainframe is made of carbon fiber, weighs 1.2 pounds, measures 10.8" x 6.5" x 1.5" making it one of the lightest and the strongest copters on the market. Other astounding features include four brushless motors, two-blade propeller, CC3D controller for flight and a protective case. If you have aggressive players who are addicted to copters, then it's time you tried this one.
Final thought
Programmable robot kits are among the best educational tools to have around a house. They are not only fun toys but also tools that work best to enhance their programming skills as well as their knowledge on other subjects such as Maths, Physics and more. But it isn't just any other robot building kit you come across on the market. To learn new skills, you need a functional robot kit with useful features, and that can help you challenge yourself to reason in one way or another. You can benefit by buying these kits and building the robot on your own.