The versatility of the 3D printer makes it a tool that you can employ in different ways. One of those ways is the design and printing of accessories that support your everyday habits or activities. Biking is one activity that provides anyone with a 3D printer the opportunity to build accessories that support your bike or biking activities. In this post, 12 bike accessories that you can 3D print will be provided.
The Accessories here cut across bike supporting seats, helmets, and supporting tripods to keep your bike safely stored. The functions of these accessories will also be explained in detail with each highlighted accessory.
The Top 12 Biking Accessories You can 3D Print
Bike Stand
Keeping your bike in-house requires you discovering ways to ensure the bike stands and is stationary because a bike placed horizontally will obstruct passage and cause a mess. There are different types of bike stands built for indoor use but they are generally expensive and require some form of assembly or arrangement to function. This bike stand takes a simpler approach to keep your bike stored properly and this approach involves supporting the pedals. The 3D printed bike stand is basically a tripod that adds a structured base to the pedals thus supporting the entire bicycle.
You can find the information and STL files needed for 3D printing the bike stand here.
Functions:
Keeps your bike properly stored indoors
Ensures your bike stays standing and does not get in the way of anyone.
---
GoPro Bike Frame Mount
For bikers who intend to attach cameras to bicycle frames, the GoPro bike frame mount provides the stability and security you will require for such a venture. The mount keeps the camera clamped to the frame which reduces the shocks from riding your bike on the road. It also holds the camera firmly in place which is what is required when riding through rough terrains.
The GoPro frame mount 3D printing process means you will have to make separate components and assemble them with nuts to use it. You can find the details and STL file for 3D printing your bike frame mount here.
Functions:
Keeps your GoPro camera firmly in place when riding your bike through rough terrains.
Ensures you can take stable videos when riding through rough terrains.
---
T-Rex Bike Seat
Are you interested in 'pimping your ride'? Then a T-Rex Bike Seat may just be the design that takes your bike from average to stunning. The T-Rex bike seat is designed after the skull of the famous dinosaur and the design includes the teeth of the dinosaur, its nostrils, and eye sockets.
This does not take anything from the comfort of a bike seat. The T-Rex bike seat is both aesthetically pleasing and functional to use. You can find all the details needed to 3D print the T-Rex bike seat here. You will also need a clamp to fasten the seat to its holster.
Functions:
The bike seat provides you with an excellent design which can replace the bike seat that comes out of the box.
---
3D Printable Bike Brake
It generally takes a really hard fall or hit to destroy the hand brakes that come with a bike. This is due to its metal build and general compatibility with the bike frame. For the unlucky few who end up with a defective or broken brake, replacing them can be a hassle as metal shops are expensive and generally shun these kinds of jobs.
This leaves you with the option of using the bike in its condition or purchasing a new one. With 3D printing, a 3rd option is now available and it is 3D printing a replacement brake structure for your bike. You can find the details needed for this project here.
Functions:
The bike brake is a replacement piece which if properly done replaces damaged brakes alongside its functional structure.
A 3D printed bike brake ensures the stability the handlebars of a bicycle provide is retained.
---
DIY Electric Bike Motor Mount and Pulley
The motor mount and Pulley structure is basically the engine of every bicycle. Thus, 3D printing the entire set up is similar to building a bike from scratch. If you are interested in revamping an old bike or turning your mechanical bike to an electronic one, then this project is for you.
To do this, you would need to have some knowledge of electronics to assemble the electronic hardware alongside the 3D printed parts. The assembly consists of multiple 3D printed parts that must be printed correctly to function. This project requires paying attention to detail and you can find all the details including the STL file needed for the electric bike motor mount and pulley here.
Functions:
This restructures your manual bike by adding electronic components to it. It turns your bike into an electric one with an electronic drive train.
It can be used as an option to revamp old bikes
---
Bike Water Bottle Holder
Many bikes come with a bottle holder attached to them but for those without one, 3D printing a water bottle holder is an excellent option to explore. The bottle holder is held firmly in place using plastic straps which is cleaner than using bolts and nuts.
The 3D printing process is relatively easy because you will be printing just a single component. If interested in 3D printing the water bottle holder, you can find the details needed for this project here.
Functions:
Provides you with a dedicated structure to keep your water bottles held firmly in place while on the road.
Reduces the number of items you have to carry on your body.
---
Bike Pedal
Pedals are one of the components of the average bicycle that experiences the most wear. This is due to the force applied to it and its regular use. Thus, when defective replacing your bike pedal must be done as it can hamper your ability to comfortably ride your bike. The 3D printed bike pedal provides an excellent option for replacing your damaged pedal. You can find the details and STL files needed for this project here.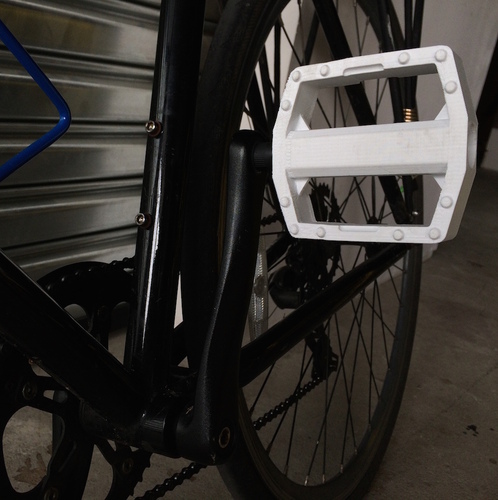 Functions:
Serves as a durable replacement bike pedal for your bicycle.
---
Bike Grip
Here is another aesthetically pleasing accessory you can consider to add some flair to your bike handle or grip. The bike grip looks like the handle of a medieval sword which is definitely something you would like. The 3D printing process is a bit complex and it is recommended that you use a 3D printer with the double extruder to print this accessory.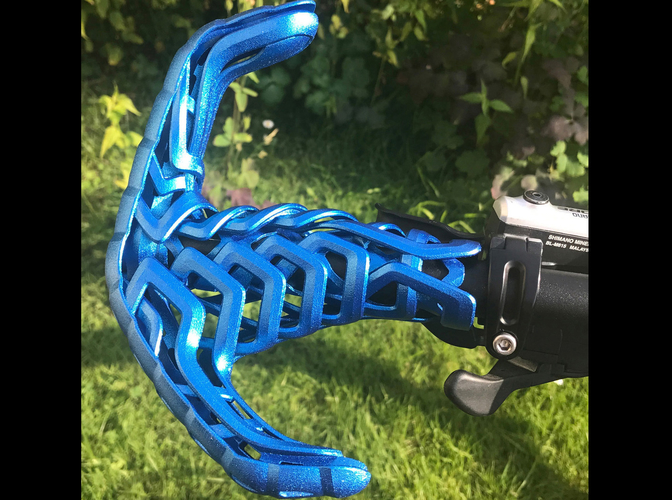 You can find the details and STL files needed for this project here. Remember that you will have to print two copies to fit both grips on your bike.
Functions:
Adds some flair to your bike grip and serves as customization accessory.
---
GARMIN Bike Mount
This bike mount provides the stabilizing support needed to mount items such as a GoPro camera or a camcorder to your bike. The design is compact and great to look at which means you'll be getting an aesthetically pleasing yet practical bike mount for your bicycle. The mount consists of multiple parts which must be 3D printed accurately. You can find the details for this project here.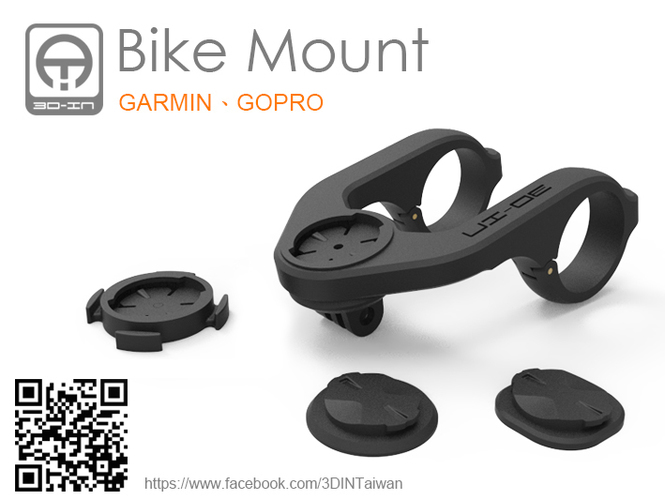 Functions:
This accessory is a bike mount built for securing personal items to your bicycle.
---
Bike Helmet
Ensuring you're properly suited up before going for a ride is recommended for every bike owner. One of the safety equipment bikers are expected to use is a helmet and this 3D printed helmet may be just the accessory you need. Although the safety rating for this helmet is yet to be determined, you can still choose to 3D print this as a decorative piece. You could also choose to experiment with different materials to print a durable bike helmet using the STL files provided here.
Functions:
The bike helmet can serve as a decorative piece for bikers.
You can choose to use it for practical purposes but ensure it is tested and pass the required safety metrics.
---
Bike Repair Stand
The easiest way to repair bike components involves placing them on a stand which makes accessing intricate parts easy. The bike repair stand provides that and you can 3D print this helpful accessory as it will come in handy if you ride your bike regularly. The repair stand can also double as a bike stand for securing your bike in place. It is in-evasive and does not take up much space. You can find the details needed for 3D printing the bike stand here.
Functions:
Serves as a stand for either securing your bike in place for repairs or keeping it safe and out of the way of domestic traffic.
---
Bike Coffee Holder
If you are one of those who pay Starbucks a visit after or during your bike rides, then having a coffee holder will be a helpful accessory to have. The coffee holder can be 3D printed in one go and you'll need bolts and nuts to secure it to your bike. It is recommended that you use ABS filament for this accessory and you can find all the details and models needed for the coffee holder here.
Functions:
Secures coffee cups to your bike which means it can also secure water bottles to the frame of your bicycle.
Conclusion
Biking is fun and with these practical accessories, you can enhance your experiences by attaching a camera or a camcorder to record your adventures. You can also choose to 3D print the water bottle holder or coffee holder to stop liquids from spilling. If customization is your thing, you'll also find custom accessories here to re-design your bike.