Welcome, all 3D printing hobbyists looking for the next practical project to work on. Do you commute regularly in your car and would like to make things a little more comfortable? If yes, then you're at the right place. This post will provide 10 interesting car accessory items you can choose to 3D print. You're definitely not limited to printing one and the more you print the better.
Car Accessories to 3D Print
The accessories highlighted here are simple 3D printing projects and you can use your domestic FDM or FFF, and SLA 3D printers to get the job done.
Car Seatback Trash Bag Hooks
Nothing makes a vehicle more inhabitable than having to commute with trash all over the place. Thus, having a trash bag that can be disposed of after every car trip is a welcome addition to your vehicle. The seatback trash bag hooks is an aesthetically pleasing hook that attaches to the iron bars which hold up the front seat headrest. You can then attach a trash bag to the holder and you have your in-vehicle trash bag in place.
The trash back hook is a simplistic project and it is recommended you use ABS to 3D print the hook. This is due to the durability and strength ABS brings to the project. You can find the directions and STL file needed to develop the trash bag hooks here.
Functions:
Holds a trash bag in place
Help keep your vehicle neat and free from clutter
---
Sunglasses Car Sun Visor Clip
Yes, we know 90% of modern vehicles come equipped with a sunglass holder but in most cases, just one holder is provided for your use. Thus, if your vehicle does not have a sunglasses holder or you intend to keep more than one in your vehicle, then this is an accessory you should consider 3D printing. The Sun visor clip actually keeps sunglasses strapped to the overhead sun visor or protector and the setup is not invasive.
This project is best done with Nylon or ABS as PLA may melt under intense sunlight. You can also choose to play with colors to ensure the visor clip adds some beauty to your vehicle. You can find the details and STL files for this project here.
Functions:
Holds sunglasses in place and on the surface of a vehicle's sun visor.
Ensures you can keep multiple sunglasses safely within your vehicle
---
Coin Organizer for Car Cup Holder
Has organizing your loose change always been a problem for you? Then fret no more as the coin organizer has come to the rescue. Although people already make use of a discarded coffee cup or other plastics, the coin organizer takes things to the next level by actually allowing you to organize your coins. This cup holder gives you multiple sections, which is six sections, to stack similar coins in the same section. Thus, when paying tolls, going through a drive-through, or helping out, you do not need to spend any extra time counting your coins before making a payment.
The coin organizer is also beautifully designed and fits perfectly in the car cup holder section of your vehicle. You can find the details for 3D printing the coin organizer here. You can also add a personal touch by using your favorite colored filament to 3D print the organizer.
Functions:
Hold coins in place and eases the process of organizing coins collected as change.
---
Customizable Smartphone Holder
Manually picking calls while driving or texting is illegal in all countries and this isn't what the customizable smartphone holder aims to achieve. The smartphone holder was built to assist you with map use and navigation. It also provides a comfortable place to store your phone while driving. On the other hand, drivers who make use of ride-sharing apps will also find the holder an important aspect of their job as it puts your phone close at hand without you having to handle it.
The customizable smartphone holder is definitely a simple 3D printing project which can be done in your spare time. It is recommended that you use either nylon of ABS to 3D print the holder because PLA will deform over time due to sunlight or other heat sources. You can find the details and STL file needed to 3D print the smartphone holder here.
Functions:
Holds large smartphones or devices in place close to the vehicle's dashboard.
Eases the challenge of driving safely while using a mobile navigation system.
---
Car Cup Holder Adapter
For vehicles with extendable cup holders, the extendable space provided by automobile manufacturers always seem to be too large or built for large cups. Thus, when using a small cup, the cup holder is practically difficult to use and is guaranteed to cause liquid spills which will damage your upholstery or leave your vehicle smelling funny.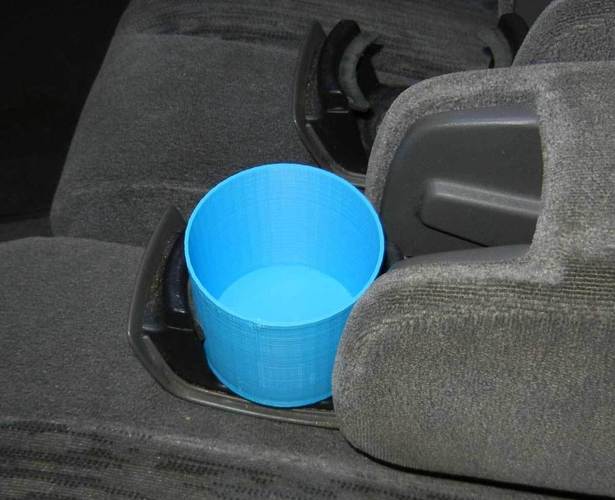 The car cup holder adapter addresses this challenge by providing a 3D printed container for smaller cups. The adapter is basically a cup-shaped holder printed with ABS. You can also choose to experiment with color and dimensions to ensure the adapter supports the cup sizes you use. You can find the details and STL files needed for this project here.
Functions:
Adapts large generic cup holders to fit smaller cups or bottles with different sizes.
Stops liquid spills as it keeps cups firmly in place while driving.
Adds aesthetic appeal to your vehicle if properly 3D printed.
---
Car Battery Tester
Have you ever been stranded by the roadside because of a faulty battery and had to call a friend or Triple-A? For those who have, the experience is not one to relive. This is why a car battery tester is a practical accessory every car owner should have tucked somewhere in their vehicle. The car battery tester is a cost-efficient maintenance tool that allows you to test your car battery whenever you have doubts about its performance status.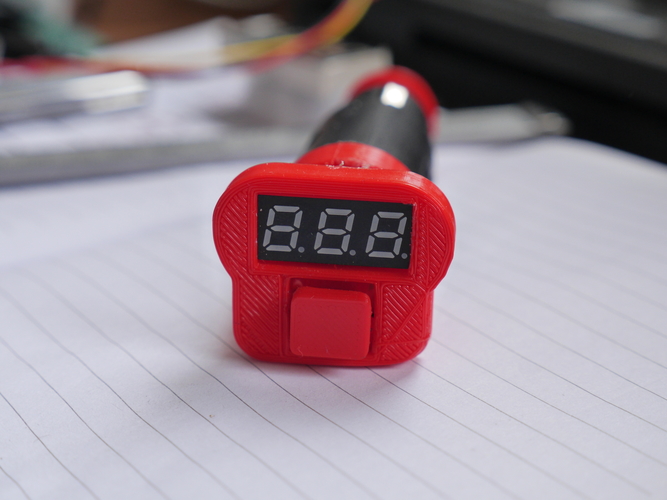 3D printing a car battery tester is a more advanced project because of the addition of electronic components that provides the testing capacity. The fact that these electronic components must fit into your 3D print also highlights the importance of getting the dimensions right. It is recommended that you use PLA for this project, as well as, store the battery tester appropriately. You can find the details needed for 3D printing and integrating the needed electronic components for the battery tester here.
Functions:
To test car batteries whenever you choose thus avoiding emergencies related to your car battery's status.
---
iPhone Car CD Mount
For many people, smartphones also serve as music hubs which allow you to become a DJ while driving. Thus, having a safe space where you can place the device and easily make swipes to change songs is helpful and safer than the alternative of constantly holding the device. Although not touching your phone while driving is the recommended decision to make, the iPhone mount ensures any interactions are limited. The iPhone care mount should be built with ABS or any other plastic aside PLA and you can find the details needed including the STL file for this project here.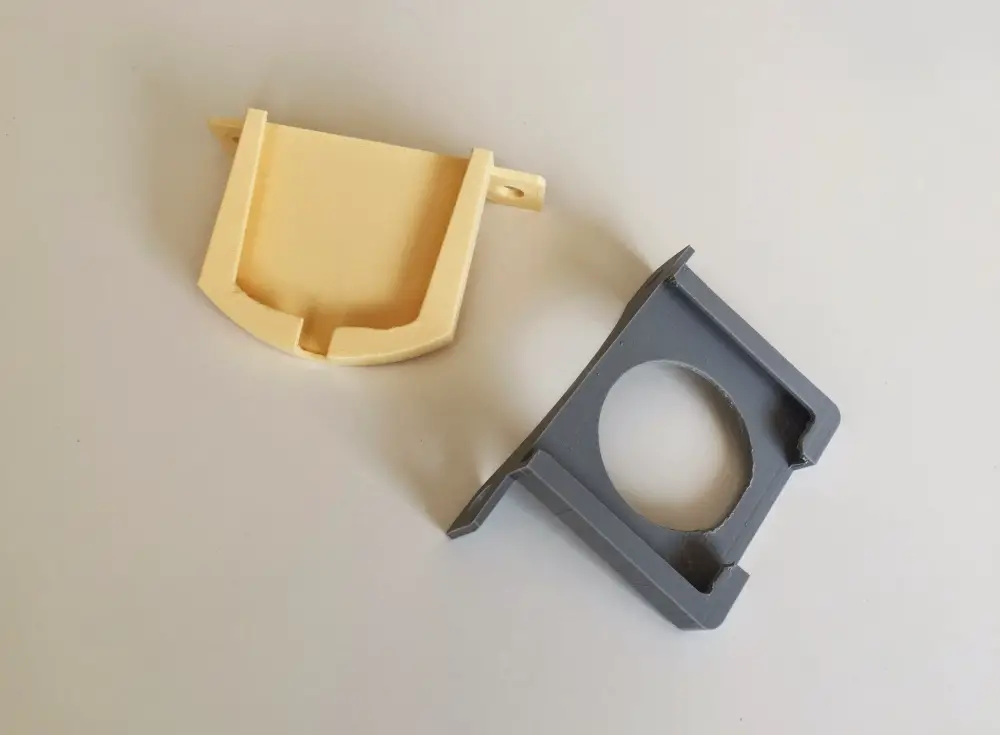 Functions:
The mount serves as a phone holder strategically placed near your CD which makes access to your phone easy.
---
Car Ashtray
The debris from cigarettes has a way of clogging up space and leaving dark smudges all over the place.  This has made many car owners visit the body shop more times than they ever intended to. Thus, a car ashtray is an important accessory that is easier to reach than the options provided by vehicle manufacturers. If a car ashtray is something you need, then 3D printing is recommended. You can find the details needed to 3D print a car ashtray here.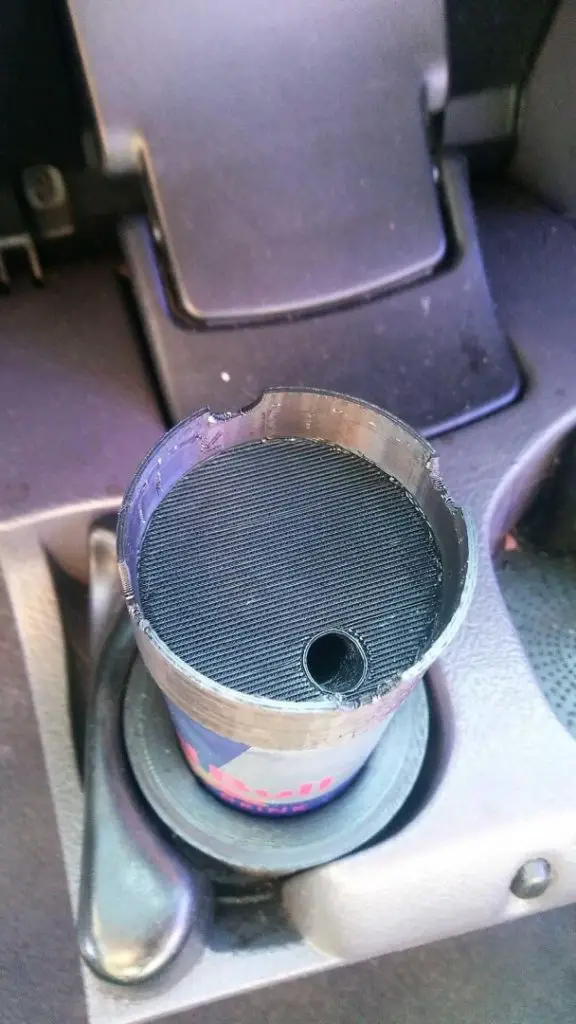 Functions:
Serves as a dedicated space for storing cigarette ash.
Helps keeps your car clean and free from smudges.
---
Ice Scrapper
Winter has since gone by bought its resurgence is a sure thing. Thus, preparing for the next phase by 3D printing an ice scraper for your windscreen is obviously a great decision to make. The ice scraper is a straightforward project and you will need to use ABS or any other sturdy plastic filament for it. You can find the necessary details including the STL file for the ice scrapper here.
Functions:
Used in scraping ice from car windscreens without damaging the glass surface
---
Replacement Car Key Fob
Key fobs are one of the most handled items you use every other day. This is why they experience irregular wear which can leave them looking shabby or affect how they function. Thus, a 3D printed key fob will definitely be something you should consider instead of purchasing one. For this project, the 3D model must take into consideration the electronic components within the original key fob. To get this right, you can download the STL file for a key fob here.
Functions:
Serves as a replacement case for your keys
Conclusion
3D printing car accessories is a great way to get acquainted with the capabilities of your 3D printer. It also provides you with excellent utility items you will use for a long time. So, get started with 3D printing using the projects outline here as your inspiration.