The life of a professional photographer or anyone who takes photography as a serious hobby is one littered with accessories. This includes accessories that support the camera, accessories that keep expensive equipment safe, and accessories that simplify the imaging process. Today, there are thousands of photography accessories out there you can choose from but making yours from scratch can be more fulfilling than purchasing items from the store.
3D printing provides an excellent platform for anyone interested in photography to explore. This is what this post is dedicated to and here, you will find 10 camera accessories with links to the details and necessary STL files to 3D print them. These items are generally made from plastic which means a Fused Deposition Modeling 3D printer may be the best option for 3D printing these parts. With that said, here are the ten camera accessories you can 3D print for your personal use:
Eleven 3D Printed Camera Accessories
The 3D prints included here cut across tripod stands to camera mounts. You can choose to make just one or more as they'll definitely be useful as you continue to explore the art of photography:
Compact Camera Tripod Foldable
A tripod stand is an excellent accessory for anyone interested in shooting still life or panoramic images. The use of a tripod stand brings a level of stability you can't get from using your own hands to steady the camera. Thus, 3D printing this compact camera tripod foldable stand is an excellent recommendation for photographers.
The 3D print comes in different sections which means you will have to 3D print singular components and assemble them together using bolts and nuts. Thus, an understanding of 3D printing holes and multiple parts may be needed. Alternatively, the details for 3D printing this compact camera tripod and the STL file for its 3D model can be found here.
Functions:
The tripod stand can be used as a base support for both outdoor and indoor photography.
It keeps your camera stable for long periods when taking pictures. This leaves your hands free for other tasks.
---
Camera Gimbal
When shooting videos or stop motion photography, stabilizing supports are needed to keep the camera still. This stability ensures you shoot professional videos and images without shaking the video or losing focus. To achieve a professional level of steadiness, a camera gimbal is generally used. The cost of the average Gimbal can be as low as $50 or as high as a thousand dollars. Its price depends on the features of the Gimbal but with a 3D printer, you can 3D print an advanced Gimbal without spending so much money.
This Camera Gimbal project shows you how to do exactly that. It allows you to position your camera within two axes accurately. The 3D printing process involves printing multiple components and assembling them. You can find all the details including the 3D model for the camera gimbal here.
Functions:
Keeps cameras stable when shooting videos.
Ensures the end result of your photography or video sessions looks professional.
---
52mm Camera Lens Cap
The average camera comes with its own lens cap to protect the lens from scratches and debris which may get into it when stored. In some cases, you may need an extra camera lens cap or lose the original one that came with your camera. Therefore, 3D printing a camera lens cap could be an important consideration for any professional or aspiring photographer.
The 3D printing process involves the use of ABS filaments as it does not deform when placed under sunlight. You are also expected to check the clearance to ensure the measurement of the lens cap does not end up damaging the lens. You can find all the information needed to 3D print this camera lens cap here.
Functions:
The camera lens cap serves as a protective cover for the most important part of your camera.
It also elongates the life span of attachable lenses through the protection it provides.
---
Camera LED Ring
A camera LED ring is a decorative piece that beautifies your camera. As its name suggests, it adds an aesthetically pleasing LED glow to the lens end of your camera. The 3D printing process involves 3D printing a LED cover, a NeoPixel ring, and LED lighting. Thus, you should be ready to assemble these multiple components correctly. You can check the details for this project, as well as, download the STL file here.
Functions:
The camera LED ring is a decorative piece which you need to beautify your camera.
---
Longboard Clamp for GoPro Camera
For active outdoor adventurers who intend to video or take photographers of their activities, the clamp for the GoPro camera an help. The clamp is basically a tool for keeping your camera firmly in place on your skateboard or longboard or anything with a flat surface. Once used, the clamp holds the camera firmly in place and ensures it does not fall off regardless of the activity you engage in.
The clamp for GoPro cameras consists of multiple 3D printed components and you will need bolts and nuts to keep it in place. You can find the details and STL files needed for this innovative accessory here.
Functions:
The clamp keeps GoPro camera's firmly in place on flat surfaces.
It ensures the camera is secure while you go through activities that may damage it.
---
GoPro Camera Rig
Stability when using a digital camera optimizes the camera's ability to take excellent pictures, photos, images, or videos. The GoPro camera rig is a 3D printed device that ensures you handle your camera with ease. Although it was initially designed for the GoPro camera, you can choose to use it for any digital camera. You can also customize the rig to support larger or smaller cameras as the case may be.
The rig consists of six components which must be assembled using threaded bolts and nuts before it can be used. You can find the details and STL files needed for this project here.
Functions:
Secures a digital camera in place which makes it easy to use.
Introduces some stability to the use of a camera which ensures the pictures you take tolook great.
---
Camera to GoPro Mount
When you decide to use a camcorder with a GoPro tripod stand, you do this because of the stability tripod stands provide. Although this is an excellent way to stabilize your camcorder, the fact remains that a camcorder does not naturally fit into a GoPro mount. Thus, you will need an adaptor to help you secure the camera in place.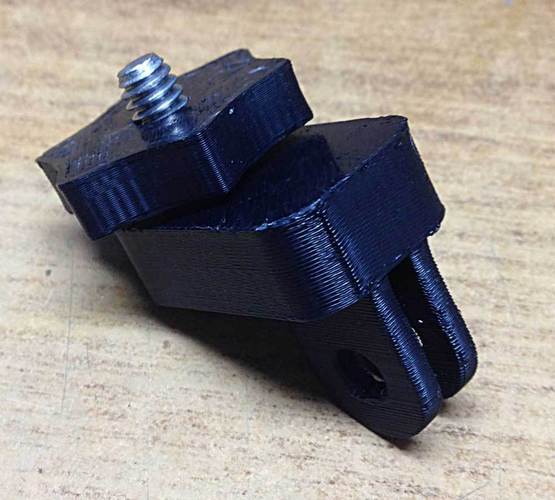 The 3D printed GoPro mount is the ideal accessory to help you accomplish this task. Once put in place on the mount, you can easily attach your camcorder and the mount will hold it in place. You can find the details for this project here.
Functions:
Adapts a GoPro mount to support camcorders.
Secures a camcorder on top the mount to ensure it functions properly when recording videos.
---
Camera Body Clip
Professional photographers whose jobs require the constant handling of cameras must have a way to keep their cameras close at hand without staining their wrists. For many, the traditional camera case is used to keep cameras but continuously sheathing and unsheathing the camera can be tiresome. The camera body clip provides an innovative way to keep your camera strapped to your body which enables you to access the camera with ease. The 3D printed body clip consists of two clips that you can attach your camera to. You can find the details for the camera body clip here.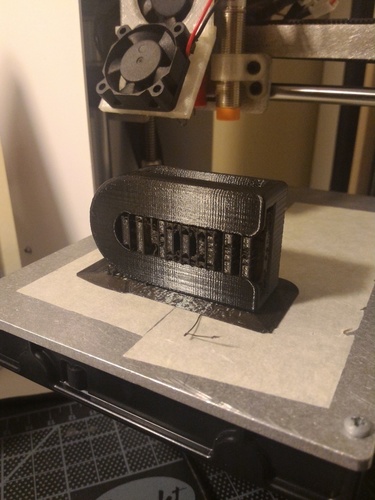 Functions:
Keeps cameras strapped to your body which makes it easy to access and use.
---
Camera Tilt Mechanism for QuadroCopter
The camera tilt mechanism allows you to tilt your cameras remotely while taking pictures or videos. This is a useful accessory to have for anyone interested in taking going pro with their photography. To create the tilt mechanism, you will need to 3D print the multiple components that make up the QuadroCopter and then assemble it. You can find the STL file and directions needed to 3D print the QuadroCopter here.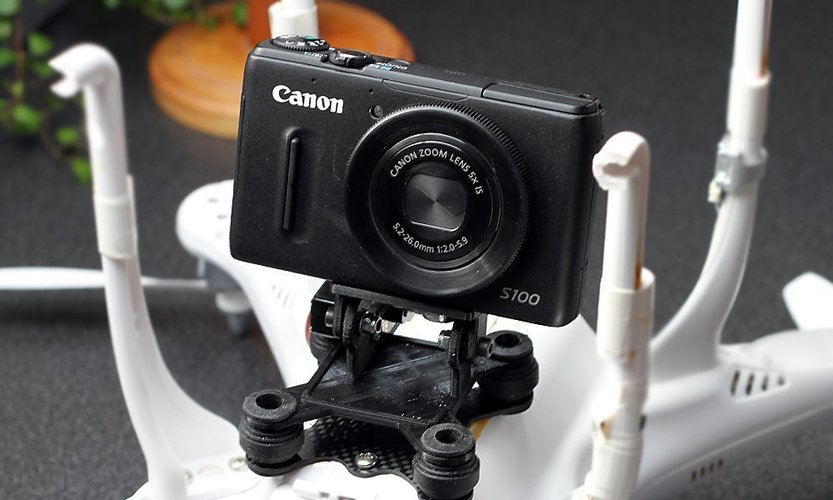 Functions:
This tilts your camera in diverse angles and keeps it secure to ensure you take better images.
---
Steadycam 2
Here we have a stabilizing accessory with a twist. The steadycam 2 also acts as a tilt mechanism which can be used to tilt your camera when taking pictures. The 3D printing process for this requires you 3D print multiple components and assemble those using bolts and nuts. You can find the information needed for the steadycam here.
Functions:
Keeps your camera steady and provides some tilt when needed.
---
Motorized Camera Slider
For the professional photographer, a motorized slide takes the quality of your work one step closer to perfection. The slider is great for taking motion pictures, videos, and the choice to be more creative with your photography. To 3D print this project, you will need to print multiple components and assemble them. You will also need to integrate electronic hardware to motorize the slider. You can find all the technical details for this project here.
Functions:
Serves as a sliding support base which moves your camera horizontally when taking pictures.
Conclusion
The process of 3D printing the eleven camera accessories outlined here varies in terms of difficulty levels. The camera clip is an example of a straightforward 3D printing process while the camsteady requires more effort. Despite the difficulty level, in the end you will become more confident within your 3D printing abilities and have a camera accessory to crown your efforts.