The world of additive manufacturing—also known as 3D printing—is definitely fascinating and has quickly attracted a lot of attention to itself from the global community. And if you are one of its new disciples, I believe by now you must have learnt the requirements needed to 3D print your favourite objects; a 3D printer, printing materials and of course, the 3D STL model of every object you are interested in printing.
Progressing further into your learning process, you would also come to realize the three ways—computer aided design modelling, using a 3D scanner and accessing free 3D STL files—in which you can get STL models to feed your 3D printer with.
A quick perusal of these three processes will show that the effort to be put in with CAD modelling or getting the money to purchase a 3D scanner is quite more than simply finding different sources to access these files freely. Therefore, if you are one of those who understand the power of 'free stuffs' then you are at the right place. For here, we intend to provide you with a list of 40 online platforms where you can find free STL files for 3D printing.
Where to find free STL files Recap. table
The Top 40 websites to download Free 3D printer files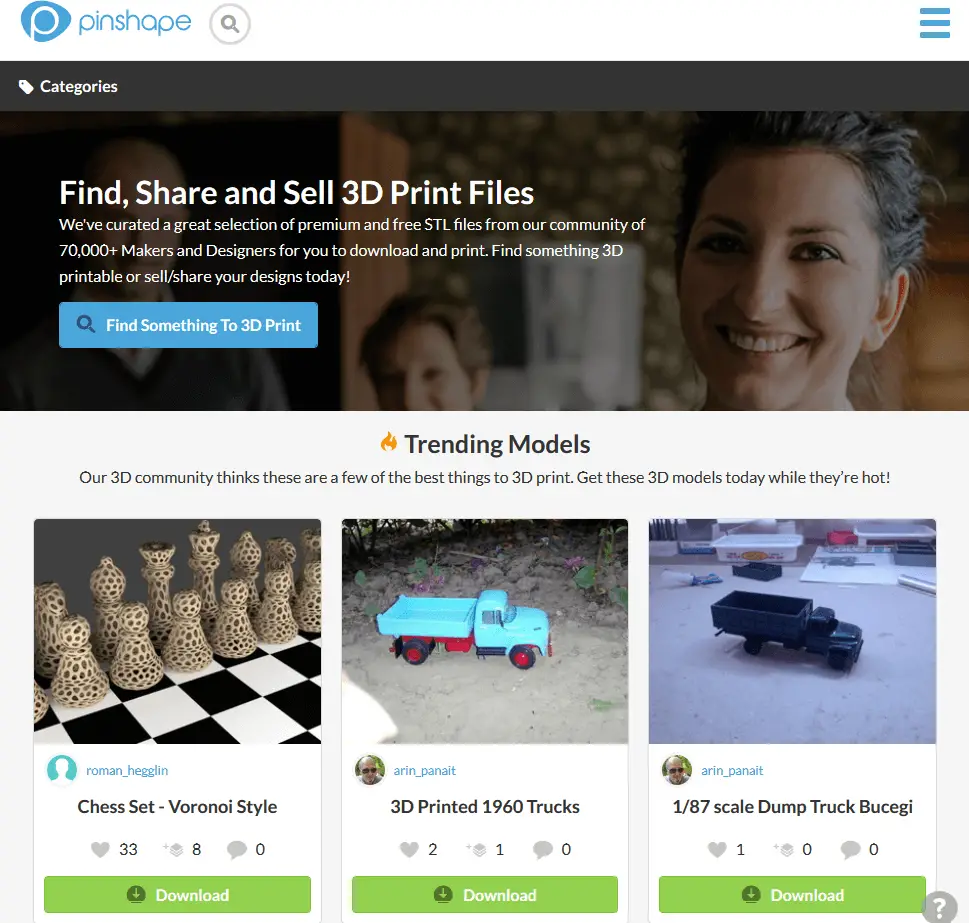 Here is a vibrant 3D printing community which I have occasionally called the Pinterest of 3D printing. On Pinshape, participants have access to a platform consisting of quality brand makers and indie designers who make use of 3D printing as a production tool. Users are encouraged to share ideas, STL files and settings with the community.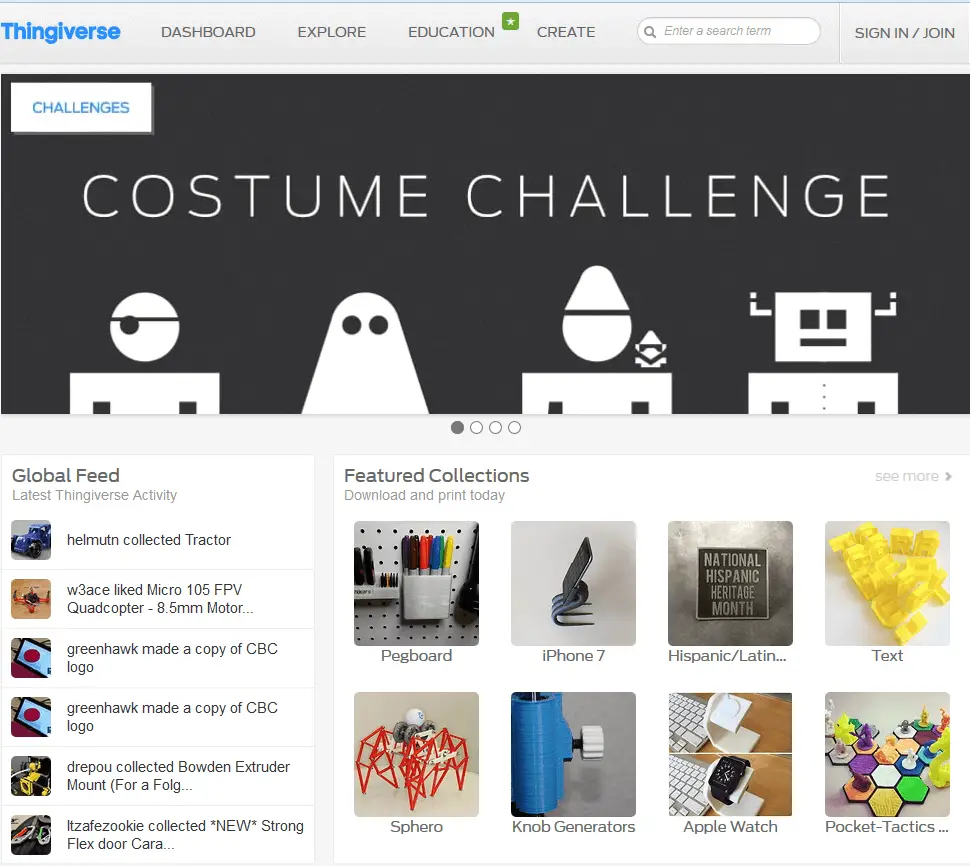 In the 3D printing community, the MakerBot brand is like the clsest thing to Apple for smartphones. Its printers are used worldwide and therefore belly the need for a vibrant support community. Thingiverse is the community where ou can find all information relating to the user of MakerBot printers, their settings and free STL files for use.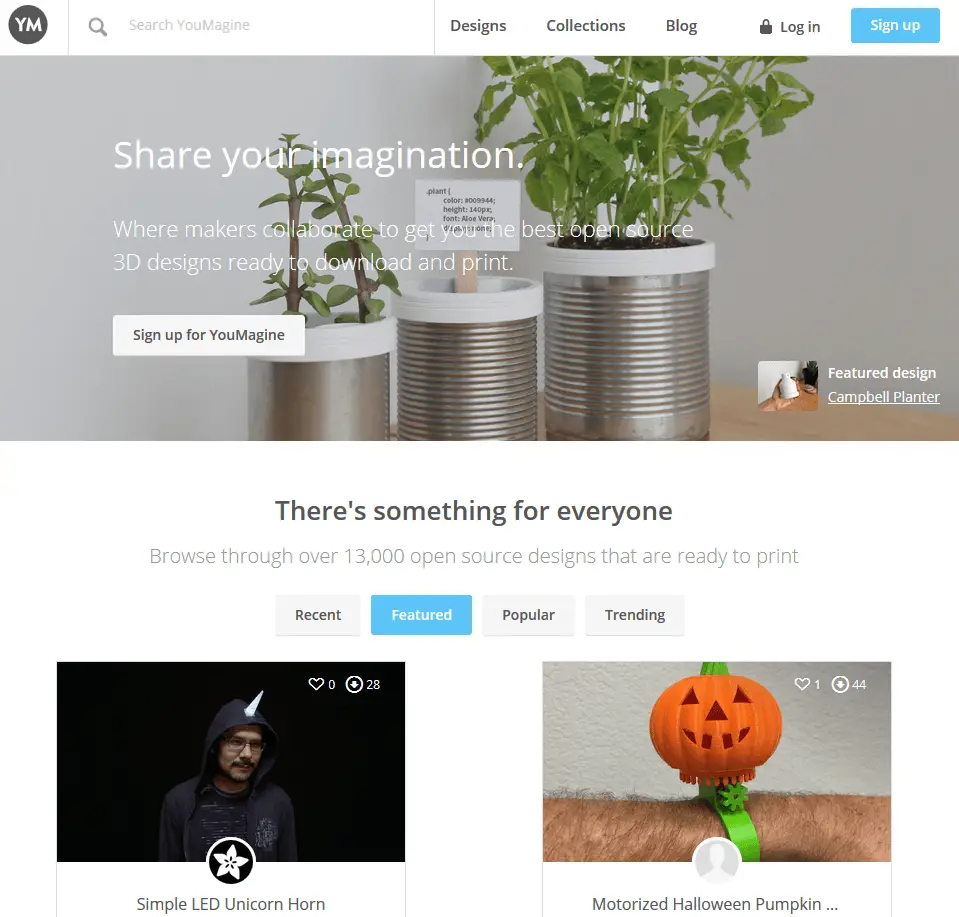 Ultimaker is another developer of 3D printers for both domestic and commercial use. The YouMagine platform was built to provide users of its 3D printers with a community to share ideas and support one another. In that vein, new users can access help materials including a plethora of STL files to get them printing as quickly as possible.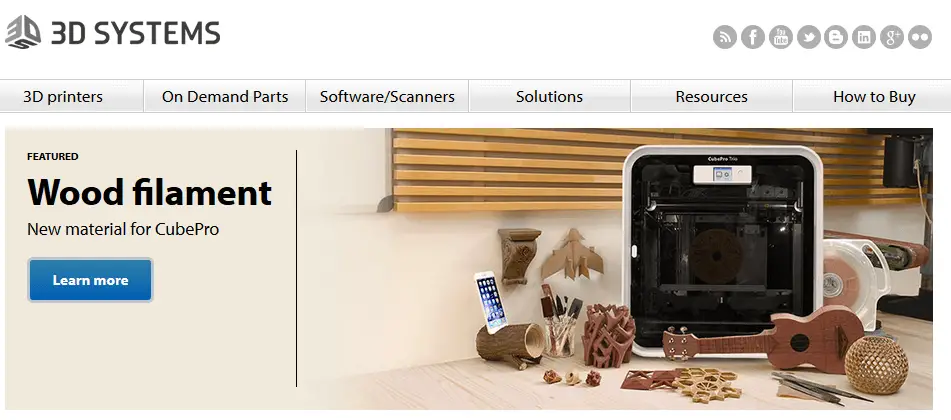 Here, we see another platform built by a 3D printer developing firm to assist its community of users. Cubify was built by its parent company to provide support for it Cube series of 3D printers. Its online platform is more than just your average support community for it allows users to buy and sell their designs. But there are also a lot of free STL files available for community members.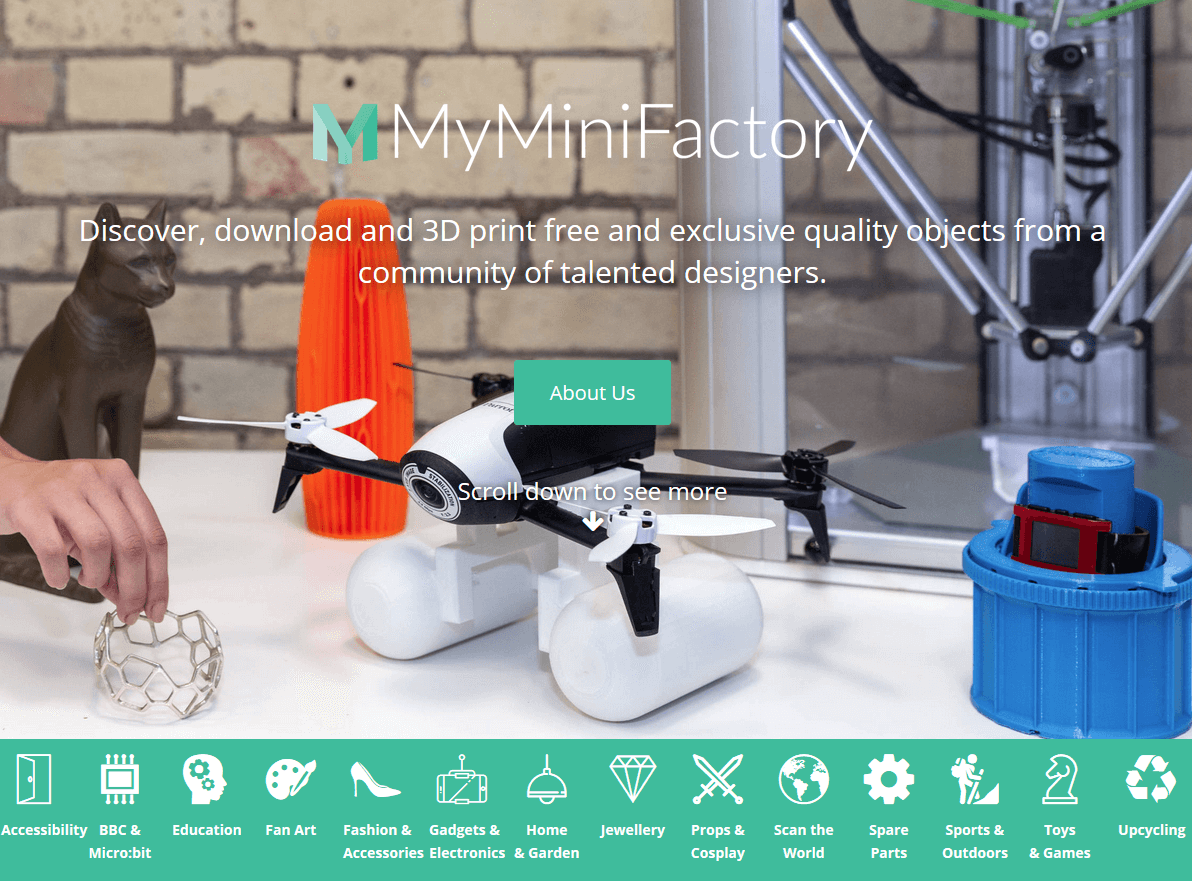 Stakeholders in the 3D printing community understand that it is their duty to provide support for users of their products and iMakr falls into this category. iMakr is an e-commerce store that socks everything relating to additive manufacturing and the mini factory is their blogging forum where ideas including STL files can be accessed.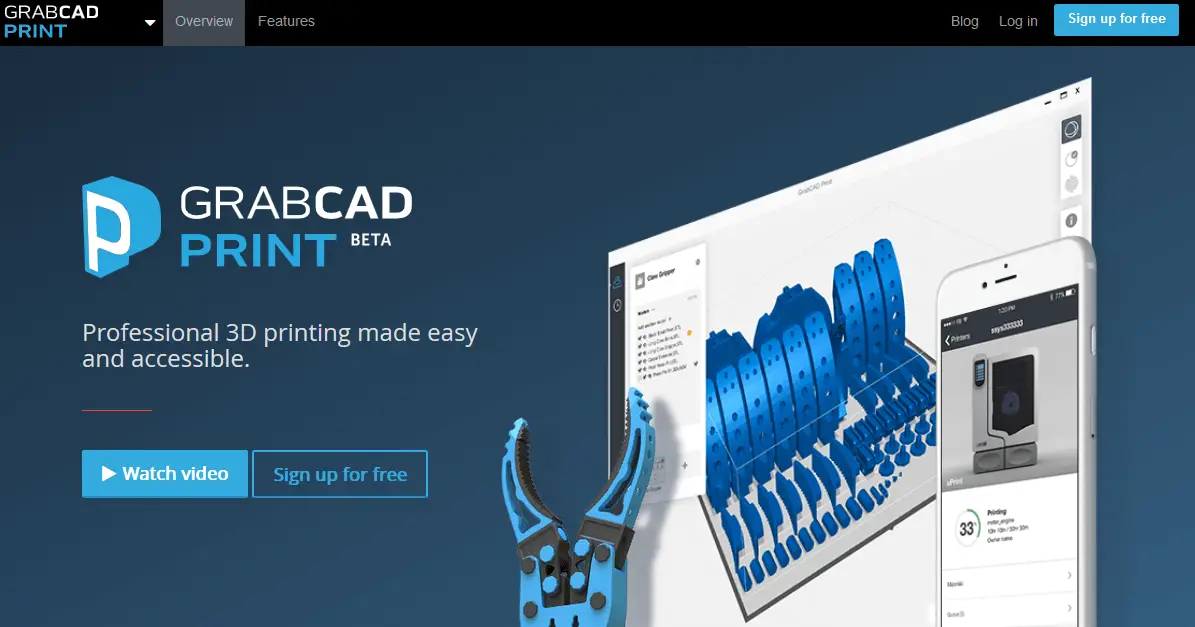 The sole aim of GrabCAD is to provide its users with a simple interface for designing 3D models with ease. In order to facilitate the designing process, this website offers multiple materials and tutorials as teaching tools. As for first time 3D Printing enthusiasts, you can take advantage of their large stock of free 3D models.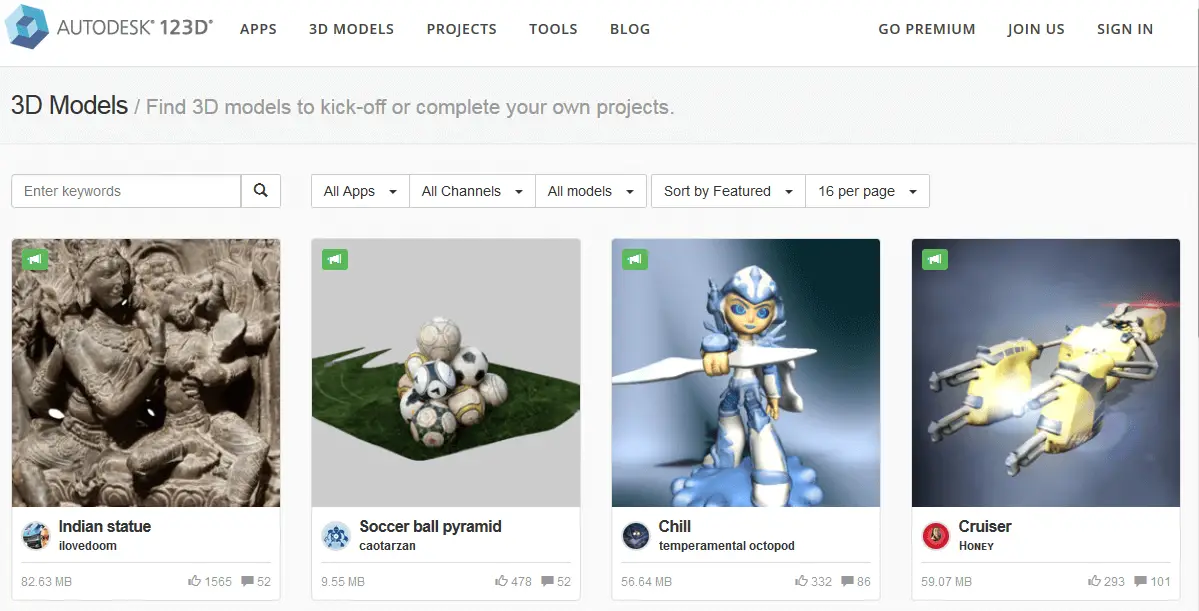 This Autodesk platform for hobbyist was built for users and those interested in designing with its CAD applications. The website offers a lot of free 3D printer designs which can be used as STL files for your printer.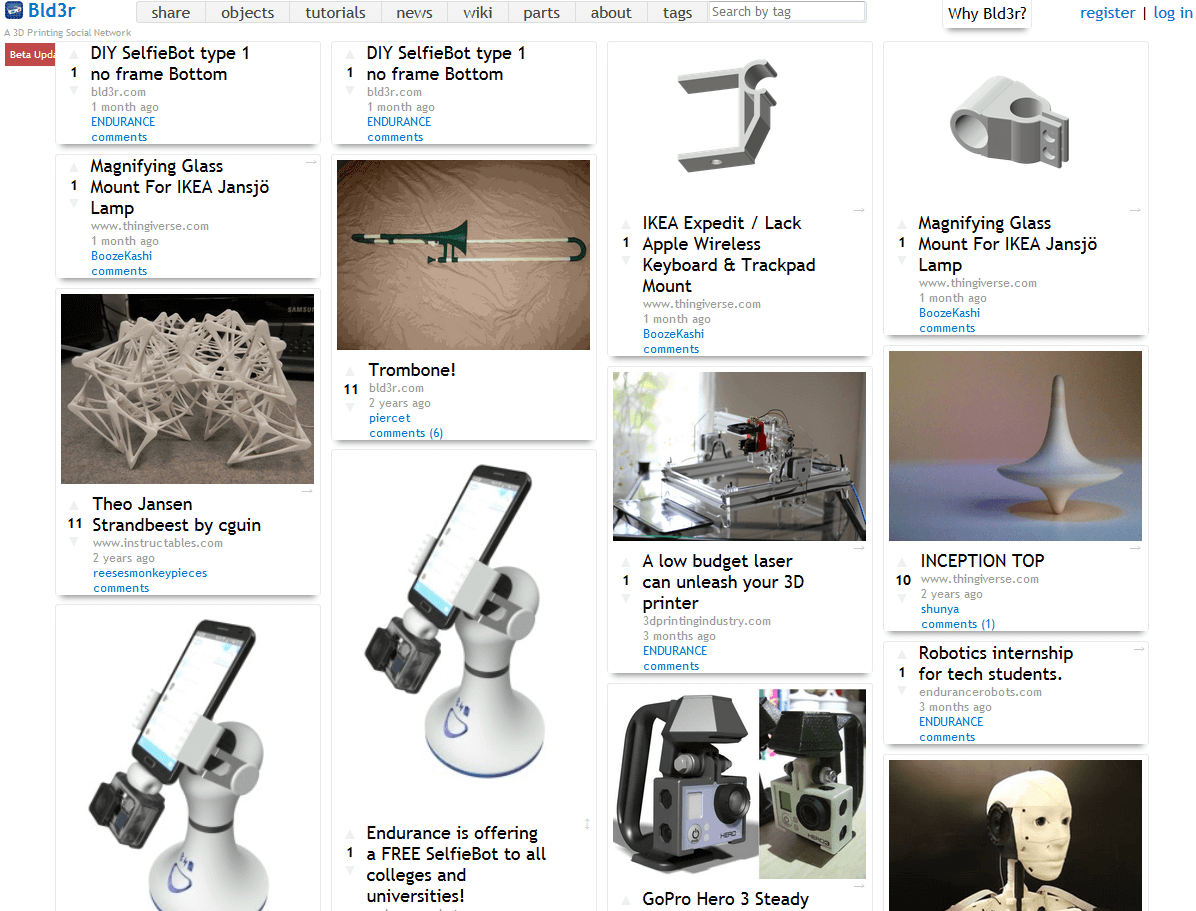 This is a social network aimed at the 3D modelling community. Here, professionals share their work and receive accolades as well as get featured on the platform. Consumers can also access free models as well as collaborate with professionals to create models.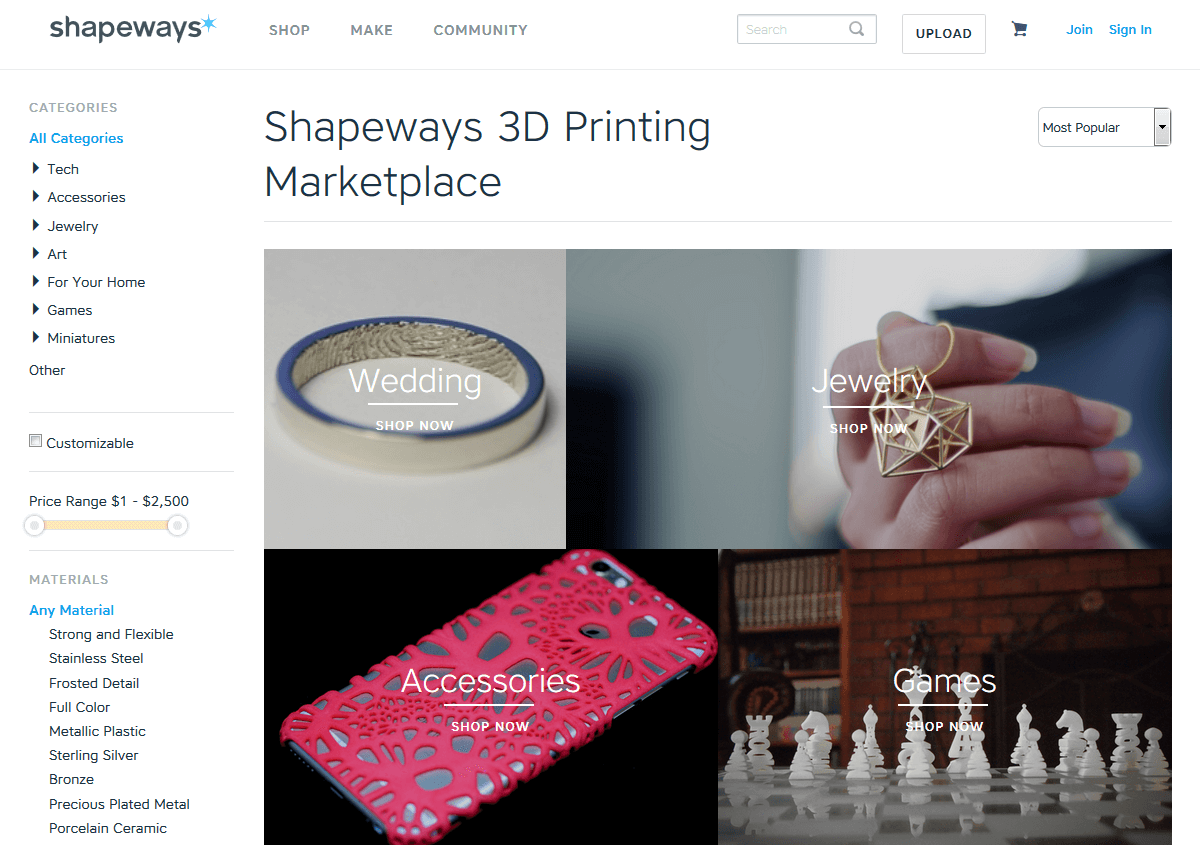 e-commerce stores also exist for the purchase of 3D models and Shapeways is one. You can also contact professional sellers directly to make use of the free models on offer in their profiles.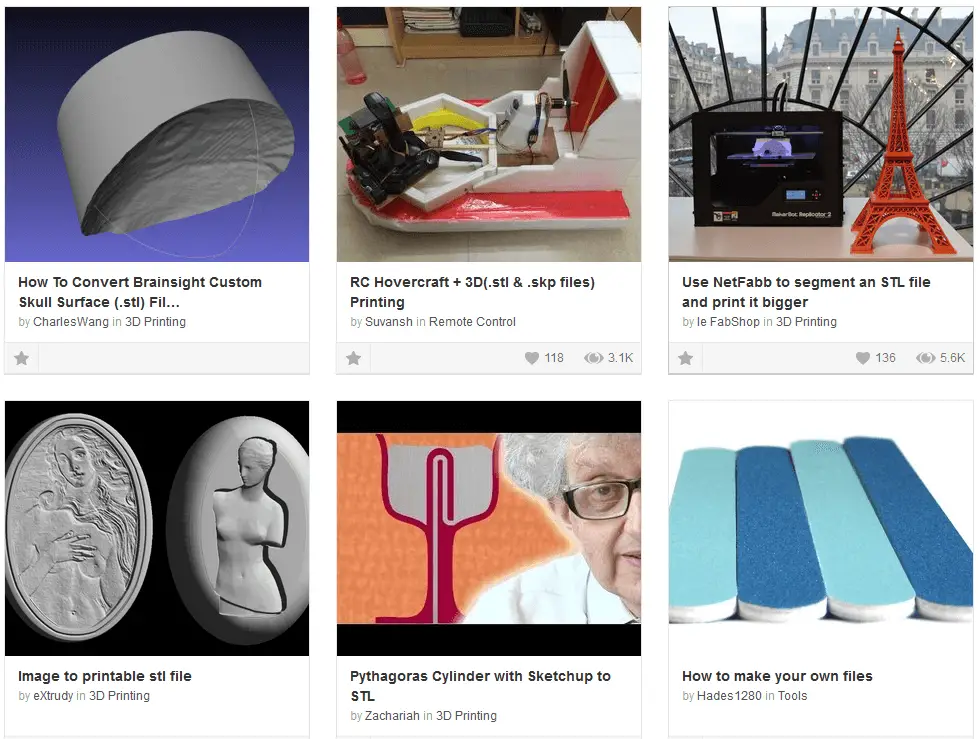 This is a DIY platform for hobbyists and professionals where 3D models can be shared as well as the direct steps taken to design and print the complete models. Users can access these files at no cost.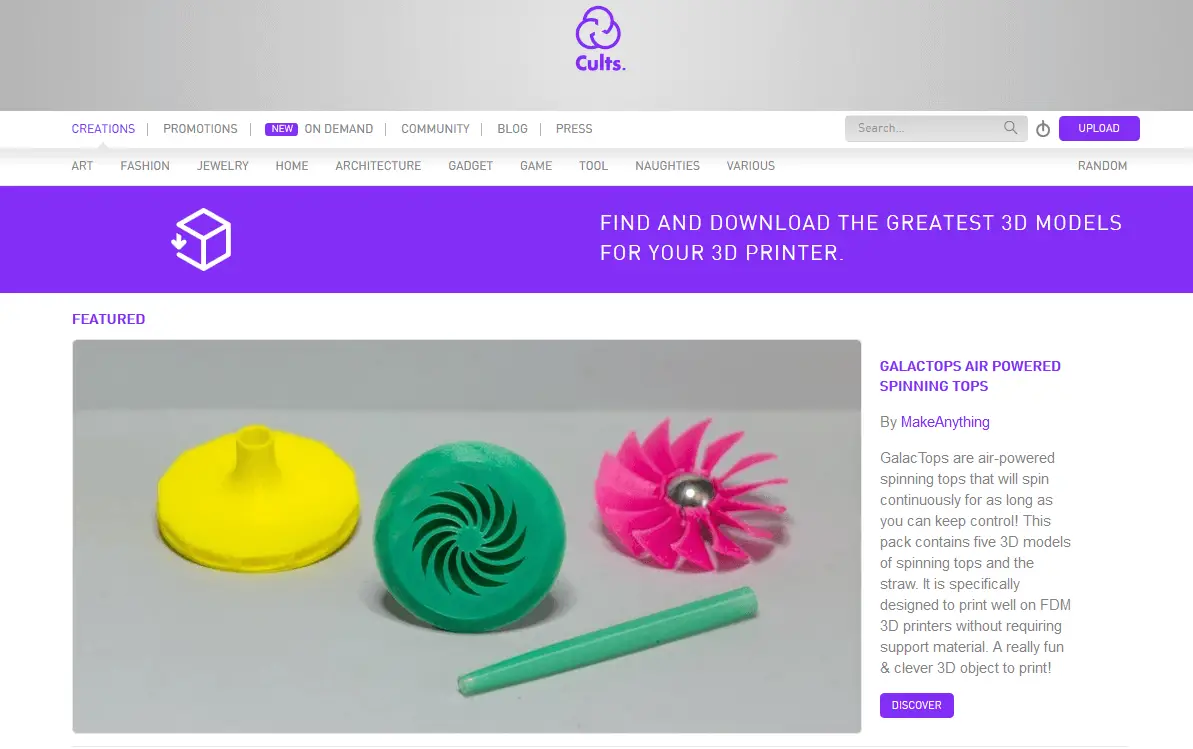 Cults is a social network/e-commerce store for professional 3D designers. Here, professional designers provide some free files you can download and you can also follow designers, contact them and collaborate on projects together.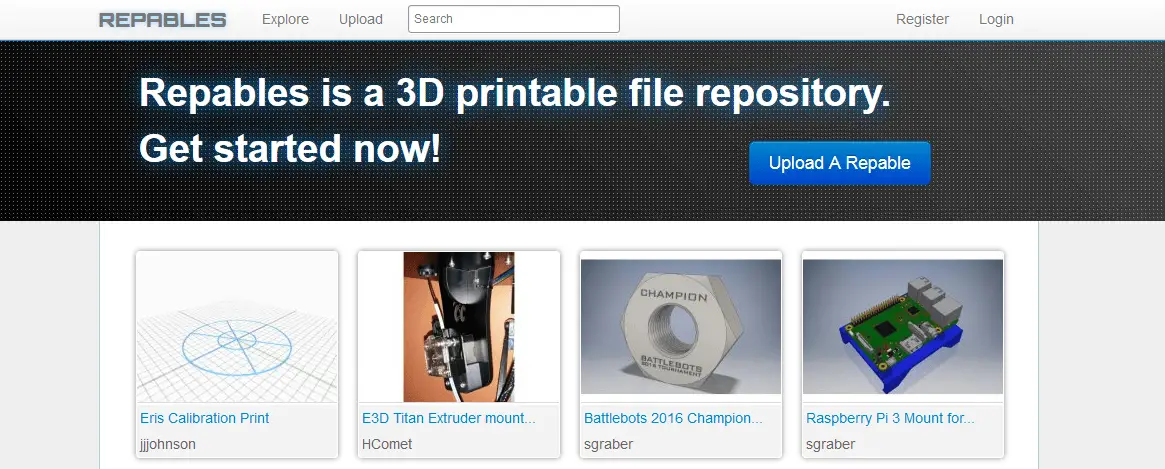 Repables is a website hobbyist should consider solely for the purpose of finding 3D models. This platform focuses on only downloading models and does not support communication or collaboration between designers and consumers.

If in need for a collaborative effort to build unique 3D model designs, collaborative platforms like ShapeDo are important resources to consider. Here you can find free 3d models and also collaborate with professionals if the need arises.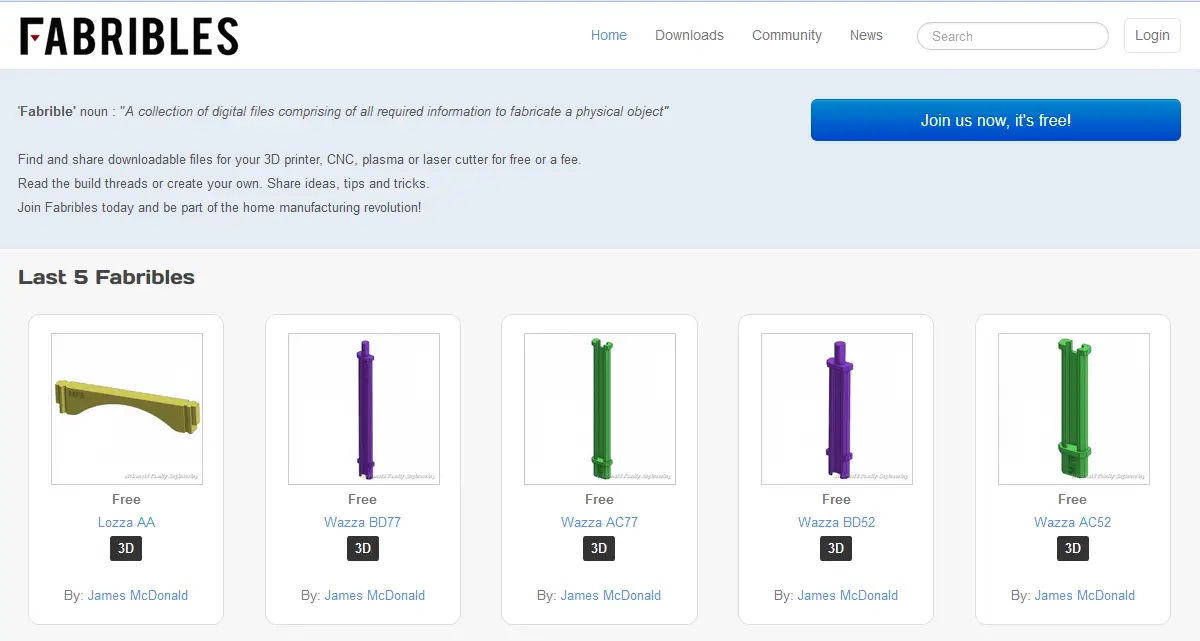 This online repository provides consumers with diverse 3D models that can be downloaded for free. Files on Fabribles are mostly geared towards use on the RepRap brand of 3D printers.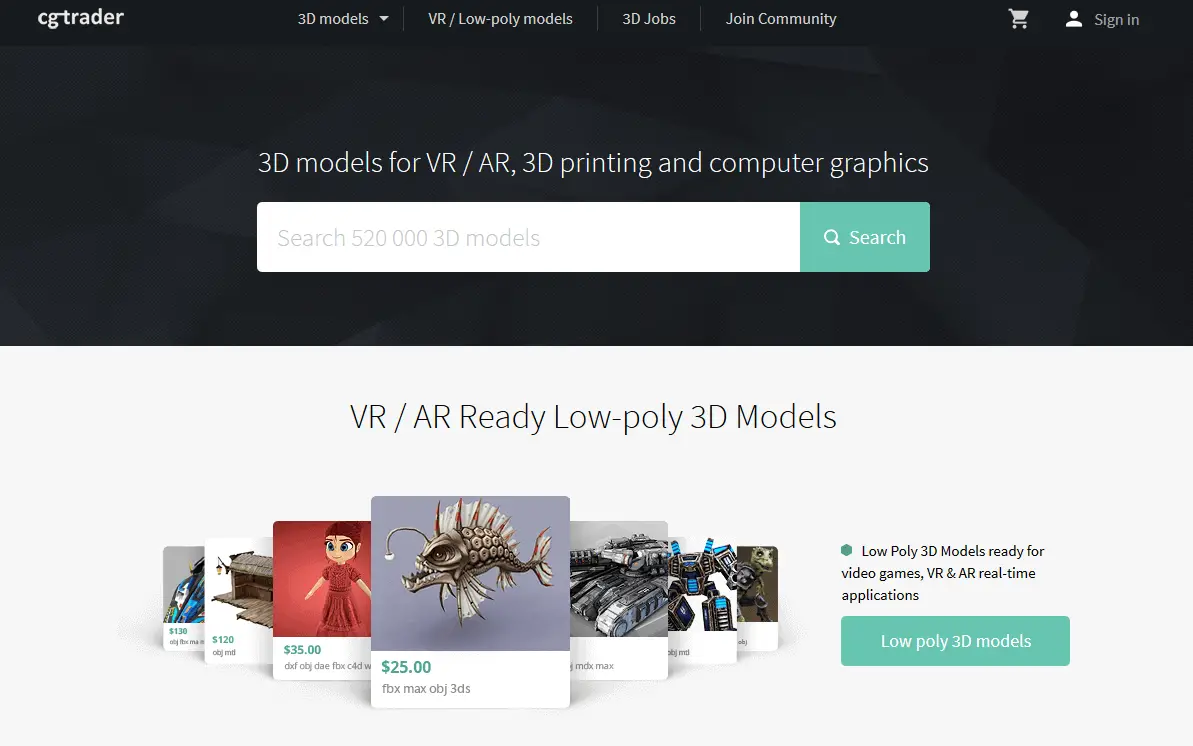 e-commerce platforms where 3D models are sold can sometimes be the best place to find a lot of free models that can be used with a 3D printer and CGTrader happens to be one of them. Here you can either purchase or browse through user catalogues to find free 3D models.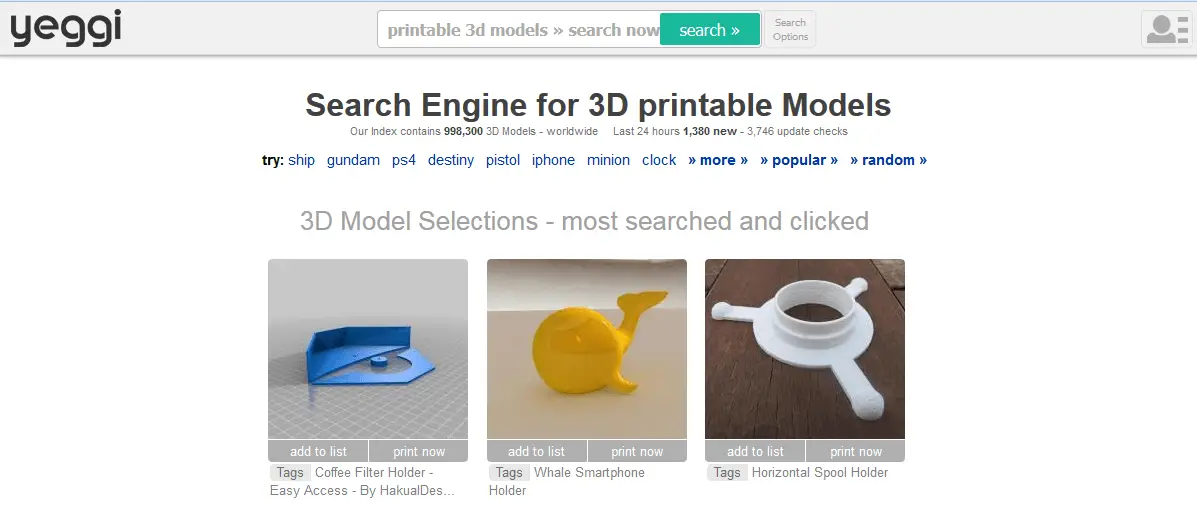 This is a customizable search engine dedicated to searching the web in order to find 3D printable models to fit your specifications. It is a good way to find but STL files and instructions relating to using your 3D printer.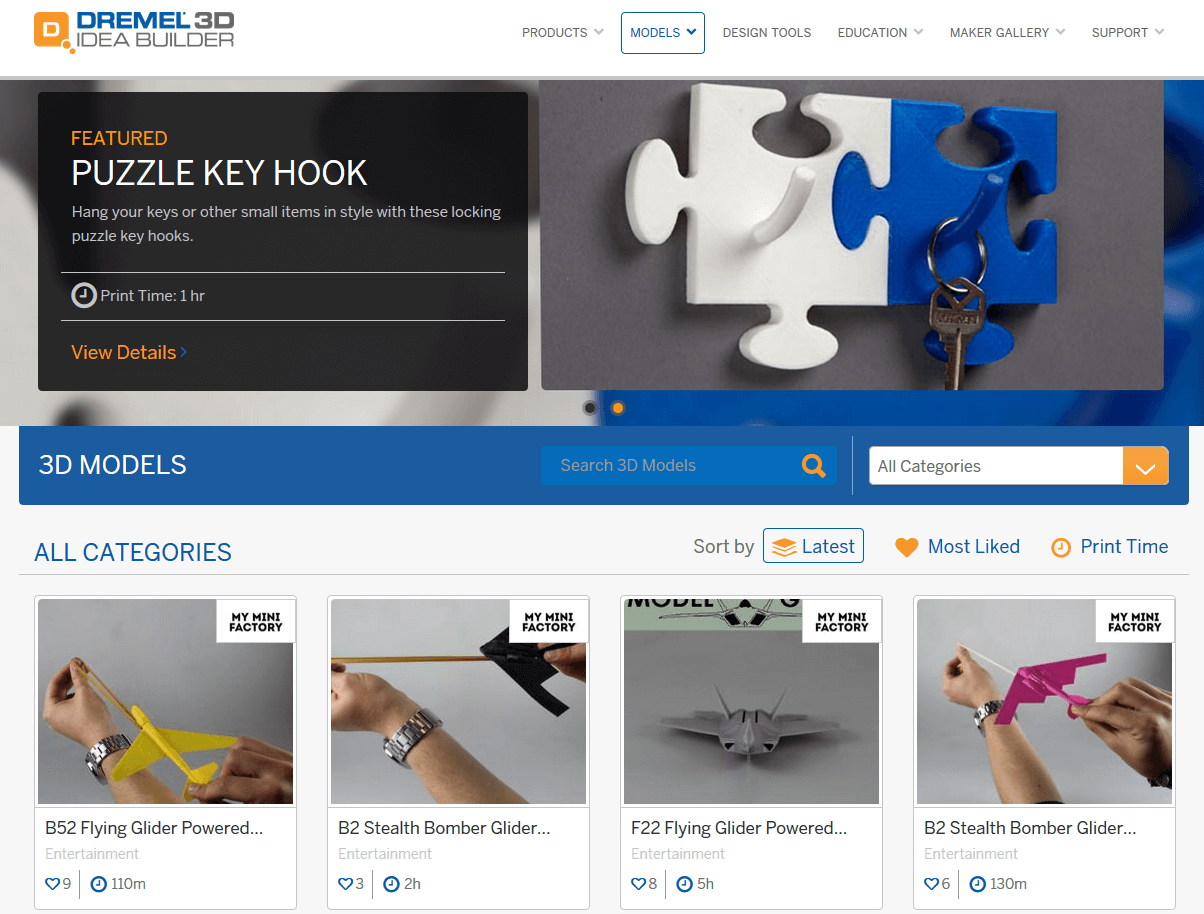 The Idea builder 3D printers—which work with only PLA filaments—has its own online platform that provides the resources and 3D models you may need to get started. Here, consumers can see free STL files as well as directions on how to use the 3D printer to execute them.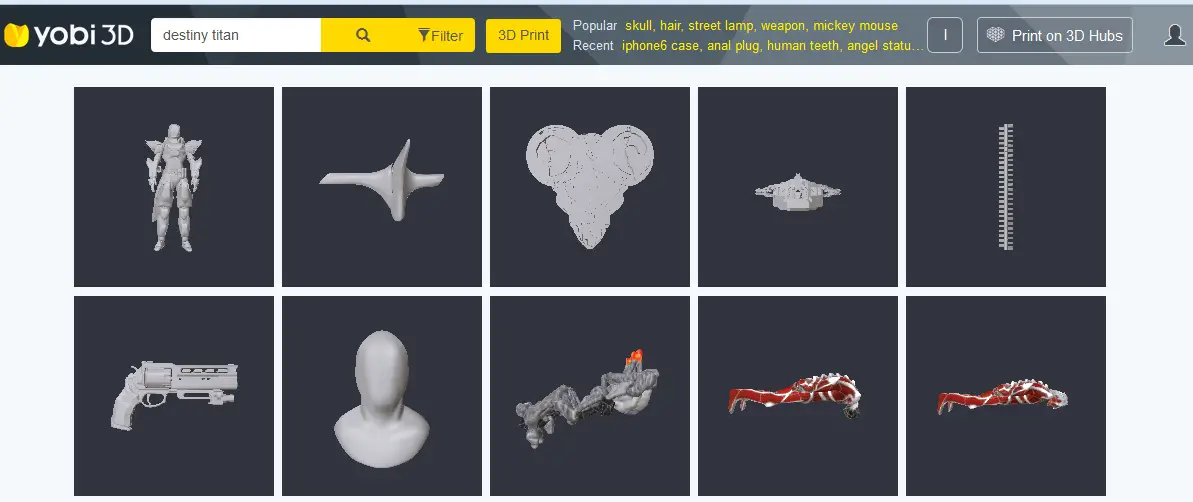 When looking for a cutting edge search engine dedicated to 3D printing, Yobi3D offers you just that. Using this platform, you can find STL files, preview them as well as see samples on how they can be printed. Yobi3D also offers you its professional services which include 3D printing chosen designs for you.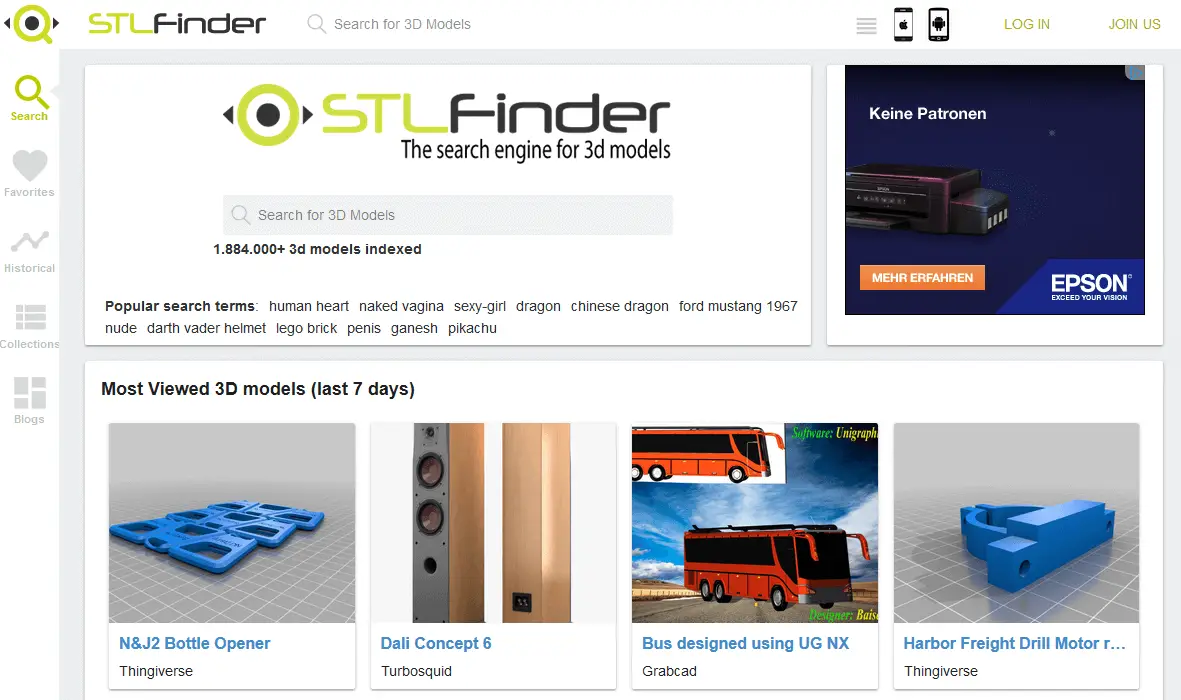 The name speaks for itself. This platform is one of the versatile search engines out there tasked with the responsibility of finding STL files that fit a user's recommendations. Users can also register accounts and bookmark their favourite designs.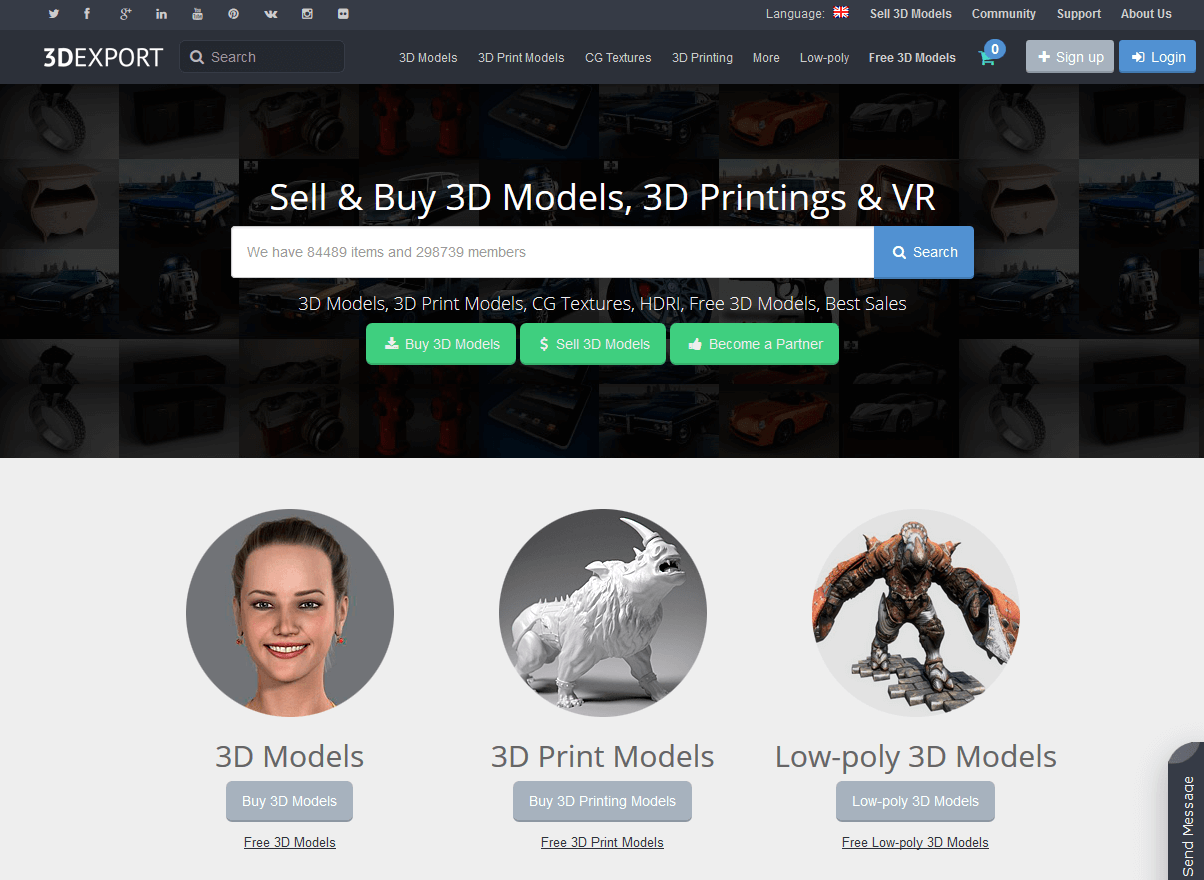 Nothing exported is usually free and 3DExports sticks to that policy. It is an e-commerce store built for professional designers to showcase their craft and sell 3D printable models to the public. But on closer inspections, consumers can find diverse models for free under a designer's account.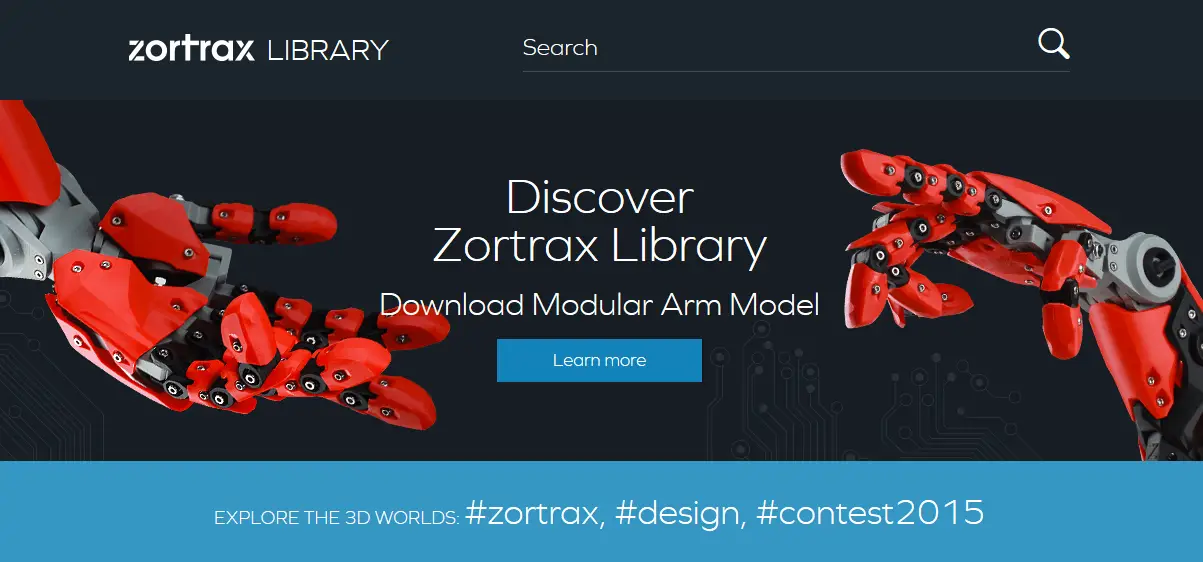 This library was once an integral part of the Z-suite package but it is now been billed as a stand-alone library where anyone can go and download STL files from. The contents contained in it are completely free.
New Matter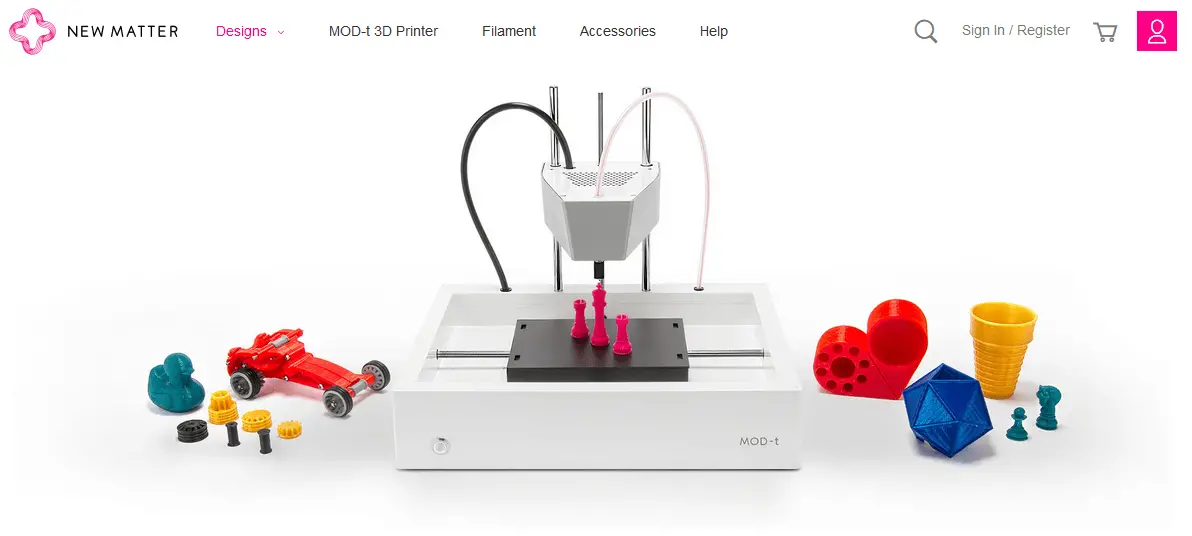 The creators of the MOD-3D printer bring this platform consisting of STL files to you. The library consists of printable files for domestic items and toys. It is also important to note that the STL files featured here can also be used on other 3D printers.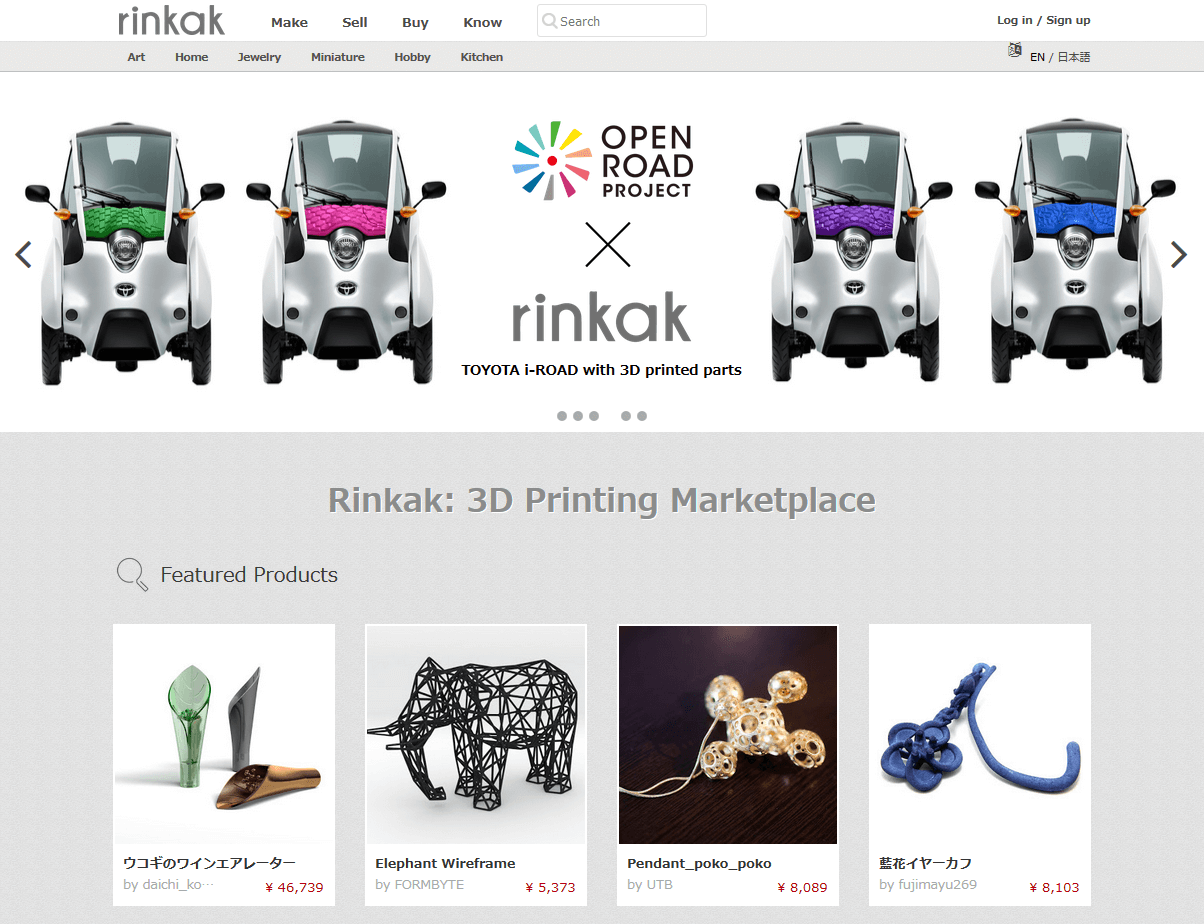 This is a Japanese 3D printing servicing platform. It offers a variety of 3D printable models as well as the finished product if you request for it. Although its services are premium and come at a price, users can still find free STL files on it.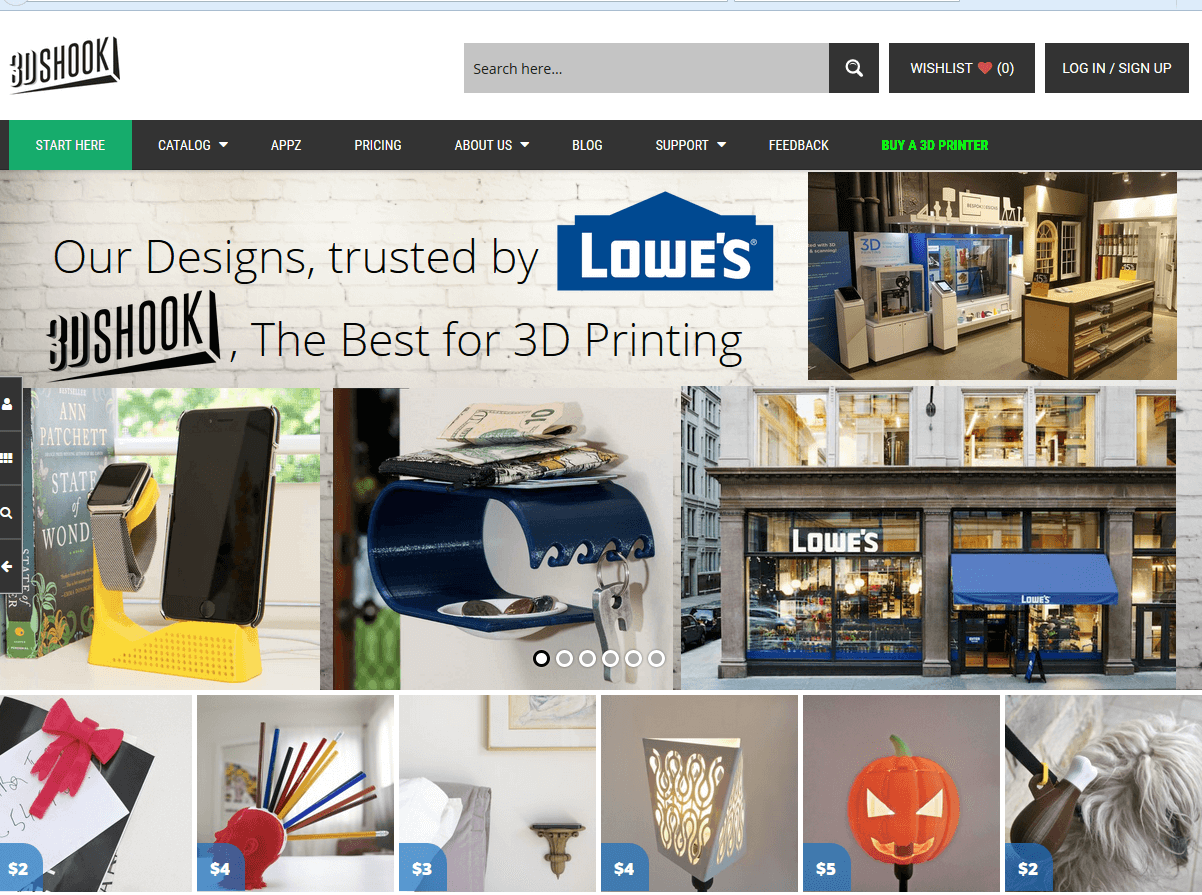 First and foremost, it is important to note that this is not a free platform. Here, users are required to subscribe on a monthly basis to take advantage of the STL files on display but there is a catch. You are offered a lot of STL files for free to get you interested in the service.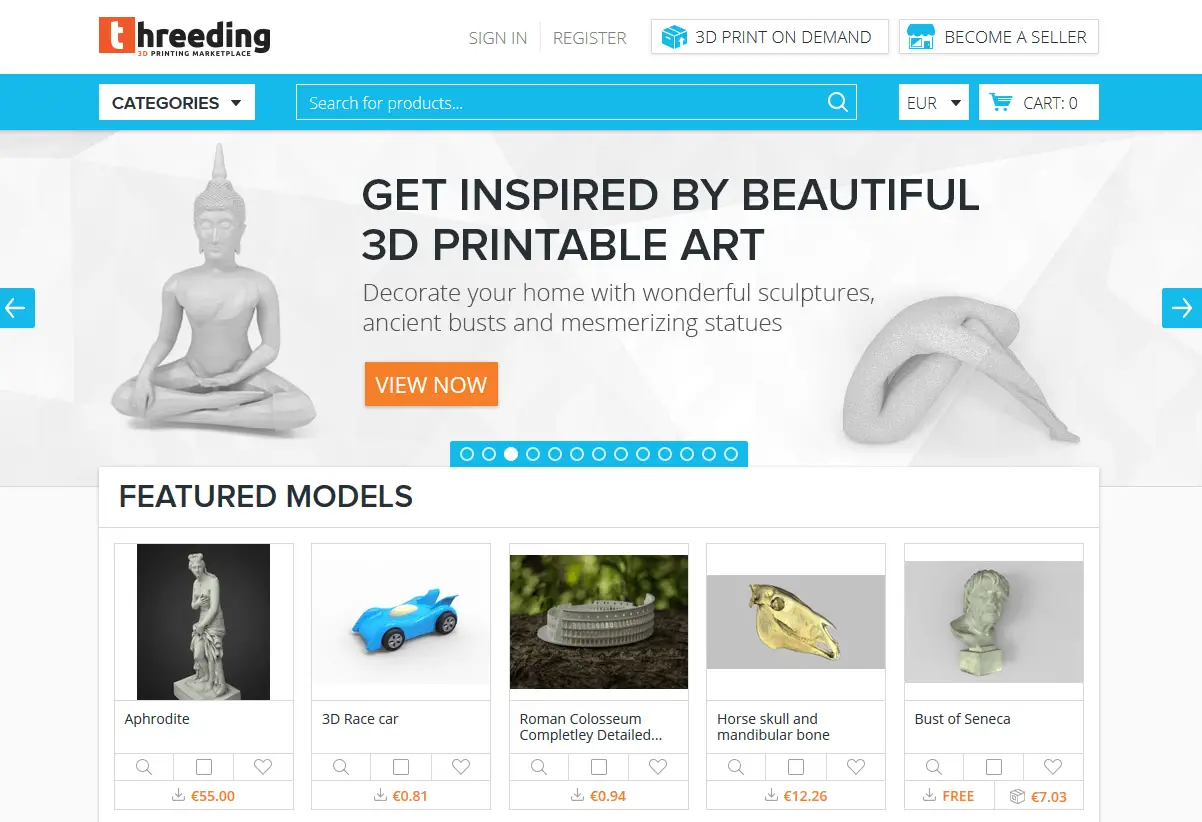 This is an online platform that offers both paid and free 3D printing services to its users. On this platform, users can take advantage of the free STL files on offer by simply downloading the files.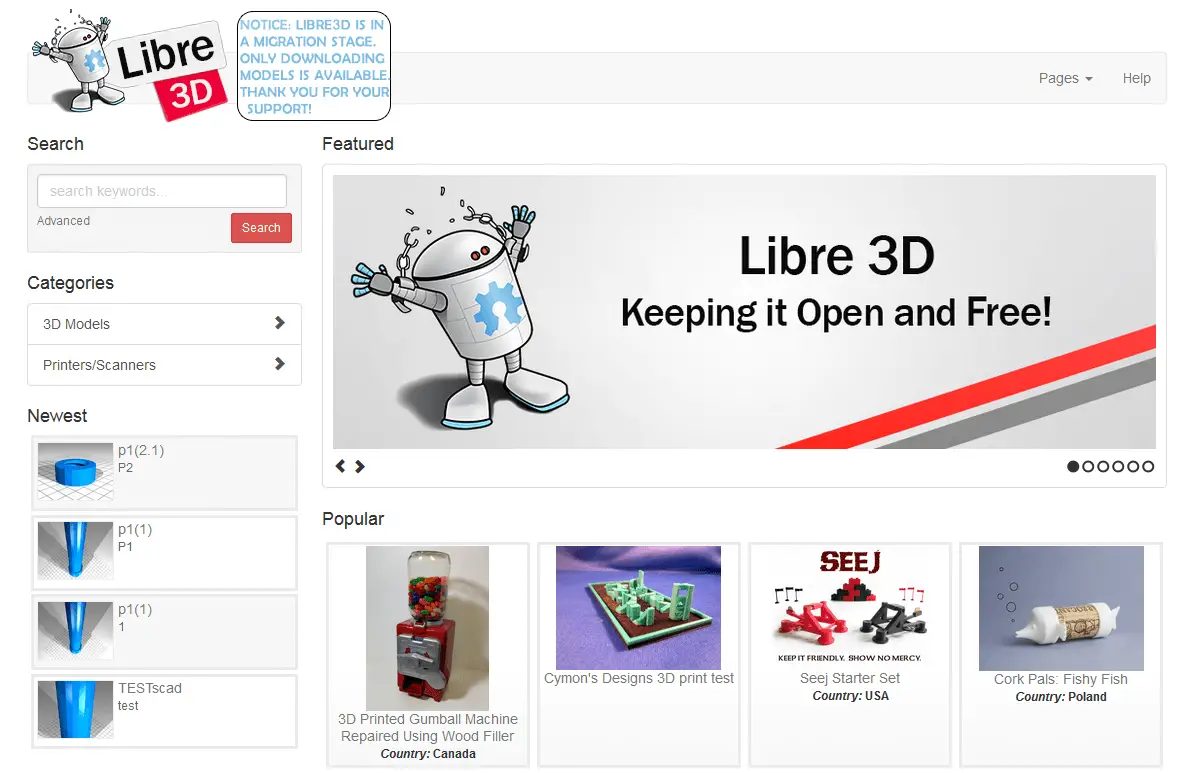 LibreCAD is getting quite popular in the 3D modelling community and this is in part due to its open source platform. The Libre3D website offers a variety of 3D models created using the CAD application and most of them are 3D printable.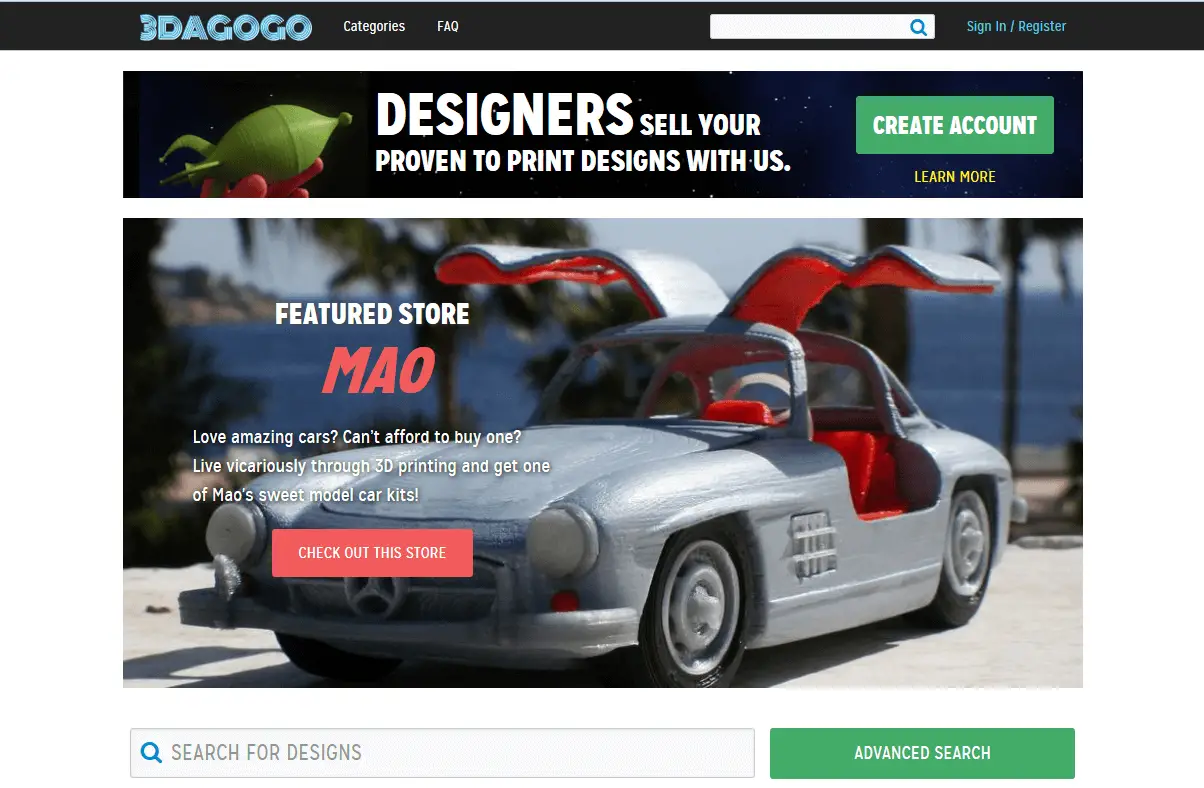 This is basically an e-commerce store where 3D printable files are sold to consumers. It offers consumers a path way to discovering professional designers and taking advantage of their work. Also as expected, users can still find free STL files on offer at 3Dagogo.
Shapetizer was built for the Chinese market and it is a platform that offers 3D printing services in china. Users can take advantage of 3D models consisting of video game characters, jewelleries and accessories.
The Forge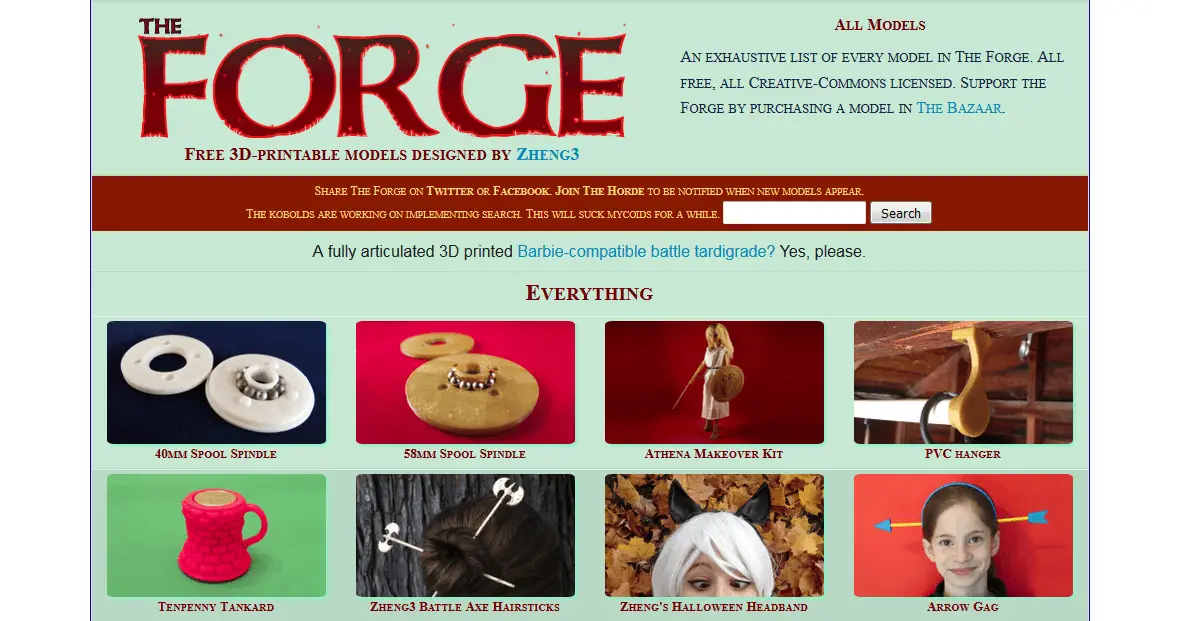 The Forge is the brain child of a single designer, Zhenger3. Here he provides details on his 3D models and how to print them. Most of the STL files here are useful domestically and are completely free to download.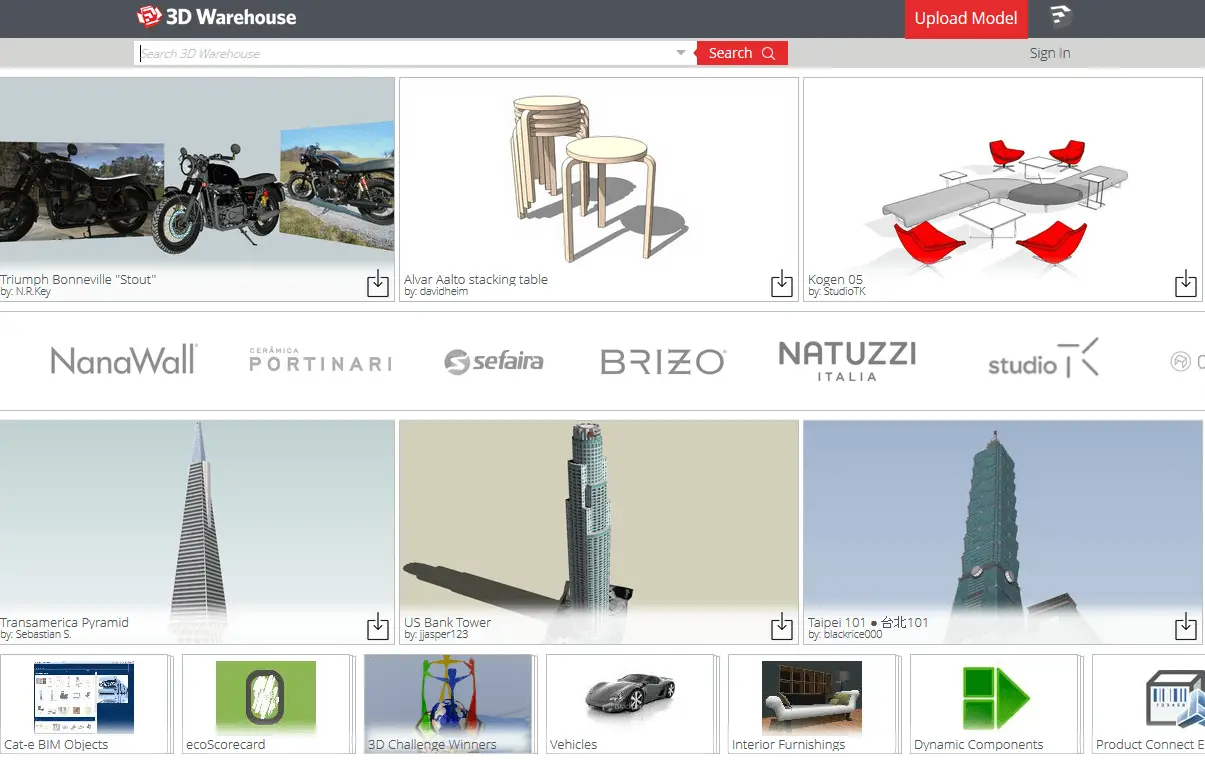 This is predominantly a warehouse dedicated to 3D models developed using SketchUp 3D. The 3D models provided here encompass the architectural and engineering industries. They are also free and can be downloaded on registering.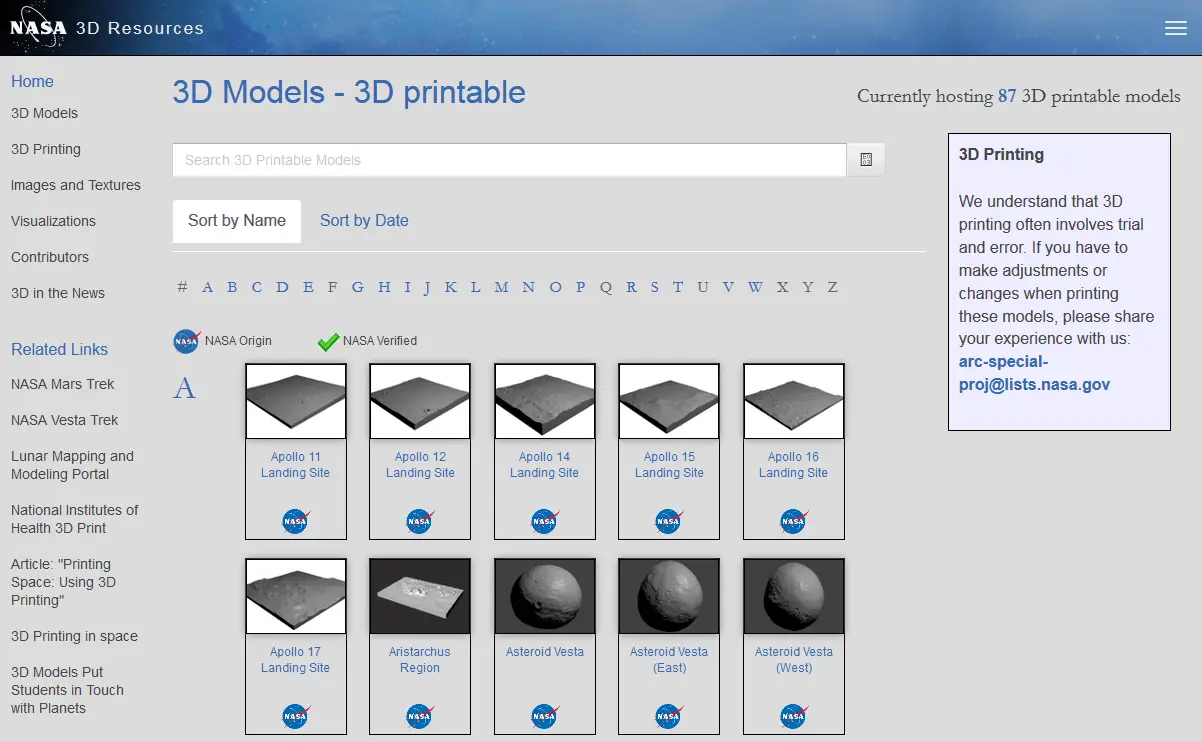 The official NASA website has also gotten into the act of 3D printing. The website provides free 3D models on topics relating to the earth and its phenomenon. Therefore, most of its free STL files are educational in nature.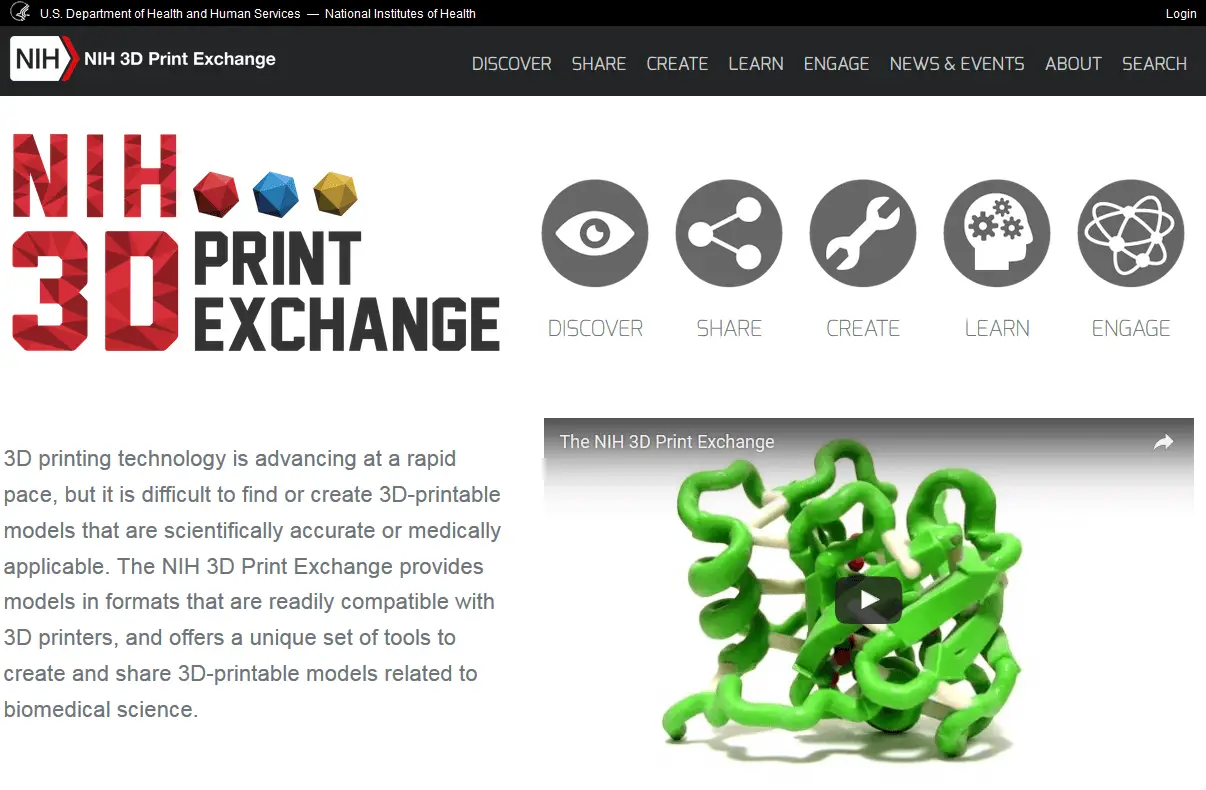 NIH 3D Print is dedicated to science, technology, engineering and mathematics (STEM) education. The resources provided here will be a boon to any educator looking for free STL files to print covering the above topics. Note that all files are printable and free for public use.
Cuboyo

Cuboyo is definitely an e-commerce platform that offers 3D printable files but it is also important to note that it has a large offering of free models you can download. Users are also provided with tutorials and tips on how to go about 3D printing downloaded STL files.

This is an online platform built for professional 3D model designers to publish 3D models, sell them and also build relationships between CAD professionals and the consumer. Just about anyone, including consumers can create a TurboSquid account. As expected, this platform offers a lot of free 3d models for consumers to use.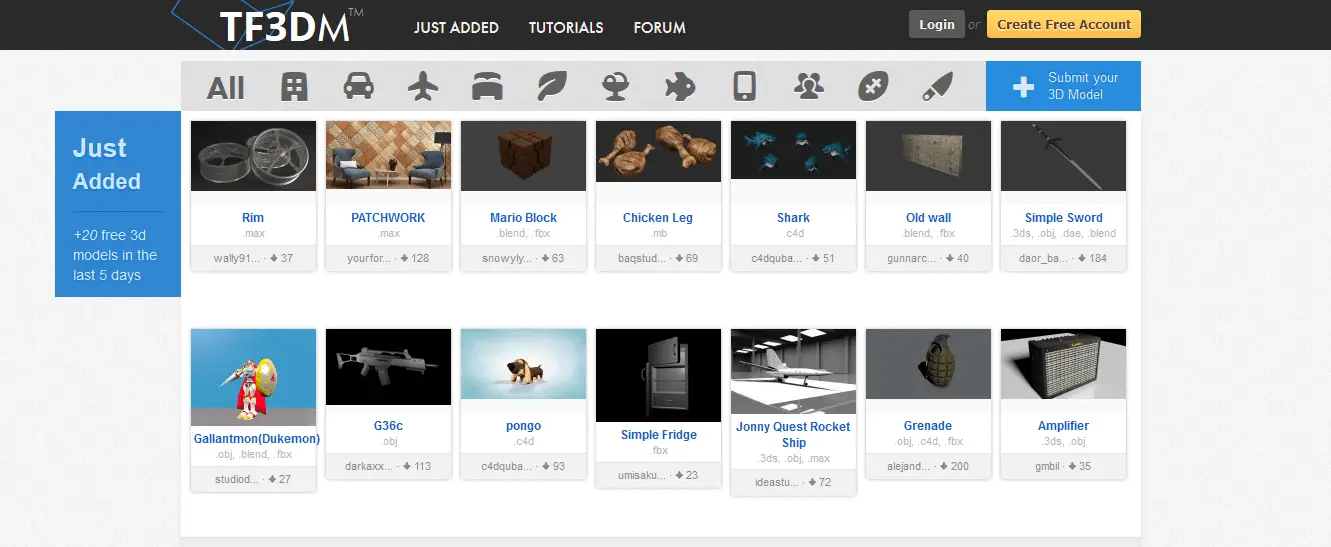 This platform not only offers free 3D models that can be printed on a 3D printer but offers tutorials on how to get proficient using CAD. It also consists of a lot of professionals who can grant you access to use their work on request.
Domawe is an online repository for both 2D and 3D models. It allows professionals to feature their works, and consumers to download design for free. The platform also functions as a search engine and allows you surf the web for peculiar 3D models.
This is a website that offers designers the opportunity to upload and share 3D models with the world. Consumers can simply download these models for free and make use of it as they deem fit. Note that you can also download CD books and tutorials on it.
Although Github is recognized worldwide as a melting point for programmers and software developers, little do people know that it is also one of the largest repositories for 3D models. It currently serves as one of the largest online resources for finding 3D models for the science and robotics industry.
are you familiar with pirate bay and how popular it was in its heydays? If yes, then this platform should be viewed as something similar but designed to provide 3D models for your personal use.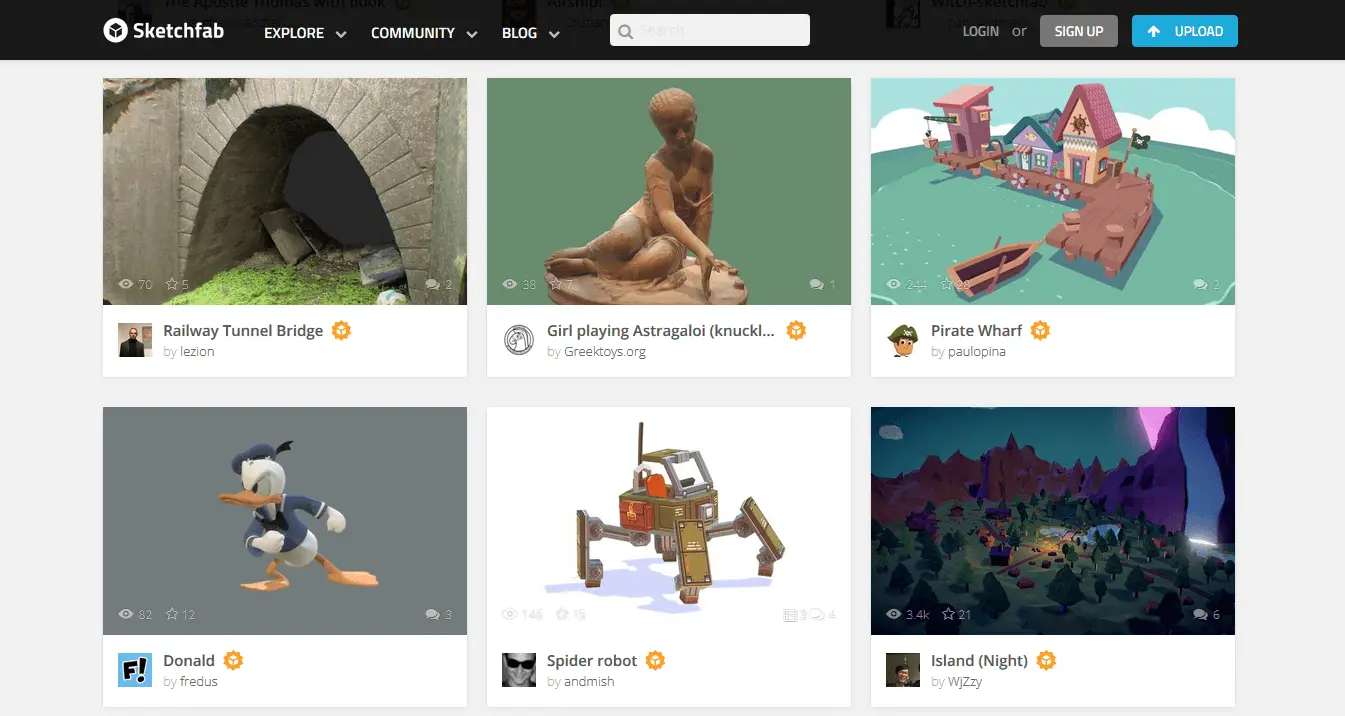 Sketchfab was solely built for the purpose of providing hobbyist with multiple resources to get their 3D printing hobby moving as smooth as possible. Here, you can find 3D models published by designers from all over the world which can be downloaded at no cost.
So we have come to the end of our list on the 40 interesting place to visit when looking for free STL files. So what else are you waiting for? Dust your workspace, download a file and start printing today.