The New Year is just around the corner and now is the time for us—in the 3D printing community—to reflect on the printing targets we set for 2017 and how well we did in achieving those targets. And as you cross-out your checklist, do not be disheartened by a 40% score for it means you still took some chances and applied yourself to achieving some of the goals you set. Yes, buying that first 3D printer is an achievement, learning to use a 3D scanner is also an achievement under your belt as much as learning to design 3D models for your printing project is.
Today, we intend to touch on something which is also as important as increasing your skill with a 3D printer; upgrading your workstation or more specifically your 3D printer to a device that will allow you accomplish much more as 2018 rolls by. So, our entire focus will be placed on the 3D printers with dual extruders that we believe can play a major role in elevating your craft. And in the spirit of giving—as this season connotes—, non-3D printing enthusiasts can still find great gift ideas in this post to give out as gifts to the family and friends that are part of the 3D printing community.
The Top 7 Dual Extruder 3D Printers
Since we have invoked the possibility of non-enthusiast gifting these 3D printers as gifts, I think it is only right that we at least explain what a dual extruder does and why it stands out from the single extruder for their sake. In the simplest of terms, a 3D printer with a dual extruder is a 3D printing device with two nozzles, extruders or mouths tasked with producing two distinctly colored materials when manufacturing a 3D model. Therefore, with a dual extruder, one can 3D print models that spot different colours which adds an extra touch of realism to 3D printed objects.
To help you choose the best option as well as simplify your shopping task, 3 criteria will be used to review each product on the list to showcase why they are considered the best:
Build, Design and Quality—the durability of a 3D printer largely depends on its external features which are mainly; the materials it was built with, its size, as well as the manufacturers, brand. Yes, brand does matter.
Specifications—this touches on the 3D printer's technical features and specifications for they determine the quality of the 3D objects you print.
Supporting Ecosystem—there are a plethora of supporting accessories and learning platforms out there to help you in your task of becoming a better craftsman with your 3D printer. This touches on the support you can tap into when you purchase a dual extruder.
Last but not least is cost. Since you would be investing in a 3D printer, it is only fair you know how much purchasing each item on this list cost.
Starting with the least expensive, XYZprinting's Davinci 2.0 Duo has gathered its own fair share of fans due to its affordability and the chance it gives first-time users to try out the power of a dual extruder. But despite its comparative cheapness, the Duo still happens to be a great 3D printer capable of doing an excellent job as its specifications will show:
Build, Design and Quality—the Davinci 2.0 is a well-designed specimen manufactured from transparent plastic and reinforced steel to provide it with the needed grit when carrying out 3D printing tasks. According to its package, it weighs approximately 60 pounds or 27kg which makes it a rather portable device for your workshop.
Specifications—The Duo provides its user with 359 cubic inches of build space which supports the manufacturing of small to medium sized items. It also spots dual extruders that can print at a speed of 150mm per second and at the fine layer resolution of 100 microns.
Supporting Ecosystem—although XYZprinting is still carving out a niche for itself, its products still comes with a robust support base consisting of forums for users and other accessories to help you 3D print with ease.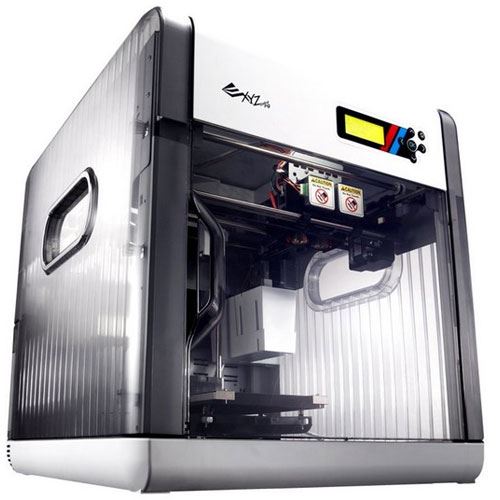 The Davinci 2.0 Duo costs approximately $450 which makes it an affordable gift for family or friends interested in exploring additive manufacturing.
The Asian 3Dprinting market is rapidly expanding at an unprecedented rate and true to form, most manufacturers of 3D printers are looking to exploit this interest by developing machines geared towards the Asian community. And FlashForge's Creator Pro is one of those printers developed by a Chinese based company with a view to taking advantage of Asia's new found love of 3D printing. Using our criteria to access the Creator Pro, we see a solid dual extruder 3D printer that gets the job done.
Build, Design and Quality—in terms of look, Flashforge did not attempt to go for flash but designed a compact box with steel, a display screen and transparent plastic to help you monitor your projects with ease.
Specifications—the Creator Pro provides users with 280 cubic inches build-space for 3D printing. It is capable of printing at a fine resolution of 100 microns, with a printing speed of 40-100mm per second. It also supports the use of PLA and ABS filaments.
Supporting Ecosystem—the Creator pro's supporting ecosystem while minimal is still growing at an encouraging pace.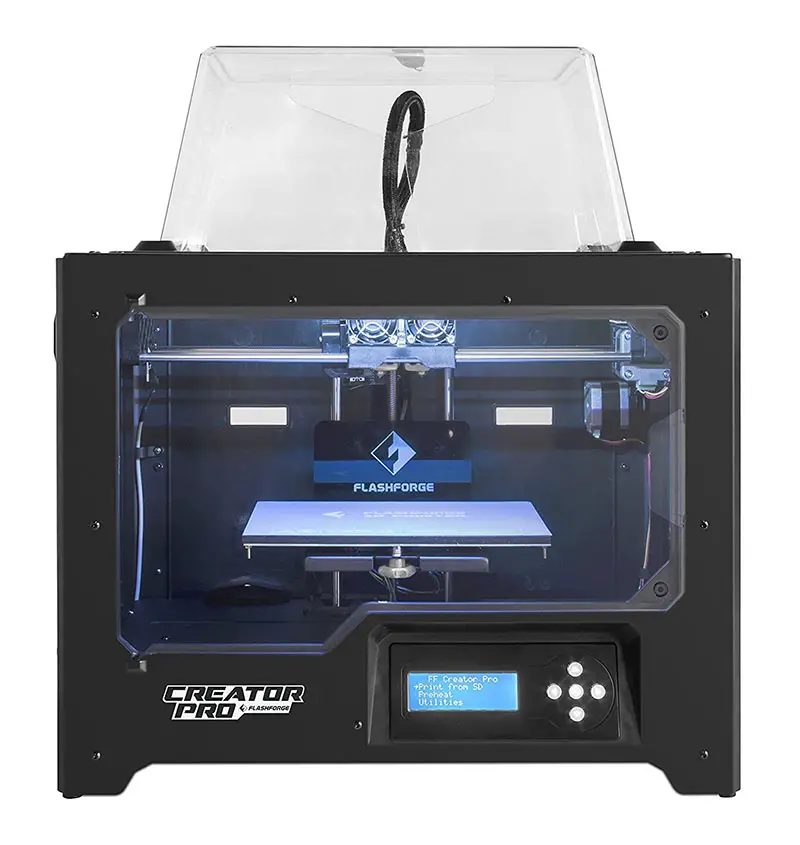 The FlashForge Creator Pro is also quite affordable and you can purchase this printer for approximately $780.
Any list covering 3D printers is generally deemed incomplete without a MakerBot 3D printer on the list. Therefore the inclusion of the Replicator 2X shouldn't come as a surprise to anyone. This 3D printer comes with the expected dual extruder and other features which makes it a more advanced device than most 3D printers in its category.
Build, Design and Quality—the Replicator 2X is a beautifully designed 3D printer that definitely catches the eye. And its build which comprises of steel and reinforced plastic makes for a solid base when the actual work commences.
Specifications—the Replicator 2X weights approximately 28 pounds and it's frame provides its user with 324 cubic inches of space to print on. It also 3D prints at a high resolution of 100microns and comes equipped with a hotbed. The Replicator 2X uses PLA and ABS plastic filaments as its building materials.
Supporting Ecosystem—the popularity of the MakerBot brand means that in terms of support, the Replicator 2X ranks really high. This is due to the multiple MakerBot apps, forums—both on and offline—and accessories that have been developed for this brand.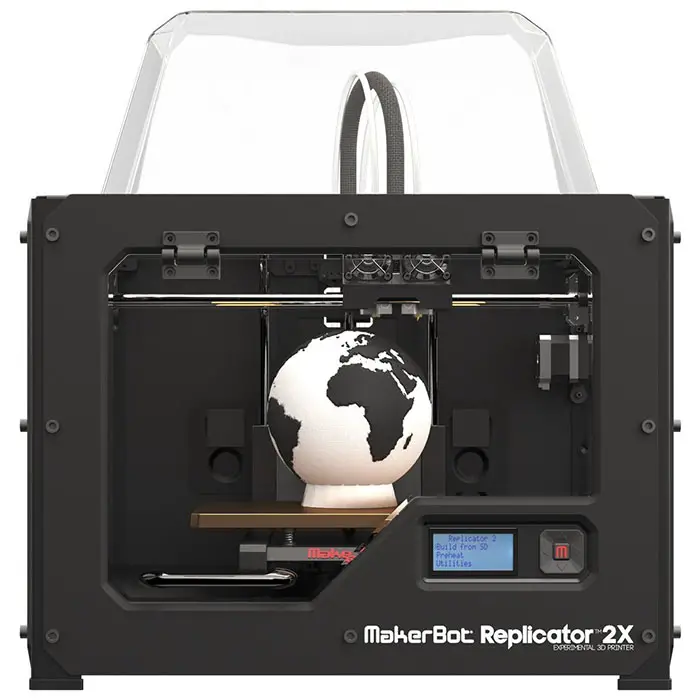 As stated earlier, the MakerBot Replicator 2X should be considered as a high-end dual extruder 3D printer and at a price of $2,400, it might put a dent in the average individual's pocket.
Here we have the first European manufacturer of 3D printers to make the list. BCN3D the creators of the SigmaX sought to provide the public with a high tech 3D printer with dual extractors that catches the eye as well as efficiently executes it's job. And this 3D printer delivers effortlessly on both. Taking a look at its specifications we have:
Build, Design and Quality—from a personal perspective, the SigmaX is one of the more beautifully built 3D printers you will ever have. This is made certain by its fine finish, open design and simplicity. This device is made of steel thereby providing it with a solid base for the exacting task of printing in 3D.
Specifications—the SigmaX spots a really large build volume when compared to other 3D printers in its class. And with 450 cubic inches, you could probably work on both small domestic and large commercial items whenever you choose. The SigmaX still works fine at a temperature of 110 degrees and prints at a resolution of 50 microns.
Supporting Ecosystem—BCN3D is still relatively new to the game when compared to MakerBot and co but it is slowly gathering its own group of users. It also offers a dedicated help page where you can find assistance, accessories and other users whenever you need to.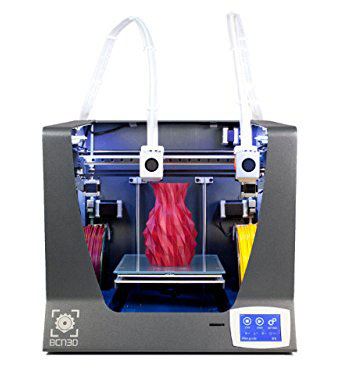 The SigmaX doesn't come cheap for at a price of $2,700, you will definitely be paying a premium for this beauty.
The Raise 3D N2 dual printer is one of those new age machines that were billed as game-changers circa 2010 and on its unveiling, its specifications and build clearly showed that the product was worth the hype. The N2 dual's features and design specs outlined below will clearly show that it is a dual extruder worth having in your workspace.
Build, Design and Quality—a look at the N2 conjures an image of a high-tech coffee maker mixed with a hybrid translucent cube. This is due to its glossy steel finish and the surrounding glass panel covering the entire structure. Aesthetics aside, the N2 weights 40 kg and is definitely stable enough for printing fine resolutions.
Specifications—here again, the N2 brings cutting edge technology to its beautiful make-up for it provides you with a touch screen interface and a respectful build volume of 350 cubic inches. It is also important to note that the N2 stands out in separate ways which includes the ability to print with filaments such as metal and wood. A printing resolution of 10 microns cements its reputation as a high end 3D printer.
Supporting Ecosystem—Raise 3D is still quite new in the game which means the N2 has limited supporting features for its users to rely on.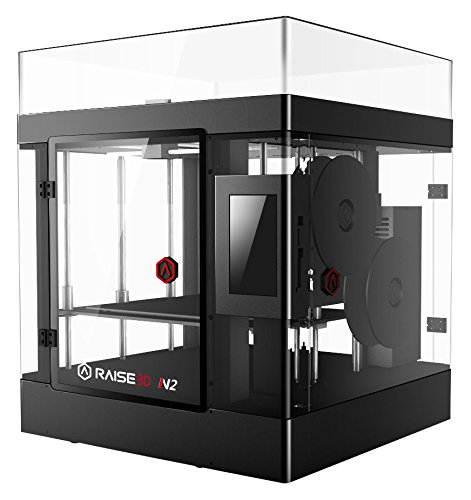 The N2 costs approximately $3,500 and with its design and added features, most 3D printing enthusiasts will consider it worth its weight in gold.
The 3rd generation Ultimaker was created with professionals in mind. Therefore, it is a solid offering from powerhouse Ultimaker and it lets you take your 3D printing projects from the fairly mundane to high end. Therefore, when in search of a heavy duty dual extruder, the Ultimaker 3 should definitely be a device to consider.
Build Design and Quality—the Ultimaker is aesthetically pleasing to the eyes and this is due to its surface finish as well as rectangular form. It also comes with a transparent front which allows you see your project been executed in real time.
Specifications—let's start with its self-leveling tray which means you do not have to consistently interrupt the printing process to achieve balance when working on its approximately 300 cubic inch building bed. The Ultimaker can print with all types of filament—wood, metal, plastic etc.—and does this at a speed of 300mm per second and an accuracy of 20 microns.
Supporting Ecosystem—Ultimaker gives you all the support you might need in 3D printing as well as finding 3D digital models to work with. It also has a vibrant community of 3D printing enthusiasts you can learn a lot from.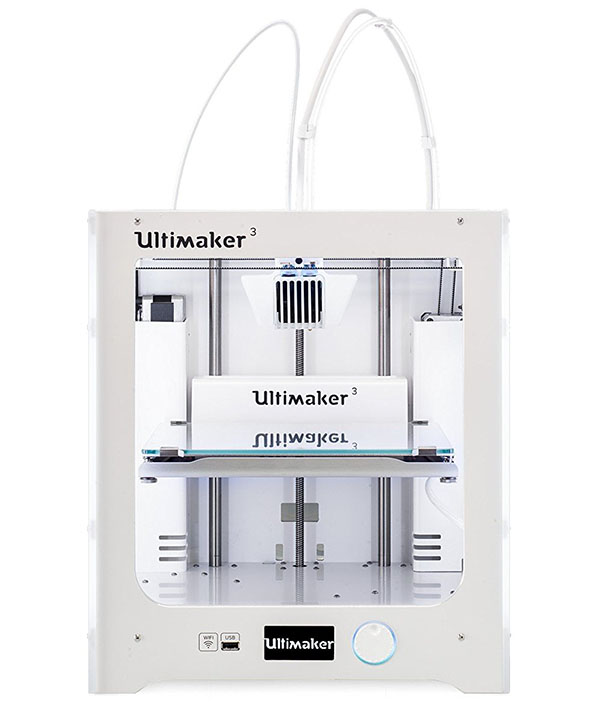 With great power comes a high price and at $3,800, the Ultimaker 3 is definitely on the high side.
Zmorph is another example of the growing 3D printing industry in Europe for it joins today's list as one of the few European brands making their mark on the market. The 2.0 Sx, can be considered high end due to its pricing and the features it brings to the table. Therefore using our criteria, we have:
Build Design and Quality: The Zmorph is made out of solid steel and transparent glass to give its user a first-hand view of what exactly is going on during projects. Its metal build also makes it a balanced 3D printer to use.
Specifications: the 3D printer provides its users with a build space of approximately 350 cubic inches as well as a heated bed for printing tasks. The Zmorph 2x is equipped with the capability to 3D print using diverse materials such as; PLA plastic, wood, ceramic etc.
Supporting Ecosystem: Zmorph is quite popular in Europe and in certain cities, individuals can take advantage of the 3D printing hubs it provides its users. The 3D printer also costs approximately $4,000.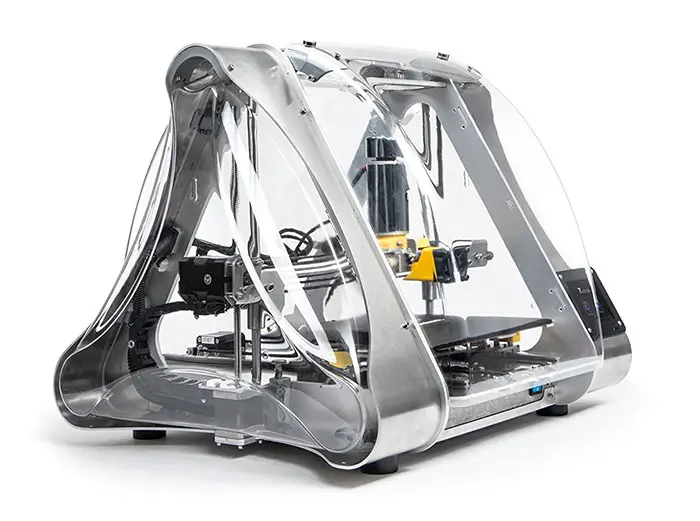 So here we come to the end of today's list on the top dual extruders out there that you can purchase to bring your ideas to life as the New Year approaches.