In today's post, 3D printing will meet in the middle with the iconic world of George Lucas which makes this a must-read for Star Wars fans who also happen to be 3D printing enthusiasts. Here, you will find the blueprint for bringing some of the best characters and ideas from The Star Wars franchise to life.
Note that these designs may have been copyrighted to forestall commercial production. So, you may have to also go through the fine print if you plan to 3D print these models and sell them to the public.
3D printer star wars figures
The Solid TIE Interceptor
The Interceptor is a 3D replica of a missile defence system which defenders employ in blocking missiles and other aggressive attacks from enemies of the galaxy. This piece is definitely eye-catching and would do well as a gift item or an ornament for your work desk. You can access the 3D schematics or digital model here. From the design, you will note that the base was fleshed-out a bit in order to provide the TIE interceptor with enough stability to support the protruding end.
The Bust of Darth Vader
Not many people get the grey line between darkness and light perfectly as George Luca did with this Alpha Sith lord. And this is why regardless of the evil Darth Vader has weaved through the Star Wars world, he still happens to be a hero or one of our favourite villains of all time. The Darth Vader bust is definitely a great model to test your 3D printing abilities against. You can find the necessary download files needed to accomplish this on Pinshape and one should also follow the provided 3D printing instructions to avoid errors.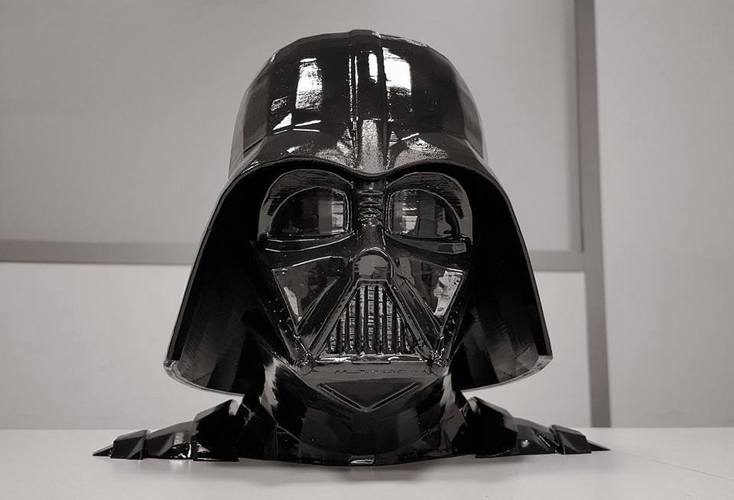 Your Personal Storm Trooper Helmet
Interested in joining the rank and file of the enemy's forces? If yes, then the first step to accomplishing this career change is obviously getting the snow white suit that differentiates a stormtrooper from regular soldiers. So why not test your 3D printing abilities by taking on this rather exquisite project of 3D printing or manufacturing a storm trooper's helmet. The guide provided at Myminifactory will give you the head start needed to accomplish this task. It is also important to note that the helmet is a part of a larger project focused on manufacturing the entire suit of a Storm Trooper.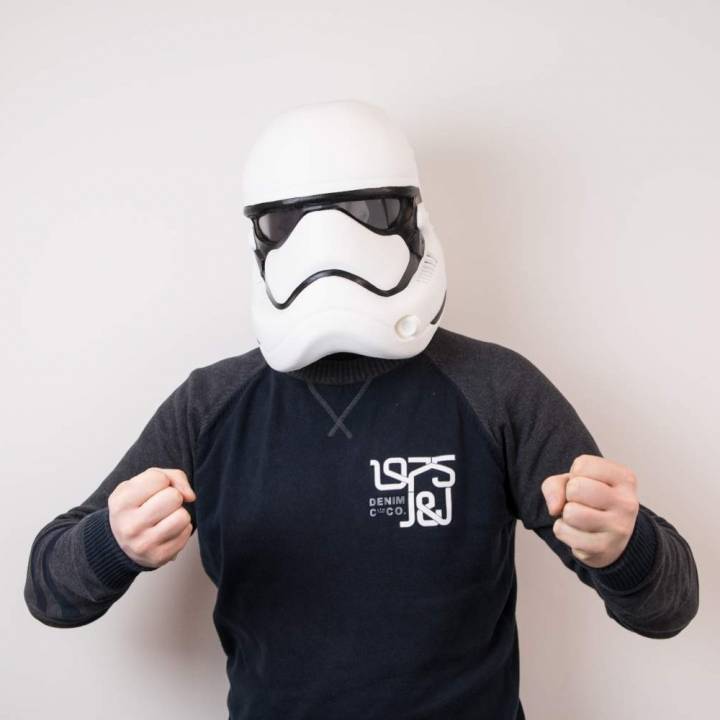 Learn to Use the Force with Yoda
Knowledge is to be processed and learned. And no one epitomises the process of teaching or passing knowledge through to his 'padawan' more than master Yoda. So for all Yoda fans out there, having a 3D printed miniature version of the miniature master, should be something to look forward to. To acquire your own Yoda action figure, simply follow the printing directions to be found on this Thingiverse page and you would be 3D printing out your own version in no time.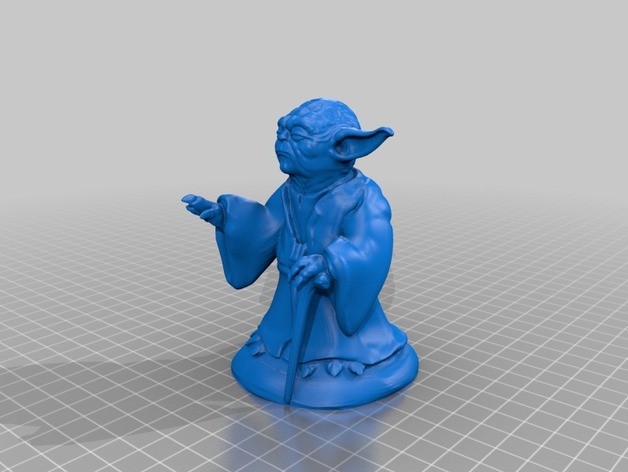 Develop Your Motorized Star Wars AT
The highly advanced world of Star Wars comes with its own variety of gadgets which are used by both protagonists and antagonists use in accomplishing diverse tasks. The AT probing robot is one of such device and with a 3D printer; manufacturing your own personalized AT can be accomplished with ease.  The first step to accomplishing this task is, of course, getting the needed 3D models and schematics to be fed to your printer. And here, you will find just about everything you need to be successful in the production of the Star Wars At.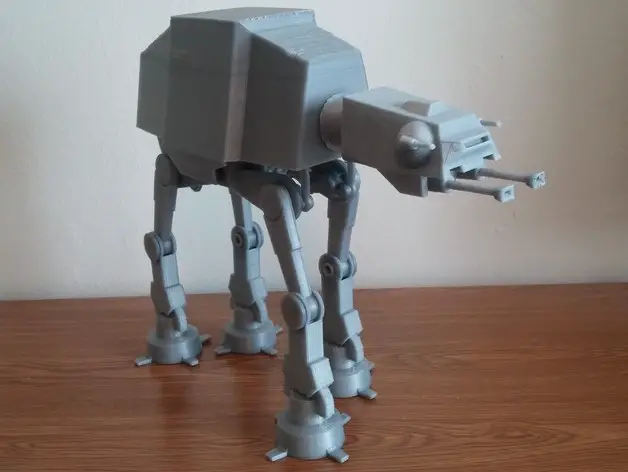 Star Wars Clone Airborne Trooper Helmet
The trooper helmet is definitely one of the iconic pieces of the entire Star Wars franchise. Therefore, it should come as no surprise to note that 3D printing enthusiasts have spent many hours designing and redesigning this iconic piece. The Airbone trooper helmet is a result of the aforementioned re-designing of tasks and its designers definitely did a beautiful job. It is also important to note that it is a completely wearable version which if 3D printed right, can serve as part of your Halloween costume any year you choose. You can find the necessary models and instructions on designing the airborne helmet here.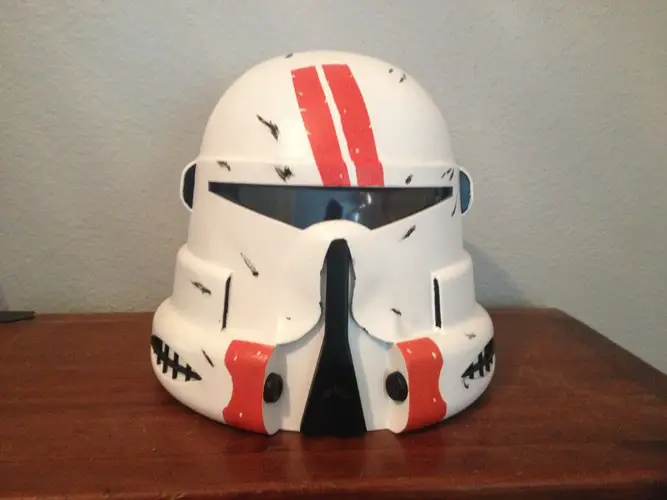 Star Wars Display Stand
Your Star Wars ornaments definitely need a stand that highlights their salient parts. And in this 3D model, you will have found just the right piece necessary for accomplishing this. A brief look at the stand showcases a solid base which provides the needed balance to support whatever ornament is placed on it. The stand can also serve as an office holder for it can definitely hold some of the items you use in your workspace. You can easily download the needed digital files for this project by clicking here.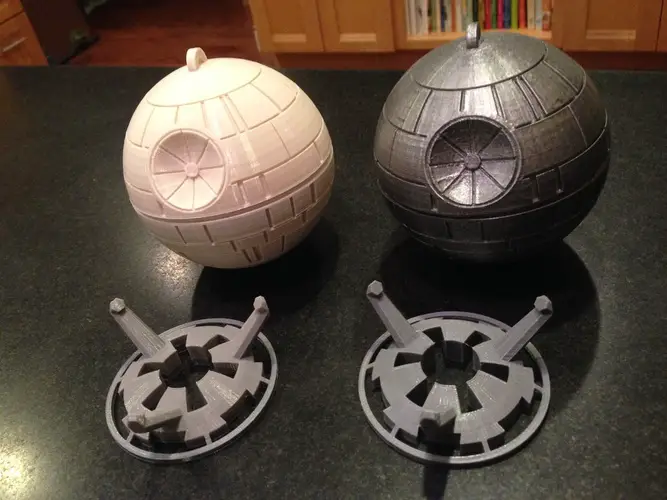 Awaken the Force with the BB8
The BB8 was unveiled as a new robot assistant in the latest Star Wars movie released in 2016 and its uniqueness and beautiful design made it an instant hit with the fans of this franchise. So if you are one of those who fell in love with the BB8, then here is your chance to create something similar using the 3D printer. To do this, simply access the needed 3D digital models required for accomplishing this very task. However, the 3D printed version of the BB8 does not have the required electrical hardware needed for it to spin and move like the real version.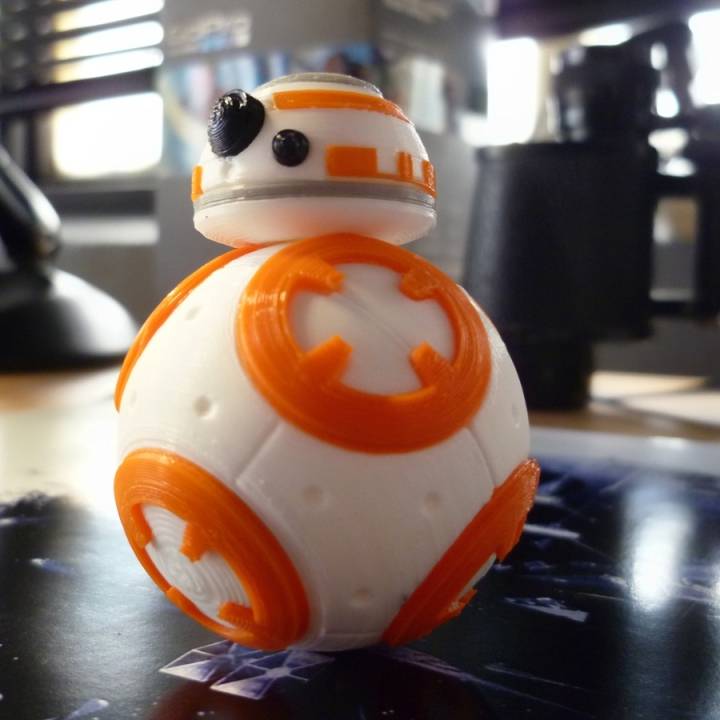 Drink with the Dark Side using the Dark Mug
Spice up your office space with the Dark side by 3D printing this mug that takes its inspiration from Star Wars. The mug is emboldened with Star Wars symbols which also add to its intensity. You can find the instructions needed to 3D print your next office ornament or the perfect gift here.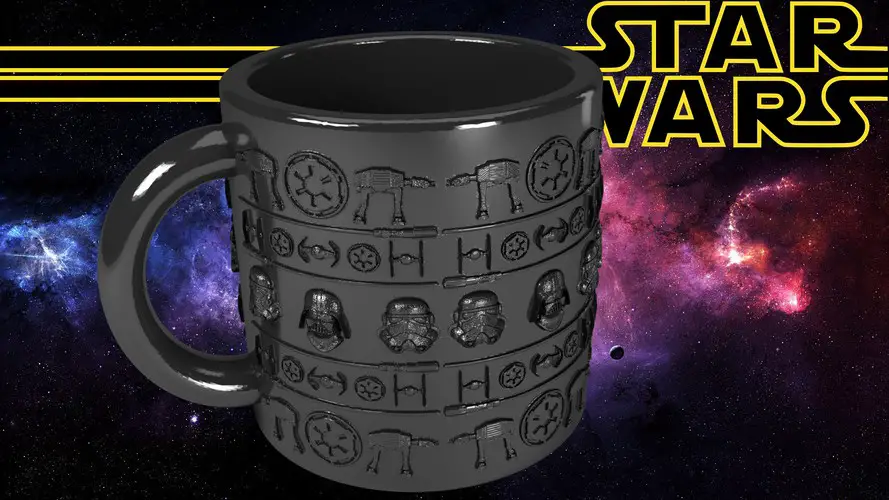 So here you have it. Our top 9 Star Wars-themed 3D printed objects every fan will love to have as a part of the collection of their favorite franchise.