The average CAD user knows the importance of a mouse in 3D modeling. And this is why most designers, go through the rather tedious process of selecting the best mouse for CAD modeling rather than simply settling for the traditional mouse.
Although everyone has his or her peculiarity in terms of how they approach CAD work, one thing is clear, using an excellent tool always aids your productivity. Therefore, in this post, we will explore the best mouse for 3D modeling you should consider purchasing to enhance your productivity
Note that the gadgets on this list, going by the name of 3D mice are used together with the traditional mouse, they were neither built to be used as a primary mouse nor built to replace the conventional mouse.
These are actually extra peripheral that will sit next to your keyboard and your 2D mouse. If you use your mouse with the right hand, they would most probably be sitting on the left side of your keyboard and therefore will be used with the left hand. 
Best mice for 3D work
Here is our selection of the best computer mice for 3D work:
The 3DConnexion SpaceNavigator
This mouse is a  powerful navigation tool from the stables of Connexion. The SpaceNavigator was built primarily to make navigating 3D space easier and help eliminate hand fatigue and wrist strains when working with a mouse.
It is also renowned for its high level of precision and the 6 degrees of freedom it provides its users. Simply push, pull, twist or tilt the 3Dconnexion controller cap to intuitively pan, rotate, zoom, while your other hand simultaneously uses your existing mouse to select, create or edit. Its fluid movement gives it a spot on this list for it truly helps you cut down navigation barriers as its name suggests.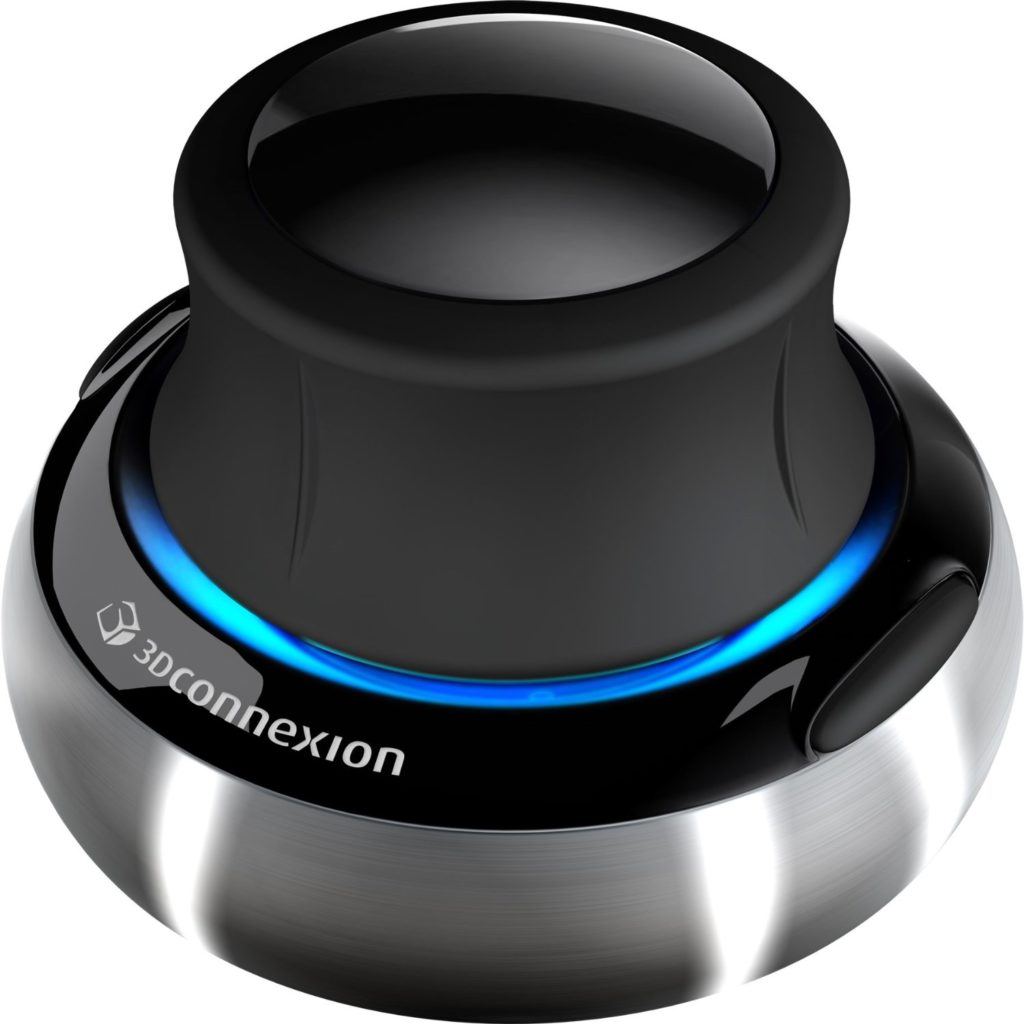 This mouse has two buttons on the sides (one of each side) that could be programmed to any keys.
The SpaceNavigator is also aesthetically pleasing to the eyes and purchasing it could end up not only beautifying your workspace but helping you enjoy 3D modeling better.
This 3D mouse supports a large variety of CAD software, such as AutoCAD, Solidworks, and more. You might want to check the list of supported software to make sure this mouse will be compatible with your CAD software before getting one.
The 3DConnexion Spacemouse
The 3DConnexion SpacePilot Pro still packs a punch. This mouse is the full version of the SpaceNavigator as it comes not only with a navigation cap but also includes a bunch of customization via its multiple keys.
The 3DConnexion SpacePilot Pro has a cap that works exactly like the one on the SpaceNavigator. It also provides 4 keys on the middle left side (ESC, SHIFT, ALT and CTLR) and 5 QuickView Keys on the right side for quick 3D navigation purposes.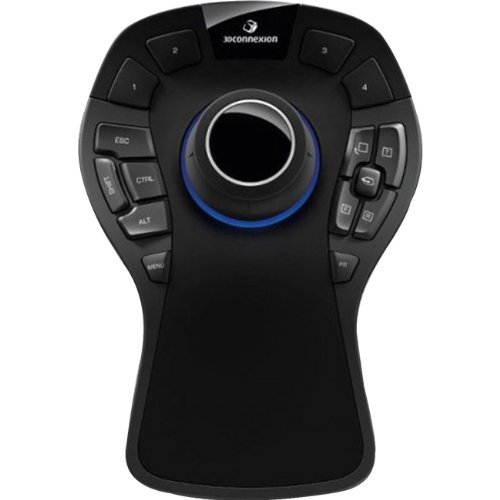 It also has the MENU key, the FIT key and 4 keys on the front side called Intelligent Function keys that help you access frequently used commands on the go.
I would argue that using this mouse to its full capacity can drastically cut down the traveling time of your hand from the mouse to the keyboard. But again, it all comes to personal preferences. Many people did not find this mouse worth it, considering its price, the Space it takes on your desk and the learning curve. 
The SpaceController
This is the 3D Mouse SpaceController. Like the two other mice on this list, it is a mouse dedicated to 3D modeling. The SpaceController is a good alternative when it comes to finding a mouse that will help you improve productivity while modeling.
​You can learn more about this mouse on the Spacecontrol official page.
Your Opinion Matters
​Each of these mice come with a steep learning curve, do not expect to get it right away and be comfortable using it. It takes 2 to 4 weeks to get used to these. But once you get it going, there is no way back.
Our list is by no means the all-conclusive list on the topic of 3D modeling mouse. Therefore, if we have missed out on your preferences, please feel free to enlighten us and our readers on the mouse you consider as the best.
You might also like these