Regardless of what you may have been told regarding computer-aided design, the learning curve associated with most CAD apps can be rather steep. Learning how to use the more popular names—AutoCAD, Solid Works, Microstation etc.—can take a couple of months combined with the extra months of practice needed to become proficient with their use.
If you are a design enthusiast who finds the above statement to be quite true, I am here to tell you that your difficulties are above. In this article, I intend to provide you with a list of CAD software apps that are truly easy to use that will get you started on your journey to designing great models. The criteria to be used in determining the applications that make this list are:
Criteria for choosing the Top 5 Easy CAD Applications
Our criteria for choosing the top apps are centred on ease of use and they include:
User Interface: the simplicity of a user interface is determined by the arrangement of the tools menus and the ease in which one can access these tools when learning how to draw or model using a CAD app
Drawing and modelling tools: the ease at which a user can learn and make use of the tools available on an app also plays a role in determining how fast he or she learns how to use a CAD application.
Learning curve: since this list is about the easiest applications to use, it should come as no surprise that the ease at which one masters a CAD app would play an important role in our choice.
The list
The Top 5 CAD Applications
According to our criteria, these are the easiest apps to use. Please note that they are arranged in no particular order. So here we go:
QCAD
The average CAD user who is quite active in the graphics design community must have come across QCAD at one time or the other during their design career but for newbies looking for easy CAD applications.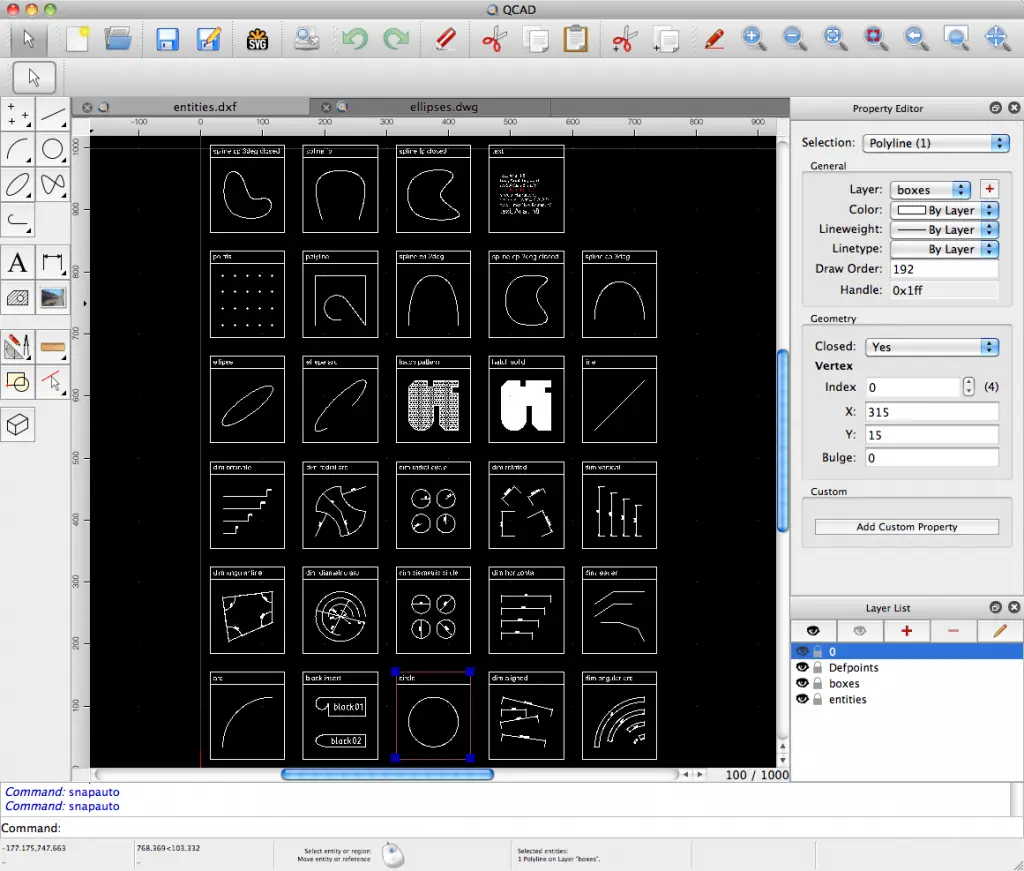 Here is a review of QCAD using our criteria:
The QCAD interface is one of the features that give it a spot on this list. The interface is quite friendly and easy to use. Users can easily navigate through the interface which makes learning easy.
This is predominantly a 2D design and drawing tools, which means it has a good number of tools to accomplish these tasks. More importantly, is that the tools are easy to master and do not confuse you due to their conciseness.
QCAD has a vibrant community to make learning to use this design tool easy for first-time users. Its welcoming interface and precise menus also add to its ease of use.
SketchUp Pro
Here is another straight-forward CAD application first-time designers should consider using to learn the process that comes with digital design. SketchUp is a good application that makes 3D modelling and drawings easy.
The SketchUp interface is a simplistic and intuitive one that helps you all the way through your design project. Here, you find intuitive toolbars and menus that make your job fun.
The design tools available on SketchUp are minimal when compared to other 3D modelling software but are enough to get the job done. These tools and toolbars are also intuitive which provides you with some directions on their use.
The learning curve associated with this CAD app is definitely not as steep as those you encounter learning on other platforms. Motivated users can begin designing in little or no time using SketchUp Pro.
Moment of Inspiration 3D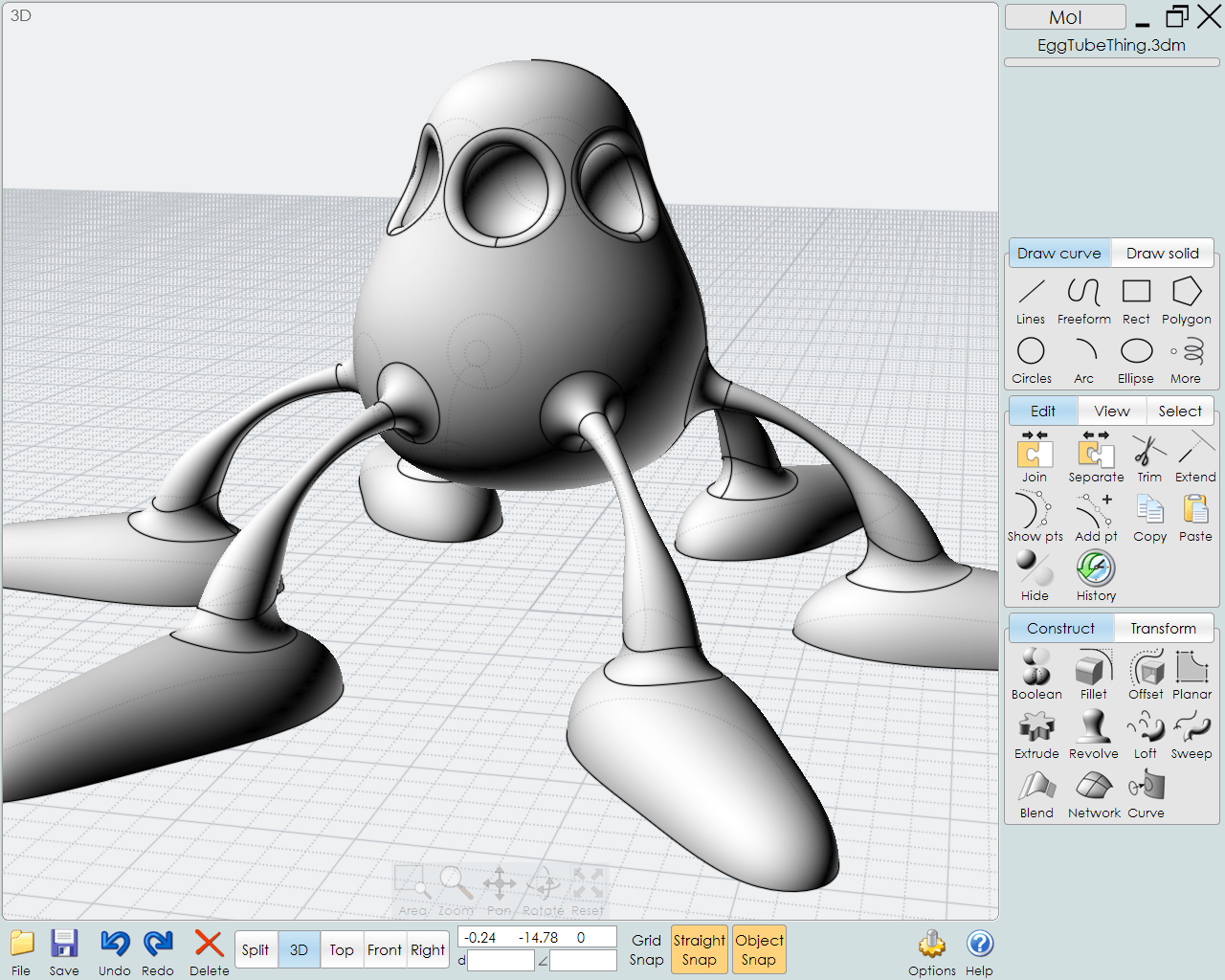 This is a lesser known CAD application in the design world but it is good to note that it was built solely as a replacement 3D modelling tool for designers who find traditional CAD applications difficult to use.
MOI3D is also quite intuitive and comes with a large interface which can be customised to create more design space for the user. Its toolbars and menus are well-arranged and provide the simplistic backdrop most beginners will appreciate.
As stated earlier, MOI is backed up by powerful design tools for 3D modelling. It also makes use of advanced Boolean functions which will be quite handy for more experienced graphic designers.
Learning to use MOI 3D is definitely an easier task than the learning curve associated with design tools like Maya or Solid Works which gives it a spot on our list.
eMachineShop
The eMachineShop CAD application is also one of the least known 3D modelling software tools out there for designers looking for a quick fix. The CAD app makes design easy and can be used by just about anyone looking to design digitally with ease.
It provides a simple interface for designers and provides intuitive help to anyone looking to create 3D models in record time and eMachineShop provides the tools needed to do just that.
This CAD software comes with powerful and intuitive tools developed to simplify your modelling task for you. It is definitely easy to use and helps you get tasks done quickly.
eMachineShop comes with a lot of tutorials and help to ease its users into understanding the interface and design process. Regardless of its tutorial materials, the application is still easy to use.
Rhinoceros 3D
Rhino as this CAD app it's fondly called, is a design application that provides a robust ecosystem for extensive 3D modelling and using our criteria to review this, we have:
The user interface of rhino provides an intuitive board for a graphic designer to work on and this adds to the ease of use for the entire application.
Rhino has more advanced tools on display when compared to the other on this list but they remain intuitive and easy to use when compared to other advanced modelling software application.
The learning curve associated with rhino is not steep at all due to the numerous tutorials and online forums you can check when in need of direction.
Here, we come to the end of the top 5 CAD apps that beginners should consider using to introduce themselves to design. These apps are mostly free or come with trial versions you can take advantage of. So why not start designing today?