The all-exclusive ecosystem of the Mac operating system has in some cases made it difficult for independent software developers to build apps for Apple's computers. And the computer-aided design developing community which has been a victim of this, currently produce CAD applications to run on other operating systems—Windows, Linux—while shunning the Mac OS.
This article will attempt to simplify every designer search by providing the top CAD applications one can make use of on his or her Mac PC.
The Top CAD Programs for Mac OS
Below is the list of our top 10 CAD software for the Mac and it is important to note that they were arranged in no particular other for we deem all of them as useful to a diverse set of people. These apps were chosen due to their features, design abilities and capacity to function properly on the Mac operating system. So happy reading.
QCAD
QCAD is an open-source 2D drafting software built to run on Windows, Linux and more importantly the Mac operating system. This simplistic drafting software makes the list due to its extensive features and drawing tools which make learning its use quite easy for just about anyone. Although it is just a 2D drafting program, it integrates state of the art drawing techniques into its user interface.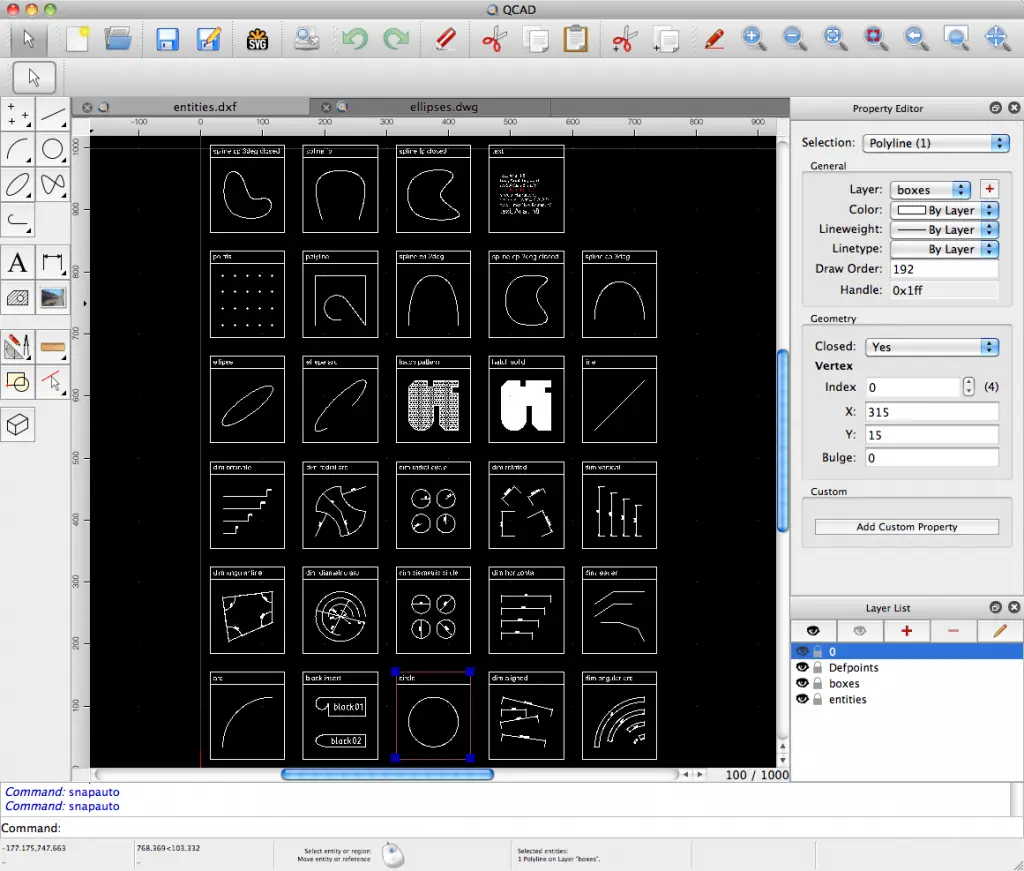 QCAD users can make use of lines, arcs, NURBS, polylines, hatches on an EMACS scripting interface which provides a powerful background for controlling your drawing and design tasks with ease.
Pros:
Its installation process works with few hardware requirements
Open-source means users can customize it to fit specific needs
EMACS scripting interface
Vibrant Community to aid learning and support
Cons:
Its only 2D capabilities can be viewed as a limitation
No cloud support and
No collaborative tools
Ares Commander
Ares commander is a CAD drafting tool for Mac which takes care of design on Mac as well as on other operating systems. This intuitive CAD app was developed on the Qt GUI creator thereby providing users with the same look and feel across all operating systems including the Mac OS.
This drafting tool stands out due to its integration of QuickModify which allows its user to use a single command to handle more than one design related task. This means that tasks such as move, zoom, rotate, etc. can be executed using the same sequence you frequently use with a single command. The Ares CAD program for Mac also comes equipped with an API that allows you to create custom functions and routines on its ActiveX interface.
Pros:
It is predominantly a native Mac app
It comes with considerable API support
Collaboration tools are included
Cons:
Its 64bit Mac version is still under construction
Limited warehousing options
ArchiCAD
ArchiCAD is a slightly popular CAD app in the design community and its developers—Graphisoft—took the bold step of developing a version that works on Mac thereby giving it a spot on this list.
ArchiCAD is a highly advanced architecture and building CAD applications which also spots a BIM interface to enable extensive collaboration platform for multiple users. It is one of the few BIM modeling tools currently on the Mac.
The ArchiCAD development engine is also one of the most powerful out there due to its ability to simulate features such as structural part morphing techniques, and element association between different construction phases.
Pros:
A native Mac CAD application
Integrates an MEP collision detection interface
Intuitive background interface supports the user
Multiple collaboration and sharing tools
Cons:
Comes with a steep learning curve
Extensive hardware requirements
It intuitive concepts may challenge traditional design processes
Graphite
The Ashlar-Vellum—Graphite's parent company—way places emphasis on creativity and design which makes most of their CAD software highly intuitive and Graphite is no different. This CAD program for Mac is designed to allow the user to easily carry out 3D modeling tasks due to the use of an intuitive toolbox and command line.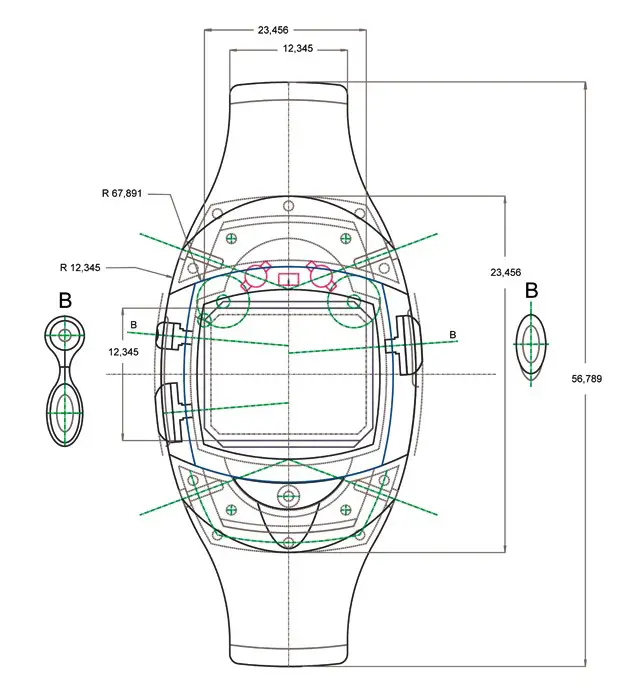 Graphite is slightly on part with ArchiCAD and the more advanced modeling CAD applications—Maya, SolidWorks, etc.—due to its extensive toolset, advanced use of APIs and the integration of a collaborative surface which makes it a BIM platform. It is also worth noting that Graphite is a drafting tool built especially for the Mac operating system which brings it into our list.
Pros:
An easy learning curve made possible by its simplistic user interface
Supports experimentation due to its intuitive interface
It is a native CAD application for the Mac
Background processing mechanism also aids users through design projects
Cons:
Works on only Intel processors and it's not supported by others such as POWERPC/AMD chipsets.
Hardware requirements are quite extensive
AutoCAD for Mac
After much deliberation, Autodesk finally came up with a version of its most famous brand for the Mac operating system, the AutoCAD drafting tool for Mac. What else is there to say about AutoCAD? It is a drafting tool with an extensive user interface and advanced tools that can be used to design virtually everything you need to a high level.
Its user interface is highly intuitive and although the learning curve associated with AutoCAD is quite steep, learning to use it provides the user with unlimited design abilities. This is due to the fact that most design tools are built as a copy of AutoCAD's design mechanism.
As expected, the AutoCAD for Mac is quite limited in features when compared to the features made available to the Window's version but Mac users can still do a lot with the available features on it
Pros:
It is an intuitive CAD application
Intuitive background processing supports the user
It supports designing for 3D printers
It is quite affordable when compared to other Autodesk products
Cons:
TurboCAD Pro Platinum
TurboCAD was designed for the construction industry and graphic designers looking to create realistic models of architectural structures. It is one of the few advanced CAD drafting apps for Mac that was developed for a specific industry that was designed for a specific industry. Therefore, it is equipped with an intuitive user interface, advanced toolsets, and BIM capacities to enable both design and collaboration.
TurboCAD is truly advanced in that it contains approximately 500 premade floor plans and a self-styled House Wizard tool which makes the design of rooms and the inclusion of specific structural components possible.

It is also important to note that its BIM platform allows for collaboration between multiple users making use of different operating systems. This means that Windows, Linux and Mac users can work on similar projects through the BIM TurboCAD provides across these operating systems.
Pros:
Highly intuitive and can be used for advanced design tasks
Integrates a BIM platform which aids collaboration
Supports different file formats
Has a House wizard for building definite and precise floor plans
Cons:
Comes with a steep learning curve
Requires extensive hardware space
Quite expensive to purchase
VectorWorks Architect
Here is another advanced CAD program for Mac developed to cater to the construction industry and Mac users. It was specially designed to provide BIM functionality, graphical scripting tools, subdivision surface modeling and cloud-based storage to its users.
It is also a powerful rendering and simulation tools that can be used to produce very realistic images for the construction niche. It also supports the design of detailed floor plans and the sharing of files through its dedicated cloud storage platform.
In terms of collaboration, VectorWorks integrates the use of BIM services which enables communication across multiple operating systems with the capability to run the CAD application.
Pros:
An advanced CAD software for architectural design
Integrates BIM for collaboration
An excellent rendering machine
Cons:
Quite expensive when compared to other apps in its range
A steep learning curve for first-time users
Extensive hardware requirements
SketchUp Pro 8
When looking for an easy to use drafting tool for Mac, look no further than SketchUp Pro—formerly known as Google SketchUp—due to its intuitive user interface and minimalistic tools. This application was designed with beginners in mind and therefore, the learning curve associated with its use is far simpler than the other apps on this list.
It is basically a 3D modeling tool used for the design of simple models such as construction structures, household items, and engineering components. It also comes with a plethora of tutorials and a vibrant community to help anyone achieve design tasks in record time. As expected, SketchUp was built to operate on the Windows operating system before been migrated to the Mac OS. Its pros and cons include:
Pros:
Easy to use and intuitive
Customizable interface
Easy learning curve
Multiple file import options
Cons:
Limited as a drafting and modeling tool
DraftSight for Mac
DraftSight was also originally built for use on Windows and Linux operating systems but the popularity of the Mac OS led to a viable product been designed for the Mac ecosystem. This CAD application is an advanced drafting tool built to enable construction workers, builders and architects draft components for building structures.
Therefore, it comes with an intuitive surface and background processing machinery that aids the user when carrying out a task. Users can make use of NURBS and customized APIs as well as other features to fast track the drafting or modeling process. Sadly, its features are also quite limited when compared to its counterparts on Windows and Linux's ecosystem. DraftSight also supports file sharing, cloud storage, and collaboration through its extensive BIM interface built to work across all operating systems it currently functions with.
Pros:
An advanced architectural CAD drafting tool
A BIM platform for collaboration
Intuitive user interface which helps users
Intuitive background processing which speeds up design durations
Cons:
Comes with a steep learning curve which makes it inadequate for beginners
Requires a lot of hard disk space to function properly
Quite expensive
Limited functions for the Mac version compared to other versions
CADintosh for Mac
As this rather suggestive name shows, the CADintosh CAD program for Mac was built solely for designers looking for a digital drafting tool compatible with their Macintosh computers. This application was designed primarily for use by engineers looking to design electrical, mechanical and architectural drawings on the Mac OS.
It is also quite important to note that it is a 2D drafting tool with the tools and features required to draw ideas from scratch as well as edit other files downloaded into its user interface.
There are 2 types of mode associated with using the CADintosh. They are the pen oriented mode and the individual oriented mode; the pen supports the use of stylus pen in designing while the other works with the inbuilt tools provided in the software.
Pros:
Cons:
Solely a 2D drafting CAD tool which is quite limiting
Too simple to handle more advanced drafts of mechanical or electrical components
Works solely on the Mac and has no collaborative features to enable communication
No BIM capabilities.
So here we come to the end of today's top ten list of CAD programs for Mac that anyone who is fully attached to his or her Mac PC should consider using. Note that although there are other CAD apps out there compatible with the Mac, these 10 cut across the best BIM, 2D, and 3D applications in the design community.
Lastly, your input is also welcome and we implore you to encourage other CAD users to consider designing with Apple, by discussing the CAD apps you believe are best for Mac OS in the comment section below.