As a human, most of us are keyed towards getting our work done a certain way, using tools we are comfortable with and working in workspaces we have built a special rapport with overtime and working with CAD is no different.
The average CAD user or engineering student spends most of his or her life working with the first CAD software application they learned drawing and modeling with. So this list is geared at providing budding CAD users, students, and even experienced CAD users with an outline of the best mobile drafting apps you should consider getting familiar with for the long career road ahead.
Criteria for Selecting these Apps
As always, we would be providing an explanation of why these apps were chosen and these explanations will come in the form of criteria that will be used in reviewing these applications. Here are our chosen criteria:
Design Features: This covers the tools and features for drafting or arranging digital components on the app's interface.
User Interface: This discusses the ease of using the application as well as the arrangement of its drafting tools
Operating System Compatibility: Here we discuss the operating systems and types of devices each app works or operates on
Now here is our list of best drafting mobile apps for computer aided design using our outlined criteria.
Recap.
Drafting Apps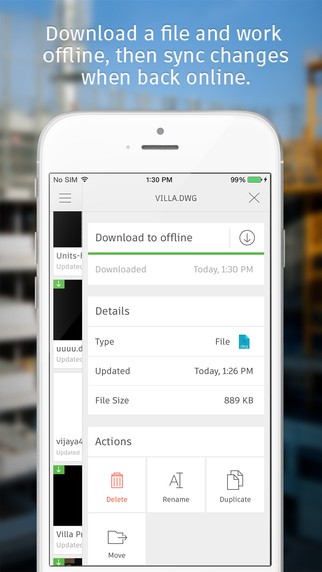 As always, when talking about CAD, a member of the Autodesk family must be included due to its status as the premier CAD application developer worldwide. Therefore, including AutoCAD 360 into this list should not come as a surprise. So what is AutoCAD 360? This mobile app is a DWF viewing file which serves as a mobile companion for AutoCAD software applications. Using our parameters to review the app:
Design Features: with AutoCAD 360, users can make use of its tools to view files as well as make edits where and when needed. The app comes in two versions and its paid version—the AutoCAD 360 pro—includes features that allow you to start new drawings, read coordinates and drawing specifications as well as save and share designs to other workspaces or platforms.
User Interface: AutoCAD 360's interface is designed to mirror the look of the original AutoCAD versions so as to recreate its design experience in mobile form. Or those who are conversant with Autodesk's many design software, using the interface is quite easy while for first-time AutoCAD users, a short learning process will be required.
Operating System Compatibility: AutoCAD 360 is a free app that is readily available on Android and iOS-based devices.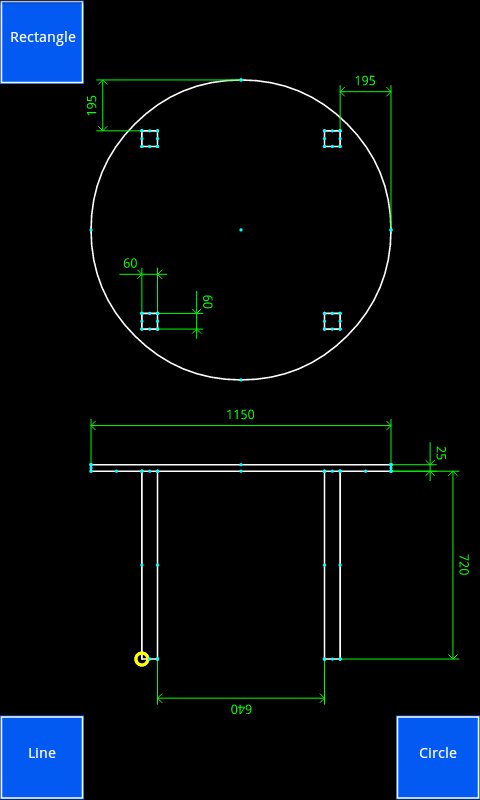 Personally, this mobile app stands out as one of my favorites due to the ease at which you can start drawing 2-dimensional designs for any project you are currently undertaking. The app provides extensive drafting tools needed to draw, edit and share results in multiple file-formats including PDF DWF, DXF, etc. This makes it compatible with most CAD software applications designed for the PC. Judging the app using the outlined criteria we get:
Design Features: Inard integrates tools that support the drawing of lines, arcs, circles, etc. and the accurate measurement of distance, angles, and coordinates. These features make drawing or editing 2D drafts possible. Its ability to import and export files in different formats makes it one of the most user-friendly CAD apps out there.
User Interface: Inard spots an easy to use interface with all its drawing features arranged in an easily accessible format for its users. The app also integrates touch screen features which make it easy to use on smart devices. The app comes with a slightly steep learning curve and first-time users may need to spend some time getting used to it.
Operating System Compatibility: As of now, Inard CAD is only available on Android devices but a version for the iOS is on its way.
Although this app is definitely not your average CAD app—it doesn't design or edit 2D/3D models—it still makes this list due to its importance to engineers, architects, and interior or exterior decorators. The Home Design 3D app was developed to provide designers with an app for arranging or organizing outdoor spaces. Using our criteria to review the app, we have:
Design Features: the Home Design 3D comes with extensive tools and features needed to create realistic renderings of outdoor spaces. These tools include the drag and drop feature which allows you to import external 2D or 3D models into your workspace, zoom and touch screen capabilities as well as 3D viewing of a completed project makes it a beautiful app to work with.
User Interface: The application is easy to use and its extensive image library means you do not have to design new items or import much before having the required models needed to execute your projects. The app is easy to use which makes it useful to individuals with little or no knowledge about CAD.
Operating Systems Compatibility: Home Design 3D was built predominantly for Android devices.
Here is another CAD app designed predominantly for the design and arrangement of floor spaces which makes it an important resource for architects, engineers, interior designers and just about anyone looking to design his or her floor space. This mobile app consists of tools required to create floor plans and add furniture if you need to test out your decoration pans digitally.
So here is a review of the app:
Design Features: the design features of the Floor Plan Creator includes drag and drop tools to select and make use of template floor plans, zooming and moving features to work around the parameters of a chosen plan as well as the ability to draw 2D furniture into the space to be designed. The app also allows you to share your designed plans on other platforms when needed. Users can also import and export files in different file formats—DXF, PDF and DWF
User Interface: the interface of the mobile app is designed in such a way that using its tools and features is quite easy. It integrates a simplistic approach which makes it a floor plan design app for non-technical people, including those with no knowledge of computer aided design.
Operating System Compatibility: The Floor Plan Creator is available on only the Android ecosystem but plans have been made to develop one for the iOS.
Once more, another mobile app from the stables of Autodesk pops its head on our list. The ForceEffect Motion is an app designed predominantly for the design of components, assembling of components and simulation of these mechanical components to see how they function.
Below is a review of the features of this app:
Design Features: with this app, users can either create or import mechanical components into a workspace for the assembling or design of a machine. Its features include draw and drag, drawing with a stylus pen and simulation techniques which handle the engineering calculations and equations needed to carry out extensive simulations of the assembled machine or model
User Interface: ForceEffect Motion is not just your average mobile drafting app, hence it comes with a more advanced interface which men even experienced CAD users familiar with drafting tools may need to learn how to make it function properly.
Operating System Compatibility: the Autodesk ForceEffect Motion was developed for use on android based devices.
This is an intuitive drawing and drafting mobile app which was designed for the creation of 2D drawings, floor plans and surveys by architects engineers and interior designers. It integrates the use drawing tools and features to help you execute your projects. Although PadCAD is free, users can only share or export files created on its interface by upgrading to PadCAD Pro.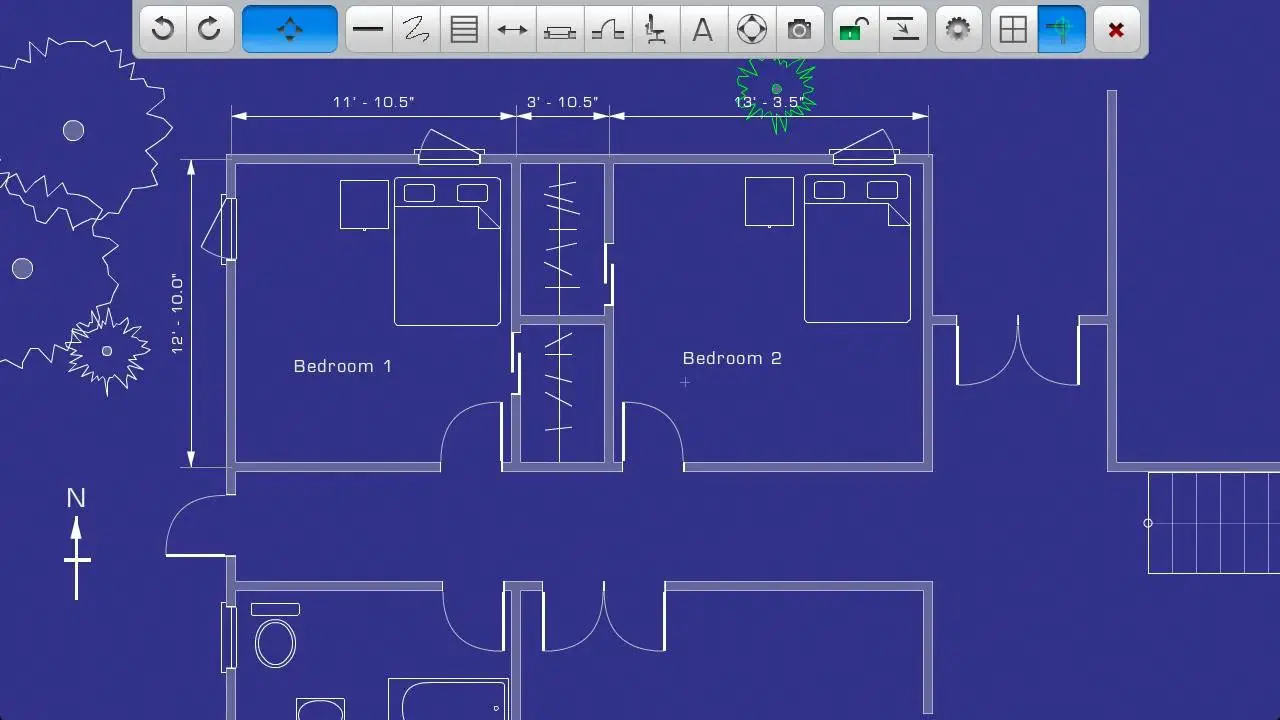 Here is a review of PadCAD:
Design Features: It integrates an intuitive finger-based drawing feature for starting new projects or editing already existing ones, an intuitive zoom and pan feature as well as the ability to take pictures of floor plans to serve as realistic guides when drafting on PadCAD.
User Interface: PadCAD is quite easy to use and its design capabilities can be mastered by anyone who is willing to spend a few minutes going through the PadCAD tutorial. This makes it a very good tool for drafting and creating floor plans for first time CAD users or anyone looking to design a home.
Operating System Compatibility: The app was built to run predominantly on Android OS but an iOS version is currently in it development phase.
Interested in drawing digital 2D models, viewing 3D models and editing character on-the-go? SolidWork's own mobile app was developed to make all these possible and easy for users of its CAD software application. As expected, the app works with multiple file formats and is compatible with the PC SolidWork's version.
So here are its features:
Design Features: the free eDrawings app comes with zoom and pan features, import capabilities and tools for handling basic edits while the paid eDrawings Pro allows users do much more. With eDrawings Pro you can

measure your designs—distance, angles, lengths, point to point etc.—dynamically view cross sections of your models in XY, YZ, or ZX directions from both sides and easily drag the cross section plane and share marked up eDrawings files with others for review and further comments.

User Interface: eDrawings is quite easy to use although when compared with some of the apps that made this list, its interface may seem more advanced. Simply dedicating some time to knowing your way around its tools and features will set you on the right part to using it.
Operating System Compatibility: The app was built to run predominantly on Android OS but an iOS version is currently in it development phase.
Here we come to the end of the best apps for engineers and the average CAD user looking for a mobile app to design with while on the road. Not that most of these apps are free. Therefore, why don't you streamline your workflows by simply downloading one today?