Looking good has always been good business and in today's social media age this fact still rings through. There are many reasons why anyone will require an app that lets you draw on a picture and whatever your reasons are, minimalistic apps are easier for editing or drawing. The constant need to express oneself through pictures and edit images at will has also led to a booming drawing and editing developer community. This is why there are literary hundreds of drawing apps on your favorite app store and mobile devices.
Being spoilt for choice also makes choosing more difficult and for the oldies reading this, having only 'Paint' as your 'draw on pictures' tool was quite liberating. Today, Microsoft Paint is no more and there are actually tens of drawing and editing apps better than it could ever be. If the plethora of drawing apps have proved to be a stumbling block for you, then you'll be glad you are reading this. In this post, we select the top 7 apps that let you draw on pictures using the following criteria:
Features – This criterion discusses the features users have for drawing and handling complex edits on pictures. Features may also include available libraries and coloring options a draw on picture software has to offer.
User experience – Earlier, we talked about the need for minimalistic drawing apps that are easy to use. This criterion builds on that and emphasis will be placed on the user interface and the each in which an app can be used.
OS Compatibility – We believe no one will change smartphones simply because their favorite drawing app does not run on it. But, it is still important to highlight the operating systems the app listed here are compatible with. This simplifies your trip to the app store.
Now we have our system for choosing the apps listed here in place, here is a brief outline of the top 7 apps that allow you to draw on pictures:
Recap.
These are the seven software applications we believe are the best and meet the requirements highlighted as criteria. To understand why they were chosen, their specific features will be highlighted as you go through the article.
The Top 7 Apps you can Use for Drawing on Pictures
Like most of the apps on this list, Skitch allows you to take pictures and provides a wide range of filters to use. The app also allows you to import pictures or simply open pictures on its home page or interface. Then you can choose to doodle on your taken or imported picture as you please. Using our established points to analyze Skitch, we have:
Features – Skitch is equipped with a pencil mark-up tool that allows you doodle with ease. You can also take things a step further by coloring your ideas when necessary. With Skitch, you can edit and easily upload your edited pictures to your favorite social media platform or share with friends.
User experience – Skitch was developed with the user in mind. Using the app does not require any exceptional abilities or knowledge except the ability to doodle. The app is quite responsive and you can use either your fingers or a stylus pen to execute your drawings. Its responsive nature also translates into great drawings.
OS Compatibility – Although Skitch was made predominantly for the Apple community, it has been adapted for Android and Windows 10. This means you can download Skitch regardless of the device you currently use.
Scribble Lite is a great sketching tool that has multiple functions. You can choose to simply sketch on the app, draw on pictures, color imported drawings, take notes and much more. Scribble Lite has proven to be a good companion for both adults and kids interested in drawing on pictures. The features of Scribble Lit include: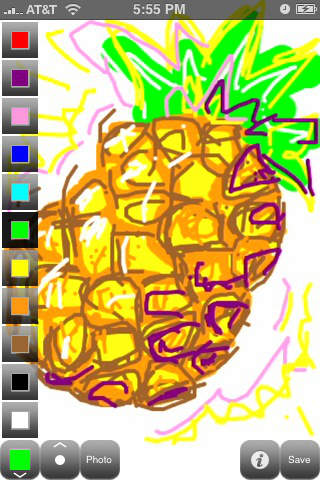 Features – you can import images to Scribble Lite and make use of its set of tools to edit the picture. Scribble Lite's toolset consists of drawing, sketching, and coloring tools. You can also choose to vary the pen mark diameter when the need arises. Scribble Lite does not take photos but it has an extensive filter library you can use.
User Experience – This is a simple editing tool as its name suggests. You can easily work on its interface due to the clearly defined features on it. The coloring, drawing and scribbling tools are located on the left and bottom areas on a screen. Scribble Lite is also sensitive and supports drawing by hand.
OS Compatibility – Scribble Lite was built for Apple operating systems. The draw on the picture app is only applicable to iPhones and the iPad.
Annotate is a rather popular drawing and image editing tool on the Android ecosystem. Its popularity is due to its ease of use and the advanced features it offers. Many views Annotate as a robust photo editing app that also gives you the opportunity to doodle on pictures. With the Annotate app, you can easily take your photo editing skills to the next level.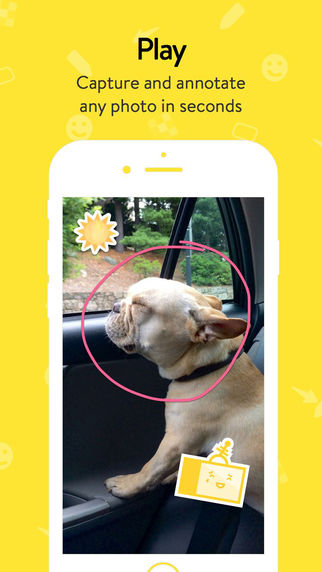 Features – Annotate like some editing apps can access your camera and capture its own pictures. Users can also upload or open images on its user interface. The application comes with custom-built filters and tools for editing and drawing on pictures. You can also integrate your favorite emoji in a picture and share your pictures at will.
User Experience – Making use of the Annotate app is relatively more difficult than others on this list. This is due to the features integrated into the app. The responsiveness of the app is top notch though once you get the hang of it. You will be able to make edits simpler apps can't execute.
OS Compatibility – The Annotate app is a cross-platform drawing tool. It is compatible with both Android and iOS devices. This means you can find the app on a majority of the mobile devices you intend to use.
You Doodle is the quintessential app that boasts of a wide variety of features. Like Annotate, the application does more than allow you to draw on pictures. You Doodle supports the creation of collages, extensive coloring, and has a large image library you can work with.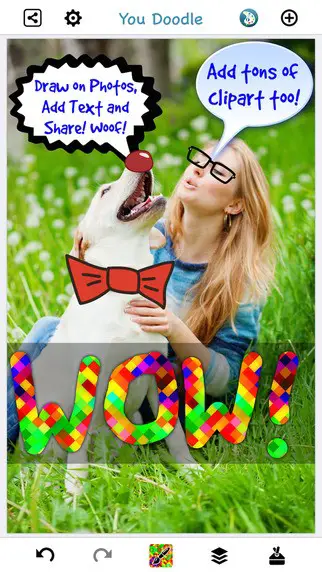 Features – If you truly love drawing, then You Doodle is for you. The application allows you to develop well-rendered drafts, enhance your photos, and color extensively using its toolsets. You Doodle is equipped with a coloring editor tool, an extensive filter library, and a montage creator. You can design moving montages for your personal use.
User Experience – The extensive features that make You Doodle different also mean you must spend some time mastering them. Thus, if you intend to use You Doodle extensively, you should also be ready to learn. Asides the learning curve, the app is very responsive and allows you to share your edits and collages with the world.
OS Compatibility – You Doodle is popular on both Android and iOS-based platforms. You can download the application on the latest Android smartphones, Tablets, iPhones, and iPad.
The Draw on Picture app must have been named with search engine ranking in mind. The name of this application aptly captures the exact reason for this article. The draw on the picture app makes editing your precious images fun as it provides easy to use tools for accomplishing your edits. The app also supports the sharing of edited files on social media and other messaging platforms.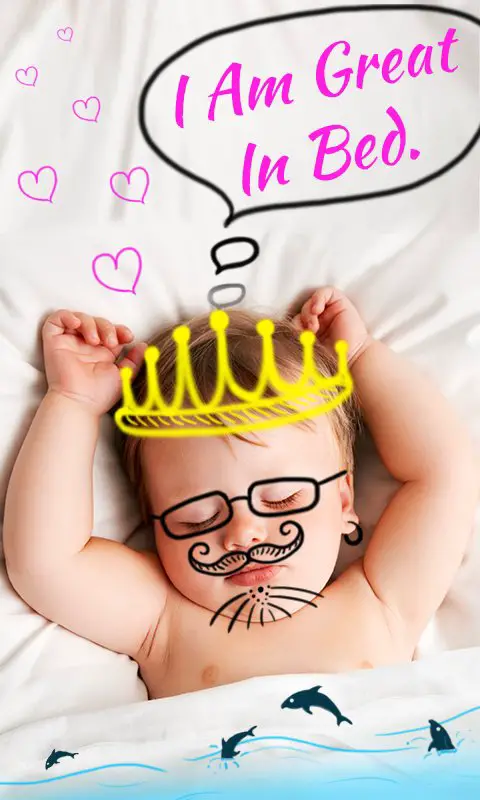 Features – As the name suggests, the app was developed simply for drawing on pictures and we believe that is what you want? If so, this simple app provides you with colored drawing tools for accomplishing your task in a welcoming interface.
User Experience – The simpler the application, the easier it is to use. Draw on Pictures is equipped with a minimalistic interface that directs you as you go about your drawing. There are no extra features or tools cluttering its user interface. This makes the app the easiest to use on this list.
OS Compatibility – The app was built for the Android ecosystem and can only be found in Play Store. Its developers have been working on an iOS version for quite some time now.
Inkboard is another app to look forward to when searching for a versatile application that allows you to draw on your pictures. The app does what it is designed for well and only that. Thus, it does not have the capacity to take pictures but is equipped with filters, bright colors, and a simple interface you would like.
Features – The Inkboard app simplifies your drawing task by providing graphic highlights that assist while you draw. You also have tools such as pens, markers, and a highlighter to choose from. Inkboard added chalk to its drawing tools and this unique feature gives drawings that unique, integrated look. Final drawings do not end up looking like an emoji was simply placed on the screen.
User Interface – The Inkboard user interface is attractive and great for drawing. While working on the app, you do not get swamped by multiple tools seeking your attention. This allows you to draw in peace and export you finished edits wherever you choose.
OS Compatibility – Inkboard is available on both Android and iOS stores. You can use this draw on picture application on a majority of the devices out there.
Atom draw has become personal favorites for many people who love doodling or drawing intricate designs on pictures. Its popularity is due to a straight-to-the-point interface, multiple tool options and availability on both Android and iOS devices. The app also provides in-built support for sharing on social media platforms.
Features – Atom Draw is equipped with drawing and coloring tools. You can import your favorite pictures and draw 2-dimensional images on it. The coloring option also allows you to make your drawings look realistic.
User Interface – The learning curve for mastering the use of Atom Draw is nearly non-existent. Kids love using Atom Draw due to its simplicity. The interface is straight forward and responsive. This makes using your fingers to draw quite easy.
OS Compatibility – Atom Draw is available only on the iOS ecosystem. This makes it a great tool for editing images and doodling on iPhones and the iPad.
The applications highlighted here are all great apps that can be used interchangeably. This app can be used by architects to mark out something they would like to communicate details using a picture. These applications also cut across the popular operating systems in use. So, there is an app for everyone looking to enhance pictures or kill time doodling. If your favorite drawing app is not on the list, you can let us know and we will try it out and maybe add some notable mentions to the list.