There is no such thing as the best way to learn AutoCAD. The answer to this question depends heavily on your style of learning.
If you have some expectation in mind while learning AutoCAD and happen to be capable of committing financially, you will be better off finding a teacher and having him help you make a plan. You must be able to gauge the learning material and be somewhat sure that after consuming it, it will help you get to your destination and of course set what the destination is beforehand.
There are plenty of places online where you can find nicely structured courses that will help you learn AutoCAD fast.
How long does it take to learn AutoCAD
Life. It takes a life to learn AutoCAD. The question is too vague to find a precise answer.
The answer to this question depends on many criteria which the two most important are the following
how far do you want to learn AutoCAD?
What do you want to learn AutoCAD for?
AutoCAD exists in many versions:
AutoCAD
AutoCAD LT
AutoCAD Mechanical
AutoCAD Electrical
AutoCAD MEP
AutoCAD Revit Structure
AutoCAD Architecture
AutoCAD Civil 3D
AutoCAD MAP 3D
AutoCAD Revit Architecture
First, you need to decide the direction of your training and that will help you better evaluate how long it will take to learn AutoCAD to the point of interest.
If you are just concerned about learning AutoCAD basics, the process will be less complicated and it will considerably take a short amount of time to learn
Learn AutoCAD fast
To me, learning by doing is the fastest way to learn.
Again if you happen to be in a paid training, all will be done for you to absorb the skills quickly (if you have done your homework by selecting a good training).
If you are learning on your own, one of the fastest ways to learn is to find as many AutoCAD practice exercises you can find, and try replicating them. That will help you find your limits, and push there further at each time you will find difficulties.
The visual style of learning is way effective and is worth mentioning here. Find videos tutorials that will show you the step by step use of AutoCAD commands, then you will be able to use similar tricks to find your ways around many AutoCAD exercises you can find on the web.
Learning AutoCAD online.
You will be able to find a lot of free online training on the web via Google but remember free is not always the best, however, the choice will heavily depend on your budget, on what you want to have an AutoCAD training for, and on the knowledge you want to acquire.
The first thing to know while seeking to learn AutoCAD is that the order of learning is very important and you will need some guidance to help you know where to start and the route to take to learn things in the proper order, if not I doubt you will keep up. You will just get frustrated and quit.
AutoCAD training from AutoDesk
Let's just assume you want a free online course that will help you learn the basics in AutoCAD, many sites in that regards will throw a bunch of tutorials to your face without any order, just tips and tricks that will contribute to making you even more confused.
Luckily AutoDesk has put a simple and clear roadmap for you to follow, increasing the learning time and making you more confident as you go.
Here is the map. These AutoCAD training Courses can be found on AutoDesk site.
What the map does is
Giving you the ability to access each of the training by a simple click on the corresponding part of the map
Guiding you as you learn
Giving you a birth view of all you need to learn
helping you separate tools and commands in blocks or class
Helping you estimate the time you will need to complete the whole training by seeing how far you need to go
If you are just starting from scratch or just need to refresh your skill after a sabbatical period, this is the training you need.
Another way to use this free resource is to not only use the courses provided by AutoDesk but also make use of the AutoCAD built-in help.
Each time you will hover the cursor on a tool and hold that position for a while, AutoCAD will always explain what the command is for, and give you an example of how the command is used.
If you pay close attention to the map above, you will notice in the MODIFYING block a command named Extend.
By simply hovering the cursor on the icon corresponding to this command in AutoCAD, AutoCAD will explain what the command does and will give me an example of the use of this command.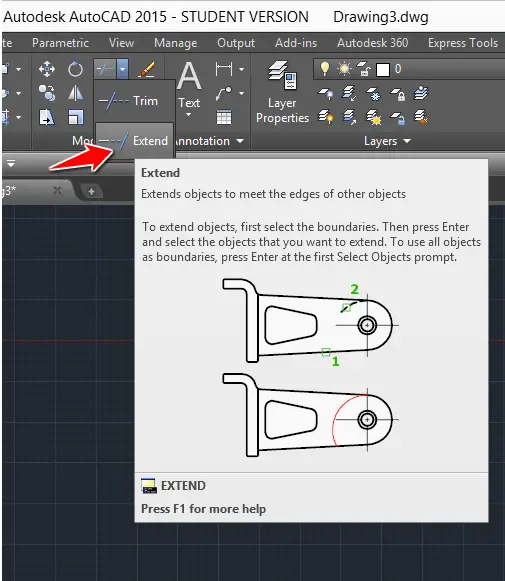 In addition to using AutoDesk free online courses, you can decide to use the software as well.
Free training from tutorial45.com
We at tutorial45 believe one of the complementary ways to learn fast is to provide challenges that will push you to dig in your skill and notice where gaps exist Thus pushing you to fill the gap.
The biggest hurdle to learning something like AutoCAD isn't the software itself but it's having something to actually practice drawing.
We have provided a list of 21 AutoCAD lessons in which you will be challenged to replicate 2D figures using AutoCAD or any 2D CAD software you might be using.
This AutoCAD training is meant to help you learn AutoCAD basics in a chronological way while at each next stage increasing difficulties. And at any stage, you are later on shown what to do to get the exercise done in case you did not succeed in completing the exercise.
This is a good added value, if you have used any resource to learn AutoCAD, and feel like you need to auto-assess your skill, you will be pleased while going through this AutoCAD 21 days of challenge.
Additional training resources
There is a lot of great free online AutoCAD courses out there, and the one I would like to start with here is mycadsite.com. The site has been there for almost a decade and offers free courses in a detailed manner. If you visit the site, you will notice how ordered the content is given to the learner.
The training has been decomposed there in 4 levels.
Training LEVEL 1- Getting Started with AutoCAD
 Training LEVEL 2 – Intermediate AutoCAD
Training LEVEL 3 – Introduction to 3-D
Training LEVEL 4 – Advanced Topics
Notice it goes even further and teaches you how to use AutoCAD in 3D.
If you are rather interested in more sophisticated skills, you will be better off following sites like lynn.blogs.com, cad-notes.com, autocadtips1.com. These blogs are handled by AutoDesk AutoCAD certified professional.
If you have any in depth concern about AutoCAD, and will simply want to know what added tools a news version of AutoCAD has compared to his predecessor, you will find related answers on their websites.
Learning AutoCAD from YouTube is also an alternative not to disregard. Video courses are the best CAD learning route anyone can take, and you might just happen to find YouTube the best place to learn AutoCAD online and it is free.
If you are a beginner, try searching AutoCAD tutorials on YouTube. Again, be specific on what you want to learn while searching. Remember by the time you start using the search field in YouTube, you must have made your homework beforehand, You must have figured out words to use and the order in which you wish to learn. Using vague keywords like "AutoCAD training" will just give you vague result. (It is true that you can find a channel in which courses are numbered making it easier for you to follow along, but that is not always the case)
AutoCAD training Online
Here I will just mention one resource, which right now is probably the most popular paid way to learn anything on the internet: udemy.com
The site is a subscription-based service that allows you to learn AutoCAD at your own space. Some videos are made available free to help you preview courses, so you will be able to judge the quality of the style of the course without totally diving in.
One advantage of lynda.com is that, rather than paying for a course, you pay for unlimited access to everything in the catalog. lynda.com delivers high-quality, painstakingly detailed content that will have you focus on the most important: learning AutoCAD.