Before putting the versatility of CATIA against SolidWorks, I think it is important to first note that these CAD giants are produced by Dassault Systemes with the aim of enhancing the level of designs coming out of the mechanical engineering community. Now, focusing on the topic at hand, exploring both software applications is a great way to help engineers and designers make more educated choices when looking to choose a CAD application.
In today's post, comparing and contrasting between CATIA and SolidWorks will be the order of the day and to effectively do this, some criteria will be used to analyze the features and benefits both CAD systems have to offer. The criteria to be used include:
CAD Features—this covers the features, tools and design capabilities each application offers as well as how effective they are.
Usability—The usability feature will focus solely on the industries each CAD application is native to and their capabilities in terms of executing diverse project types and sizes.
Ease of Use—beginners to the CAD community are always focused on how easy it is to learn and make use of a CAD software application. This factor will also be integrated into the comparisons to be made.
Introducing CATIA and SolidWorks
CATIA is billed as a unique solution for product design. This means that the software does more than just create 3D models but adds a real-life experience to its features that allow users to imagine and shape in a connected world.
SolidWorks is a 3D CAD solution and rendering software that comprises of tools focused solely on 3D modeling. This means users should view this application as predominantly design CAD software for engineers.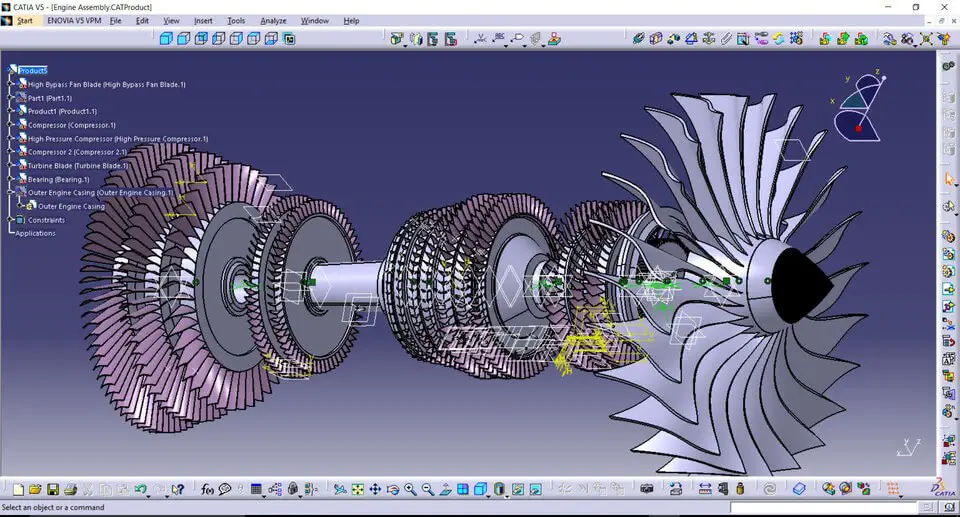 CATIA vs SolidWorks
Using the criteria stipulated above to compare both CAD applications we have:
CAD Features—in terms of design and 3D modeling, both applications share a lot of similarities. SolidWorks comes with separate modules for designing and creating 3D models. In this regard, both CAD tools are equipped to handle; part modeling, assembly modeling, parametric modeling and B-rep surfacing. SolidWorks and CATIA are also equipped to create digital 3D printable models for the additive manufacturing industry.
Usability—in terms of usability, both applications also share many similarities. SolidWorks, as well as CATIA, provides its users with a very intuitive user interface which simplifies certain design tasks. Both software applications were developed predominantly for use in the engineering community for designing mechanical components.
Ease of Use—the advanced nature of CATIA and SolidWorks and their ability to handle complex 3D design task means one has to invest a lot of time to use their interfaces excellently. Therefore in terms of use, both software applications come with a steep learning curve which can be off-putting to first-time users. it is also important to note that a technical understanding of SolidWorks provides you with the knowledge needed to use CATIA and vice versa.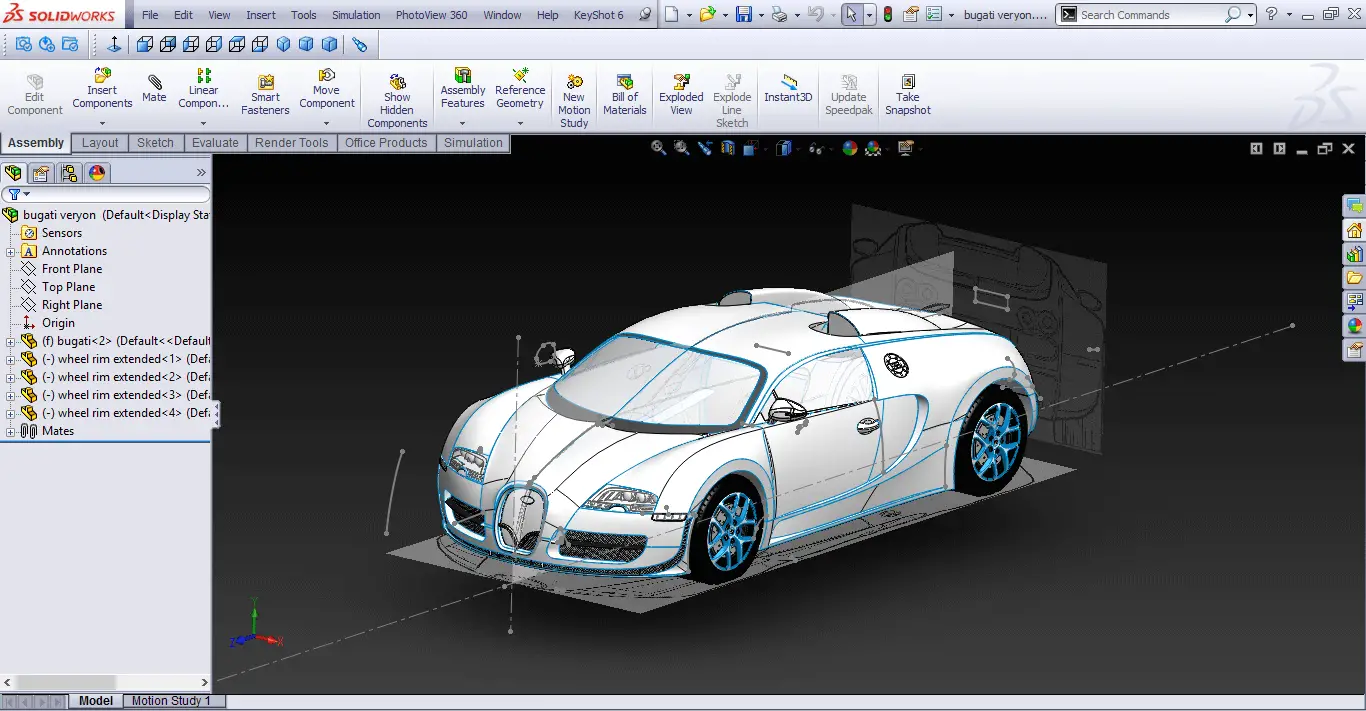 Contrasting CATIA and SolidWorks
To discuss the difference between both platforms, the criteria discussed above will need to be expanded on to cover every important area. Therefore, we will breakdown these three criteria—features, usability and ease of use—into smaller sub-divisions to better cover these differences.
CAD Features
Although both software applications are 3D design software applications, CATIA incorporates more design capabilities than SolidWorks. Some of these features include:
Specialized Modules—CATIA integrates design modules for industries were wiring, metalwork, and composite material play an important role. Therefore, while SolidWorks can be used to create mechanical parts, CATIA can do this as well as handle entire projects covering the design of aircraft and other product design projects. For example, in the field of automobile design, CATIA offers a special application—Class A surfaces—that allow its users to create design through digitized clay models.
Products and Third-party Support—CATIA is truly a large design software application that provides designers with much more support than SolidWorks. The latest versions of CATIA—which include the V5R9 or the V6—come with 129 unique products and multiple third-party products. This number is approximately 4 times the number of products available on SolidWorks.
Sophisticated Shape Modelling—while SolidWorks is quite capable as an industrial design application and provides unique features such as lofts, variable-radius fillets, etc. CATIA integrates these tools as well as others that ensure a more sophisticated approach to design. CATIA offers shape-modeling features far above the capacity of SolidWorks and this includes; its Generative Surface Design and the FreeStyle Shaper. These features allow designers, sweep, revolve, manipulate control points, and create surfaces that the average parametric 3D modeling tool can't accomplish.
Usability
In terms of how both applications are used, differences still abound despite their categorization as 3D CAD tools. Firstly, SolidWorks is more or less a tool for designing machine components while CATIA was developed to create machine components and develop the concepts they run with. The power CATIA wields makes it one of the major design tools used in industrial productions due to its ability to handle projects way above the pay-grade of the average 3D modeling application.
In terms of collaborative effort, SolidWorks provides limited Building Information Modelling capabilities such as cloud storage and file sharing. CATIA, on the other hand, comes with a built-in feature known as workbenches. These workbenches contain all the tools, and directories needed to perform a group assigned tasked with ease. Some standard workbenches on CATIA's ecosystem are; mechanical design, shape design, ergonomic design, and analysis. This helps a group of designers collaborate intuitively on its platform.
Ease of Use
It is common knowledge that the more advanced a tool is, the more complex learning to make use of it will be and this is the case with both CAD applications. SolidWorks comes with a steep learning curve which could take long months to learn. But thankfully, there are a plethora of online tutorials and vibrant communities dedicated to its use thereby simplifying the entire learning process.
CATIA, on the other hand, comes with an even steeper learning curve that will need you to focus all your faculties on to learn to make use of the software application. Sadly, while there are multiple online tutorials available to designers, the materials are by no means as much as SolidWorks'. Although the website offers a community for CATIA users, it is definitely as vibrant as the forums on SolidWorks.
Financial Costs
The costs associated with using both software applications are quite steep. SolidWorks suites cost approximately $4,000 which is definitely on the high side. Recognize this, Dassault Systemes introduced SolidWorks student offers to make its product more available to a younger and less financially stable demographic but for CATIA, this is not the case.
CATIA was built predominantly for industrial use and the average cost for a complete suite of its product is approximately $16,000. This puts CATIA near the top of the exclusivity list for CAD software applications. It is also important to note that there are no student options for CATIA and students may need to master the SolidWorks ecosystem before moving over to CATIAs'.
Final Thoughts
This analysis or overview of both CAD software applications sheds some light on these important facts. CATIA is an advanced CAD application built predominantly for industrial use while SolidWorks was developed as a CAD tool for mechanical design and for the student community. Lastly, both are powerful applications and choosing either one should depend largely on what project an individual intends to use the chosen CAD software application.