A new decade is just around the corner and once again the opportunity of creating a list on the things you intend to accomplish is here. For engineering students and students of architecture, the ability to create 3D models is a skill that will definitely pay off in the long run. Thus, making it a priority to learn the basics of 3D modeling with a view to becoming more experienced as time goes, is a recommended action to take. In fact, you should be adding it to your New Year's resolution list as you read this. Once it has been added, the next is choosing a modeling software to kick start your learning process.
Would You Prefer a Free 3D Modeling Software?
The cost for most traditional or legacy 3D modeling software packages or suites can run into the thousands of dollars which are above the budget of most aspiring 3D modelers. Thankfully, the rise of open-source computer-aided design (CAD) platforms and options for students has created an enabling environment for learning 3D modeling. The top 15 options you should consider checking out include:
Top Free 3D Modeling Software
In the 3D modeling community, Blender is known for its intuitive user interface, powerful modeling tools, and its ease-of-use. More importantly, it is probably the most popular free 3D computer-aided design (CAD) software available today. In universities, colleges, and other higher educational institutions, Blender is known as a free resource for anyone interested in 3D modeling. In developer and animation communities or forums, Blender is also popular and serves as the go-to free modeling software for both beginners and pros.
And why is it on our list?
Blender is an open-source 3D modeling platform that supports the entire 3D modeling and design pipeline. The application comes with all the tools needed for modeling, animations, simulations, rendering, and composition. The application is also a cross-platform CAD software that runs excellently on a host of operating systems. if you choose to use Blender, you can run it on your Linux, Windows, and Mac personal computers without encountering compatibility issues. For developers and enterprises, the open-source nature of Blender provides an opportunity for customizing the application to meet the specific design or template requirements of an organization.
The premier CAD service provider, Autodesk, is known by virtually everyone who has an engineering and architectural background. It is also popularly known as a provider of quality but expensive CAD packages like AutoCAD and Revit that been said, TinkerCAD is free! If you're just learning about TinkerCAD do not be surprised as it was previously known as the Autodesk 123D.
TinkerCAD gives everyone a complete suite of tools for 2D drafting and 3D modeling tasks…but for tinkering. This means the software is an entry-level 3D application. 3D models are generally created by importing models from libraries to create what you choose. This means it is a limited design or modeling tool but an excellent CAD application for teaching 3D modeling to entry-level individuals. TinkerCAD is also compatible with a variety of operating systems because it is a web-based 3D modeling tool that requires no executable files to be downloaded before it runs. TinkerCAD also gives you the option of saving CAD files in different formats. You can then choose to download the 3D model file you created and share or use it however you choose.
Google's entry into the 3D modeling and animation business started with its introduction of SketchUp for educational and individual use. It is important to know that SketchUp is really, really easy to use and it eases you into the world of 3D modeling one step at a time. Thus, what started as an experiment in the basement of two Colorado students ended up becoming one of the teaching tools of choice for many educators.
SketchUp is also a serious tool for modeling complex concepts for professional use. Despite the perception that it is an educational tool, thousands of professionals have used SketchUp to the benefits of their business. Like most Google services, SketchUp is a web-based application which means it can be run on any operating system. Also, it's initial versions are completely free which is the most important criterion for this list.
The success of SketchUp has also led to Google trying to monetize its CAD applications by limiting advanced 3D modeling features in the free version. To tap the complete potential of SketchUp, you may need to jump onto one of its pricing plans. These prices are quite affordable and may be worth the cost depending on your organization's 3D modeling requirements.
Open SCAD is a technician or developer's tool for 3D modeling. Thus, prospective users are expected to have a firm grasp of the fundamentals of programming and scripting. Open SCAD allows you to build 3D models through the use of text-based commands, coordinates, and algorithms unlike the more intuitive polygons used in mainstream CAD applications. The created script is then run to produce a 3D model. You can also choose to save the file in whatever format you choose.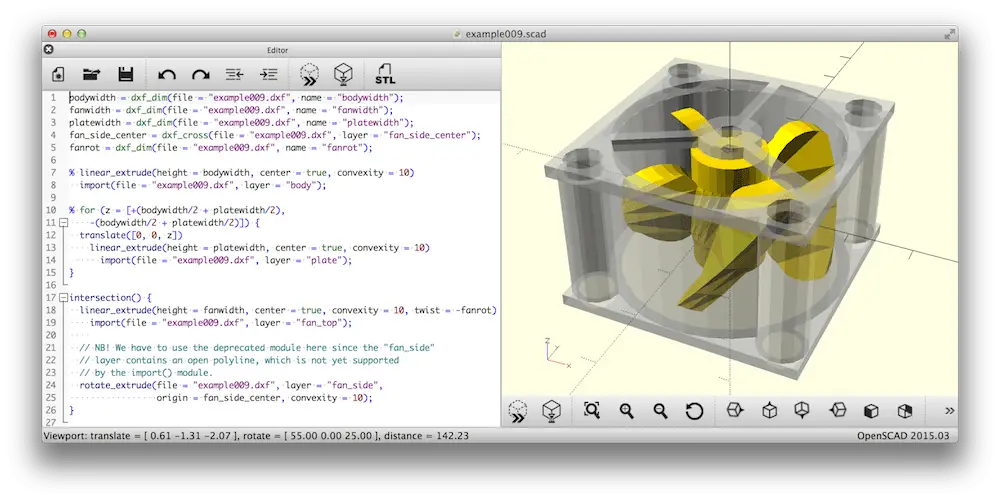 Open SCAD is totally free and an open-source application that allows savvy developers to really tinker around with the application's source codes. It is also compatible with the major operating systems such as Linux, Windows, and Mac OS. This technical CAD application can be used by educators to teach the fundamentals of 3D modeling and the mathematics behind it. Developers can also make use of Open SCAD to model advanced 3D models. It is worth stating that Open SCAD comes with dedicated documentation and library to ease its users into the process of using the interface.
Although most 3D modeling tools are built to handle animation and simulation tasks, 3D Crafter was specifically designed for animating your ideas. This is why this free 3D modeling resource is generally used for advanced animation activities. 3D Crafter comes with a comprehensive library that allows you to drag and drop 3D models from its library into its modeling window. You can also manipulate models however you choose when modeling with the Crafter.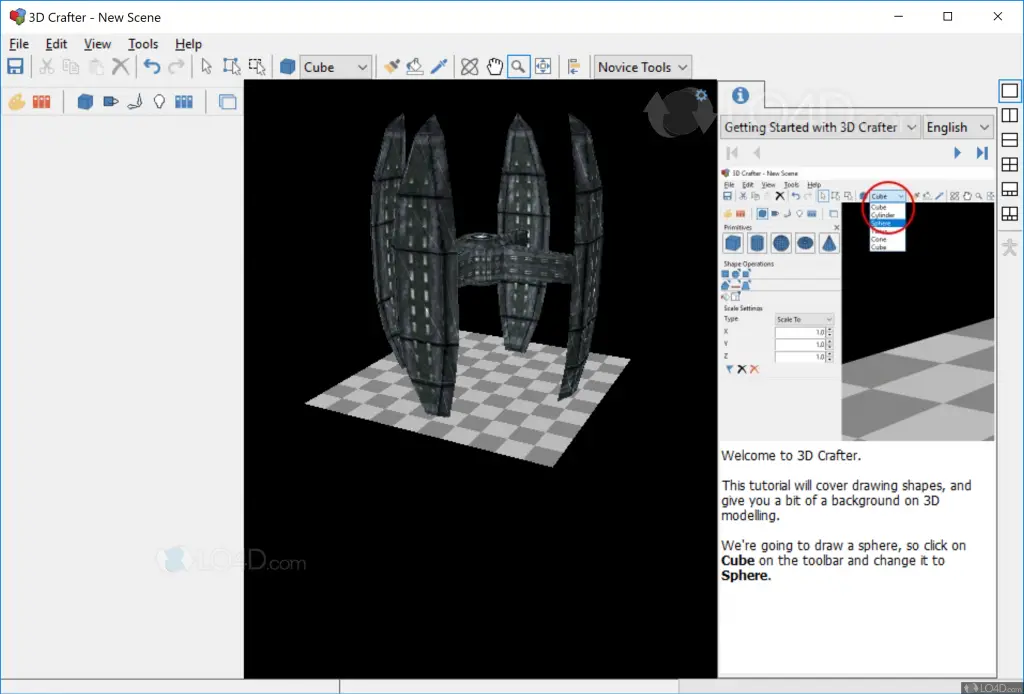 3D Crafter was previously known as 3D Canvas and it allows you to develop 3D animations in a frame by frame basis or however you choose. The real-time display feature of 3D Crafter also helps you better analyze your project and make changes to meet the story book's requirements. The application is completely free but it is only compatible for use within the Windows operating system's universe.
You can also choose to create AVI video files from certain projects, as well as, import and export 3D model files in many CAD file formats you choose. This makes the 3D Crafter a powerful tool for animators looking for free software for plying their trade.
There are also free CAD applications with specialized design features or capabilities such and the VUE Pioneer is one. This resource is developed for the design of terrains and the rendering of excellent terrain 3D models for animation tasks. This means if you are an architect or an animation pro interested in developing terrains for your project, you can turn to the excellent VUE Pioneer to do this.
VUE Pioneer is compatible for use with different types of operating systems such as Windows, Linux, and Mac. For Mac users who are especially limited to paid 3D modeling software options, VUE Pioneer offers something different. In terms of ease of use, you can make use of traditional 3D modeling tools to design landscapes or take advantage of the extensive library VUE Pioneer has to offer. The end results are hyper-realistic landscapes and terrains in varying atmospheres. This easy to use CAD tool is something every individual interested in animation should have in the back pocket as it is actually a useful tool.
3D Slash is an intuitive, easy to use 3D modeling tool that can be used to accomplish great things. It is also a tool for educators interested in teaching students the basics of 3D modeling. Like most education 3D modeling tools, it also integrates a drag and drop approach to 3D modeling which adds to its ease of use.
3D Slash also provides interesting perspectives for DIY enthusiasts to explore. For one, you can actually load the CAD tool on Raspberry Pi and this opens up a lot of possibilities. To use the basic features of 3D Slash comes with no costs but for more premium features, having a premium account is expected. Thus, educators or individuals will be expected to pay a subscription fee to use 3D Slash and share it with others.
It's already in the name which leaves us with the task of explaining its features and capabilities to you. FreeCAD is an open-source parametric 3D modeling tool that can be used for modeling new concepts and modifying already existing ones which means it can support diverse CAD file formats and produce the same.
With FreeCAD, you get the total 2D drafting and 3D modeling package for free. This means that you can build 3D models the old way by drafting 2D geometries and extruding them to produce 3D models. FreeCAD is a cross-platform 3D modeling with extensive modeling features and can be used with the Windows operating system, Linux, and Mac.
The surprising thing about FreeCAD is that it is also more advanced than the average 3D modeling software. You can actually use it as a building information management (BIM) platform, and for advanced tasks such as finite element analysis and CFD tasks. A robotic module also allows you to design and study the degrees of freedom within the robot through simulations. This makes FreeCAD one of the most advanced options on this list in terms of its abilities and features.
A list of free 3D modeling software will not be complete without mentioning LibreCAD and the excellent work its community of developers has been doing for a couple of years. Libre CAD is a CAD application built for Windows, Linux, and Mac operating systems. You can make use of LibreCAD for 3D drafting and 3D modeling your concepts from scratch. Also, it is equipped with an extensive library where you can choose models to extend or kick start animation projects.
LibreCAD is also a haven for developers looking to explore the potential of open-source 3D modeling software. Thus, DIY enthusiasts can build LibreCAD from scratch and integrate add-ons and build spectacular features into LibreCAD which extends its modeling capacities. LibreCAD started as a CAM project and still retains some of these features that allow users to design 3D models for manufacturing. This makes it a free 3D modeling tool for 3D printing enthusiasts looking to freely explore CAM.
The design of 3D characters is definitely the building block of every animation and with MakeHuman, the modeling process has been simplified. You can make use of this tool to create photorealistic humanoids for animations and gaming. It integrates 3D morphing technology for modeling characters of every shape, size, and age.
MakeHuman is open-source and it is built by a community of developers with the common goal of simplifying character modeling. The CAD software can be used on Windows, Mac, and Linux operating systems which makes it a tool for everyone. The CAD software also comes with a vibrant library which is constantly being updated by different developers within the MakeHuman community.
Programmers can also make use of MakeHuman as a scripting tool for modeling 3D characters. This means if you're good with programming, you can take advantage of its scripting technology to handle the 3D modeling task. MakeHuman is also completely free with no hidden charges in-between its use.
Once again, another offshoot of the Autodesk family makes the news. Meshmixer is a free open-source designed for making awesome stuff according to Autodesk. It allows you to work with triangular meshes for your modeling projects and it is also a cleanup tool for 3D printing and 3D scanning.
Meshmixer comes with an extensive list of features such as drag and drop mesh mixing which simplifies complex mesh modeling tasks and 3D sculpting and surface stamping. It also integrates manufacturing features for 3D printing enthusiasts. This includes cleaning up rough 3D printing models to ensure they can be printed without defects or other issues. Meshmixer can also be used to orientate the print bed of 3D printers and align surfaces to ensure 3D prints come out without defects such as warping or distortions.
For now, Meshmixer is completely free but with Autodesk at the helm, it may only be a matter of time before a tiered payment option is integrated into the software as it becomes popular. You can make use of this 3D modeling tool on your Windows, Mac, and Linux operating systems.
Here, you have a web-based 3D modeling application built specifically for modeling human characters. It takes the approach of sculpting clay when 3D modeling which gives the application its name. Users can push, pinch, and modify virtual clay according to their specific needs. It is also a great tool for learning digital sculpting before jumping onto more complex 3D modeling interfaces for your sculpting activities.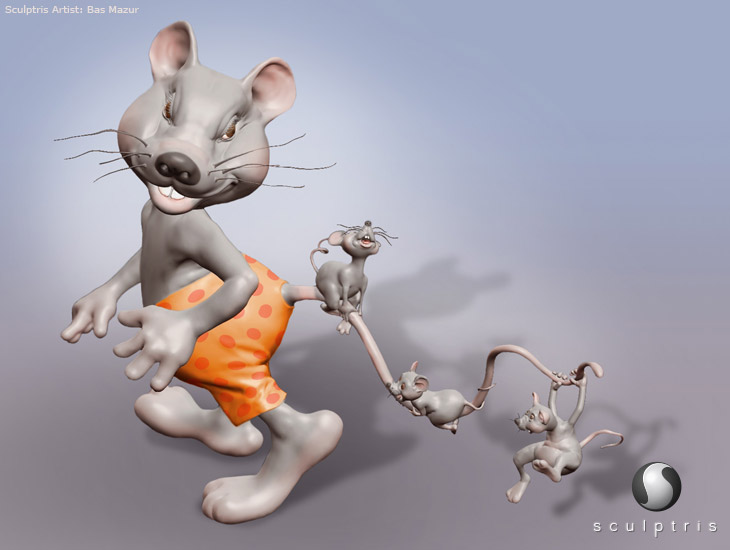 Sculptris is totally free and is compatible with a variety of operating systems due to it being for more virtual modeling CAD platform. The software also comes with extensive surface texturing and coloring features which makes it an excellent free tool to use. You can also use Sculptris to develop 3D printable models for your cosplay and miniature project designs. Sculptris is compatible with Windows, Linux, and Mac operating systems.
Daz3D is actually a mind-blowing 3D modeling and animation software for realistic rendering and simulation tasks. It actually allows you to build complete environments just like Maya. The 3D modeling software is capable of building custom scenes and environments, as well as, importing 3D models into its interface to simplify complex animation tasks.
Although modeling and animating with Daz3D is completely free, you may need to make payments to access more extensive features and resources. If in need of more rendering power to speed up the process, you may have to pay for more computing resources. Daz3D is a windows-based 3D modeling software for now and plans are being made to extend its use to other operating systems.
Summary
3D modeling can only be done with the tools available to you and with all the expensive CAD packages out there, choosing free open-source options is an okay decision to make. Here, thirteen excellent options for learning 3D modeling, teaching, and actually modeling characters have been outlined here. You can choose to take advantage of these options by following the download links provided with each option.