If you have an excel file containing some data you want to include in your CAD file in AutoCAD and are struggling to do so, worry no more! Here is how to insert Excel in AutoCAD or insert data from your Excel sheet into your AutoCAD drawing.
Insert data from Excel to AutoCAD
If you want to install a table from a given excel sheet to an AutoCAD file, here is how to do it:
have the excel file ready
Type TABLE and hit ENTER on your keyboard
Tick From a data link from the Insert options section
Launch the Data Link manager dialog window
Create a new Excel Data Link
Enter Data Link Name and Press the OK button
Browse to find your Excel file and Hit OK three times
Select the inserting point
Let's get into it in a more visual way.
Step 1
Get your Excel file saved on your computer.
Step 2
Instead of typing TABLE, you can simply click on the Annotate tab and click on Table, although this is long compared to the latter.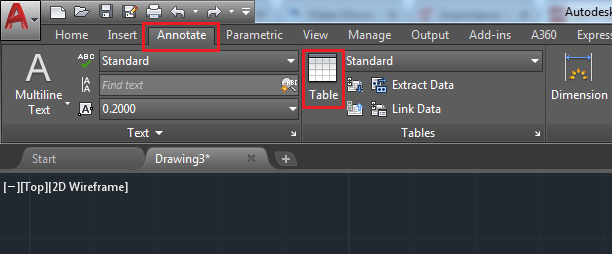 Step 3
From the Insert options section, Tick From a data Link and Click on the button shown on the image below to upload and link your Excel table.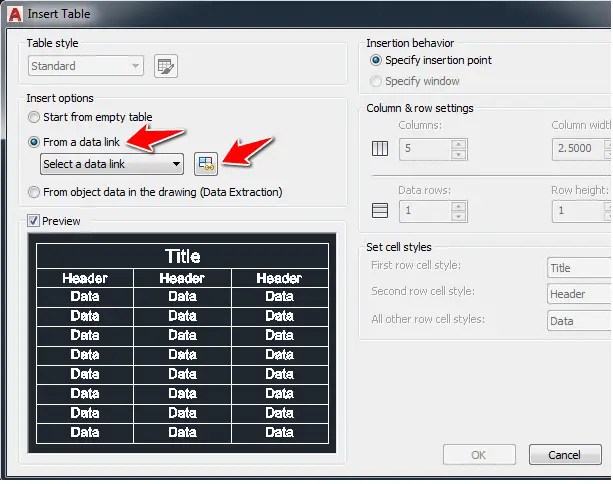 Step 4
Click on Create a new Excel Data Link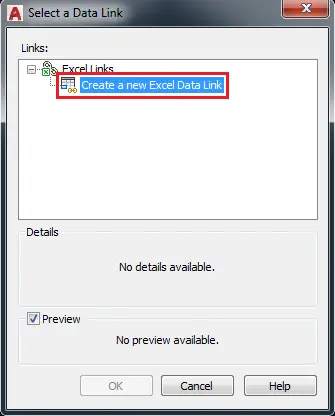 Step 5
Enter a name and Click on OK

Step 6
Browse your computer to link your Excel file and select the Path type.
"Specifying the No Path option is useful when moving a set of drawings to a different folder hierarchy or to an unknown folder hierarchy."
If you select Full path, it simply means your Excel file location will never change as the Excel file will be linked to the AutoCAD file. If the Move the Excel file, AutoCAD won't be able to find the file anymore.
If you select Relative path, You will need the Excel file to be in the same folder with the AutoCAD file, so if the folder moves to a new location, as long as it contains both files, your Excel file will still be linked to your AutoCAD file. You can even send the folder to someone else, and the linked Excel file will still be valid when included in the folder.
Full path is the recommended option.
Step 7
You can decide what Excel sheet to load, or part of a sheet. When it is done, click on OK three times and indicate the inserting point to insert the table in your Drawing.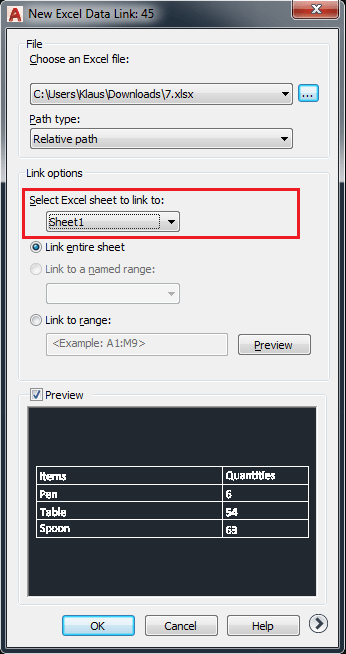 And there you have it!
At every opening, the Table will update its values from the excel file. So every change made on the Excel file will reflect on the table in AutoCAD.
If you want to update the table manually, double-click on the table, and click on Download from Source.

The content of the table is locked by default, but you can unlock it using the Cell Locking option.
Hope this helped!
Tricks