Phone stands are slowly becoming a norm in office circles due to the fact that they are a great way to keep yourself from losing your phone when busy as well as ensure your desk stays uncluttered throughout your working hours. Therefore, if you are a 3d printing enthusiast, here are some creative phone stands you should consider printing for yourself or someone close to you in need of one.
3D printed phone stands
The Desktop Organiser and Phone Dock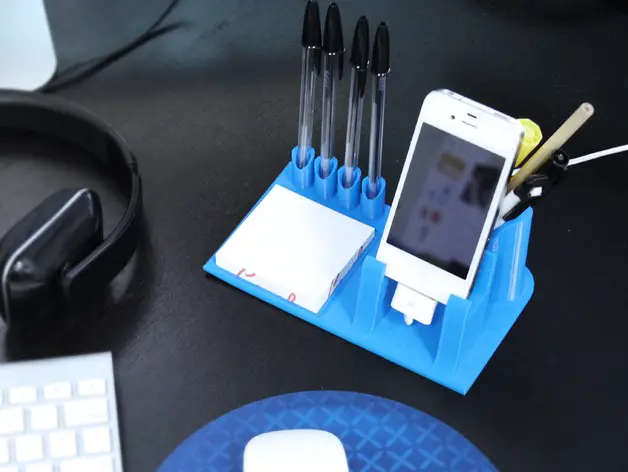 This 3D printed desktop organiser is a beautiful piece that provides a measure of control to anyone with too much items on their workspace. The organiser comes with multiple storage space such as; a phone dock, pen stands, a sticky note surface and a carrier for USB sticks and other similar devices. Get the model.
Minion Phone Holder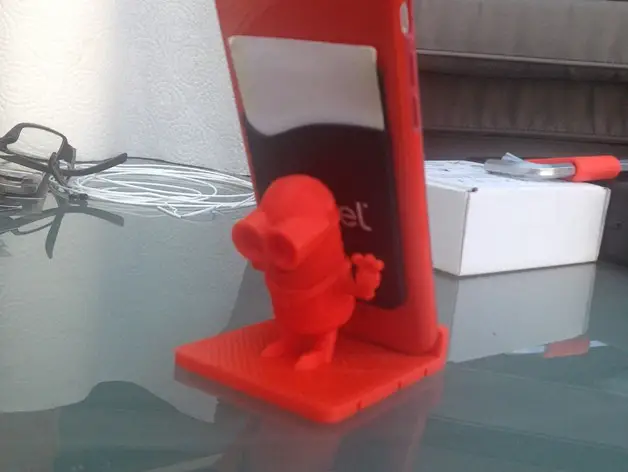 Are you a fan of the 'Despicable Me' franchise and Mr Gru's minions? If yes, then this minion phone holder with one of the ever helpful minion characters providing the necessary support for your phone will definitely light up your day. Download the model.
Phone Holder Stand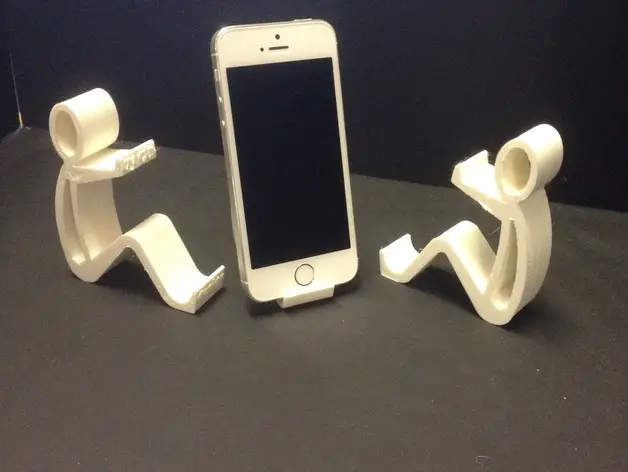 The phone holder is a simplistic yet stable holder which would definitely not occupy too much space on your work desk. This holder was crafted to also provide you with enough access if you would be interested in using your phone will it reclines on the holder. Download the model.
Phone Holder Lid for Repair Kit Canister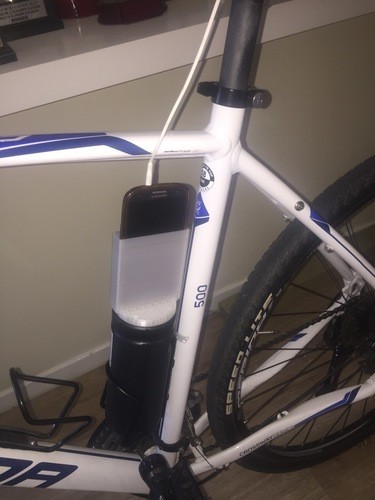 For bikers who love to listen to music on-the-go, this phone holder is quite unique due to its ability to protect your phone. The phone holder is built to attach to you repair kit canister and it does this with the aid of 4 screw holes that ensure your phone remains safe throughout rigorous biking exercises. Get the model.
Yklein Key Holder for Phones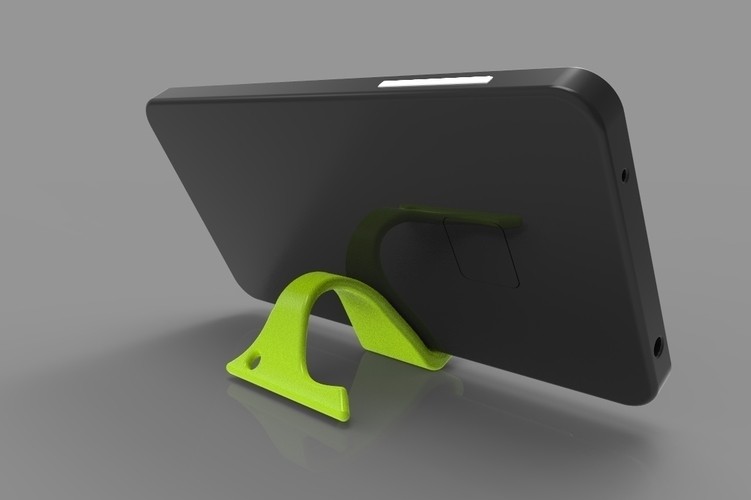 The Yklein holder is a simple and minimalistic piece built to serve dual purposes. At one end of the holder, you have a hole which was provided as space for your keys while at its other end is the phone holder. It also occupies very little space which makes it suitable for small workspaces. Download the model.
Phone Holder for Dentists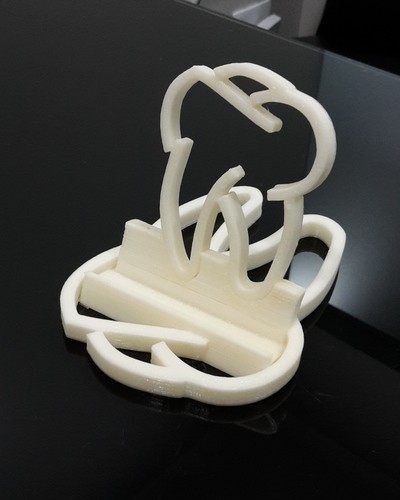 Dentists who believe in 'walking the talk' will definitely appreciate this aesthetically pleasing phone holder as it represents the profession in unspeakable terms. This holder is a beautifully 3d printed piece done in the shape of a human tooth which serves as a stable balance for your phone. Visit the model's page.
Keichan Smartphone Stand Cat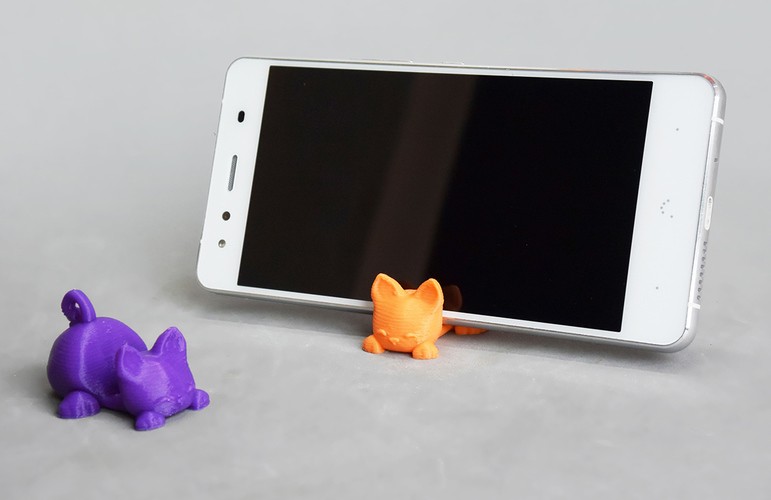 This is another aesthetically pleasing phone holder that will help the user maximized desk space due to its size. The Keichan is designed in the shape of a small cat holding up your phone for the world to see. Download the model.
Bat Smarthphone Stand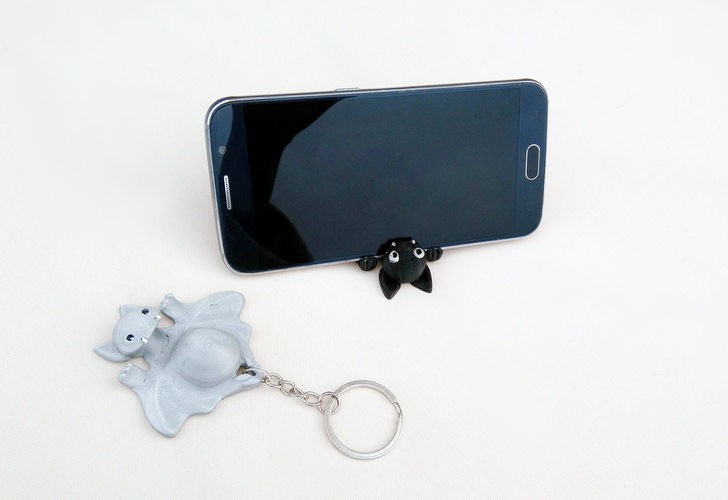 Like the cat stand, the bat smartphone stand is a beautiful piece which serves dual purposes. It is made in form of a Bat lying on its back while carrying your phone on its mid-section. It also comes designed with a key holder which is its second purpose. It is small and occupies little space. Download the model.
Sticky Notes Phone Stand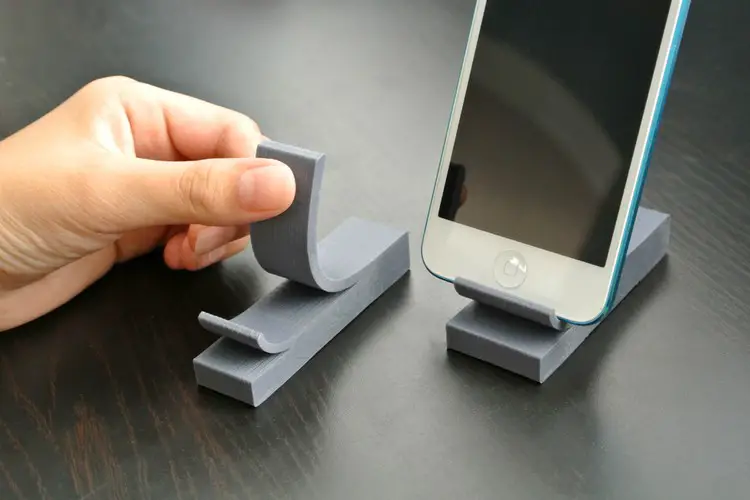 Interested in a phone stand designed in the form of a sticky note then this is for you. The sticky notes stand is actually a minimalistic phone stand designed like an open sticky note pad for your phone. Get the model.
Phone and Wireless Charger Stand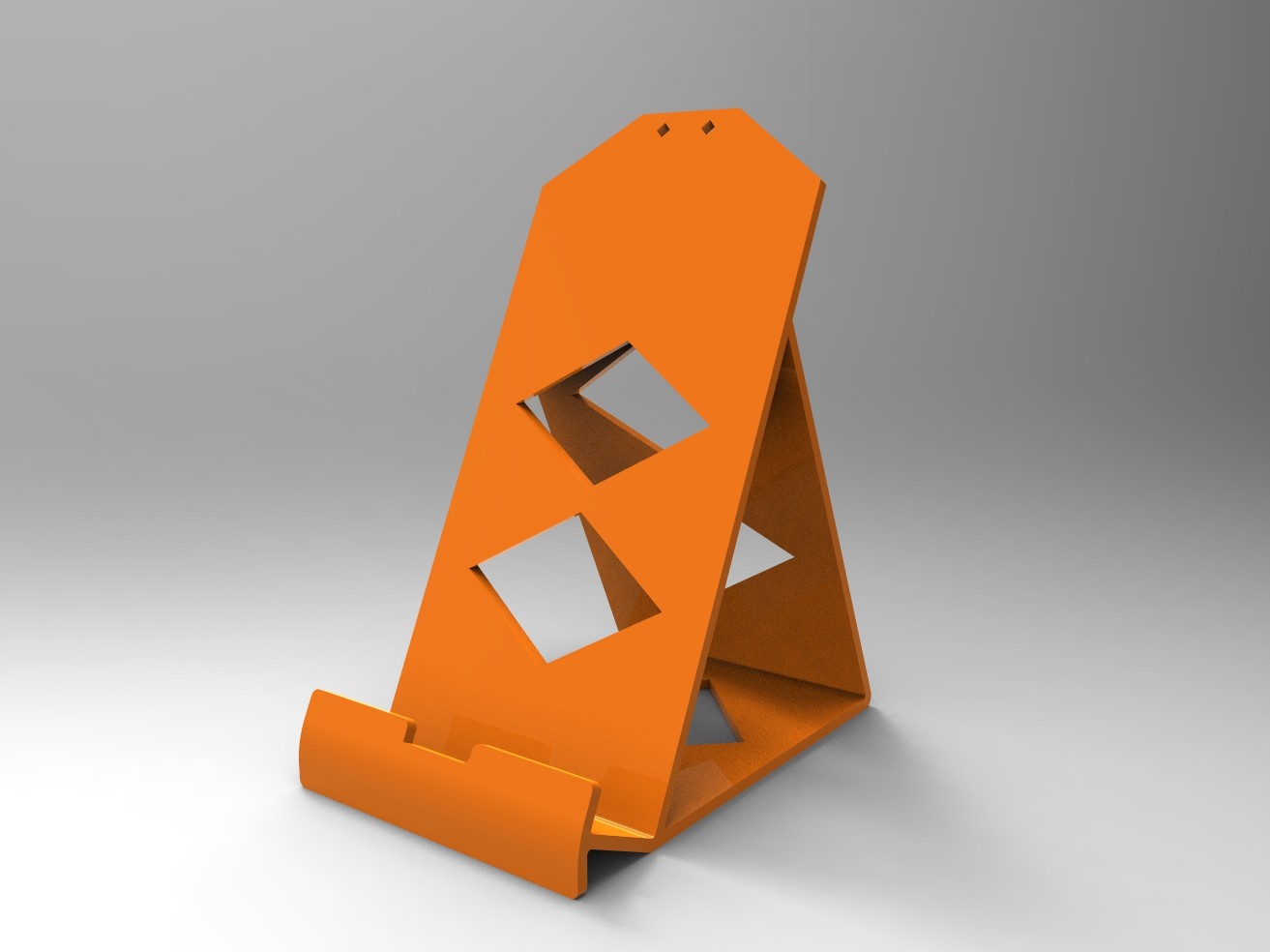 The phone and wireless charger stand is a very stable phone stand that supports your phone while also making space for a wireless charger to work simultaneously on charging your phone while it rests. It is quite large and will definitely occupy some space. Get the model here.
Smartphone and Tablet Stand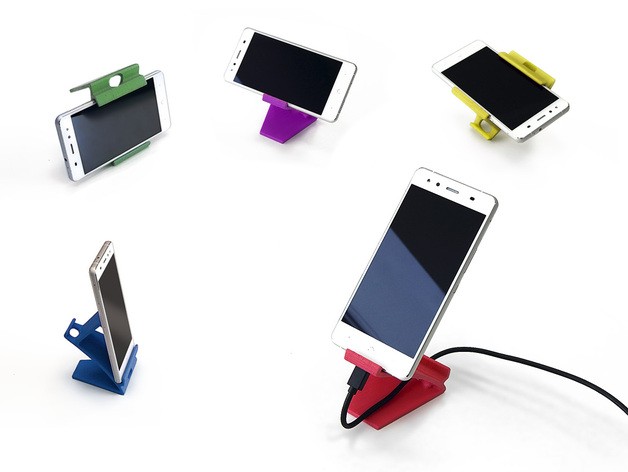 Here is another unique stand that serves multiple purposes and alternates as both a smartphone and a tablet stand. It is built in such a way that it provides the user with a base which can be adjusted to aid you when using either a phone or a tablet. Download the model.
Octopus Stand Version Three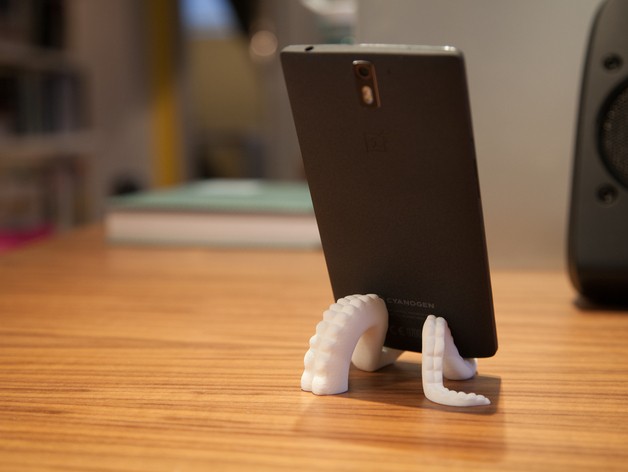 As the name suggests, the octopus stand is a phone stand designed with an octopus in mind. It consists of beautiful octopus tails and a supporting base that serves as the carrier for your phone. The octopus stand is unique and quite minute therefore making it a suitable phone stand for desk tops with limited space. Download the model.
Robust Adjustable Tilt Stand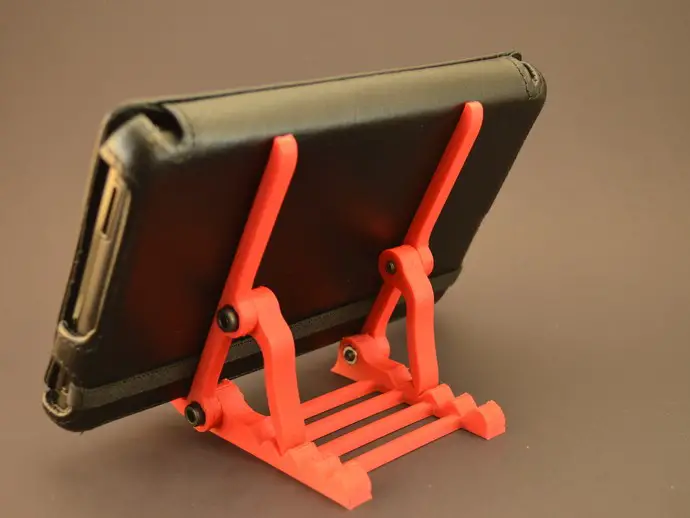 Here is a good stand for those who do a lot of work or reading on their tablets or kindle devices. This stand comes with an adjustable support base that can be put in different positions depending on the position you find comfortable for doing your work. Despite its movable parts, it is important to note that if 3d printed well you will be blessed with a really stable adjustable holder for your devices. Download this model.
Clip Stand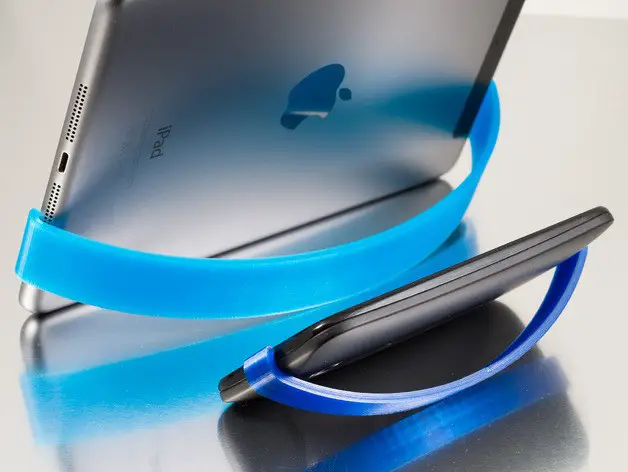 The clip stand is an ingenious piece of art which you can use for holding your phones, tablets and e-readers. It is designed as a semi-circular piece with the base of the arc providing the needed stability. Get this model.
Phone Charger Helper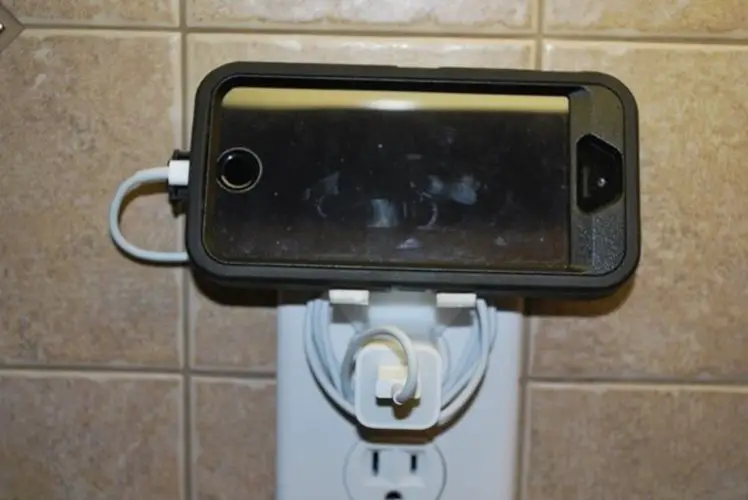 This is a revolutionary accessory that provides support for your phone during its charging process regardless of where the socket is located. You can simply plug in the entire helper and hang your phone on its support base while charging. Get the STL file.
iPhone 6/6S/7 Camera Mount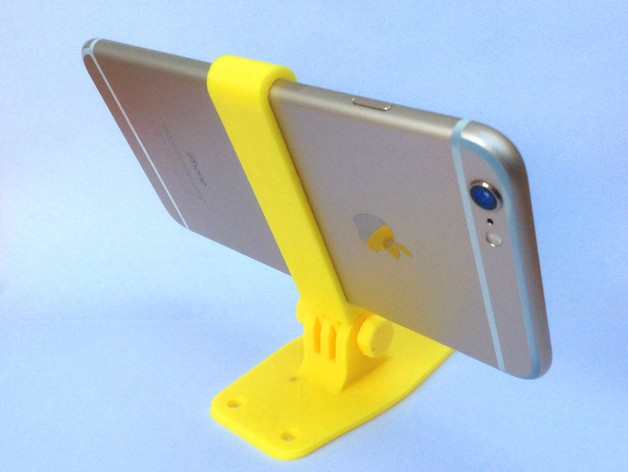 This holder was built for those who make frequent use of their cameras. It is a holder that gives enough space for the camera lens to function while it is been held down. This means you can take group photos and videos without needing someone behind the camera. Get the STL file.
The 3D Scanner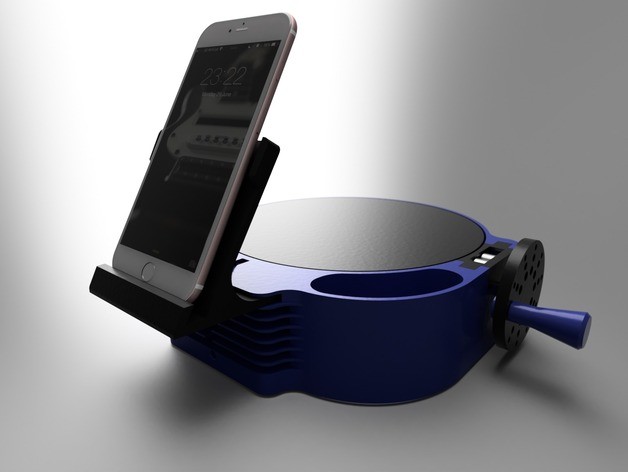 Here is an amazing innovative piece of work, the iphone powered 3D scanner. Here you have an iPhone stand mounted on a 3D scanner. The iPhone takes images of the item you intend to scan while the scanner rotates and captures all the parts you intend to scan out. Download the STL file.
So here we come to the end of the 17 creative phone holders anyone with a 3D printer can print out for his or her personal use or as a gift item for his or her loved ones. Lastly, this is us wishing you happy 3D printing.
You might also like these