In our previous blog posts on ideas you should consider 3D printing, an emphasis has been placed on items dedicated to working in an office or private workspace. This has given us such gems as the top 10 pen holders you can consider printing to the top 3D printed gifts you can make for loved ones. But today's post will focus on 3D printing items for domestic spaces and the decorative item to be touched on are vases.
It is also important to note that these vases will be linked to directions containing the digital models and illustrations needed to create these vases. So fill free to take advantage of them when printing your own 3D printed vase on the list in the following paragraphs.
The List
3D printed vases STL files
Beauty is in the eye of the beholder but in this situation, I believe just about everyone will find this 3D printed piece a beauty to behold. The spiral vase is an aesthetic piece 3D printed from plastic feed. They come with a spiral body frame/structure—as the name suggests—which tapers into a lovely funneled-entrance serving as its mouth. The vase also comes with a stable base and you can choose the color you believe brings out its beautiful structure according to your peculiarities. Its slight structure makes it a home decor item which can be given the duties of a flower pot.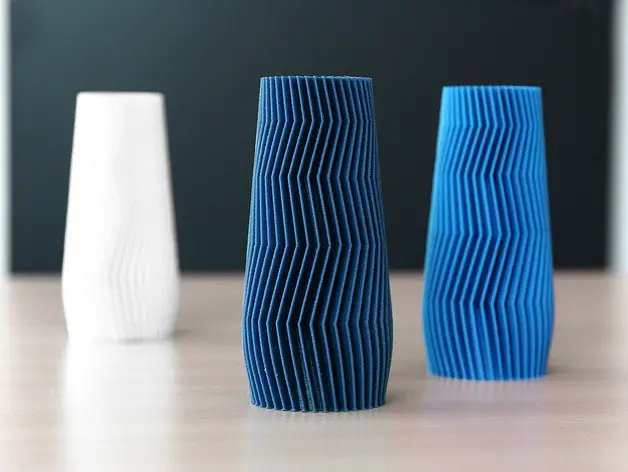 One of the most important features of any vase is the support base it has for carrying a load and the Vase definitely boasts of ones. A first look at one gives you the impression of a solid vase with integrated mazes on its external body. And this is obviously due to its wide base and the zigzagging mazes that liters its entire body. Although this particular item was printed using a DeeGreen 3D printer, just about any 3D printer could do justice to its design. The simple vase should be viewed as a nice simplistic piece of decoration which can be used to brighten up a dour-looking room.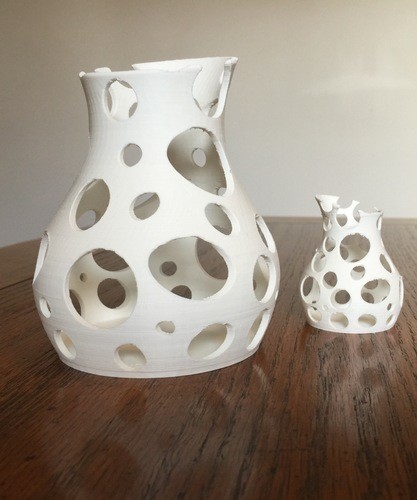 Here we have a vase every interior decorator and lover of ancient pottery will love. The coral vase is truly aesthetically stunning when one considers the way in which it is designed. The protruding base, the spherical meshes and the light artificial cracks which can be seen at all ends of the vase casts it as a beautiful medieval piece. 3D printing enthusiasts can also create this beautiful piece using any color you choose and it will still do justice to the entire piece. The coral vase is obviously not a flowerpot but would serve as a complimentary design piece in any home and you can get directions on printing these items from the attached list.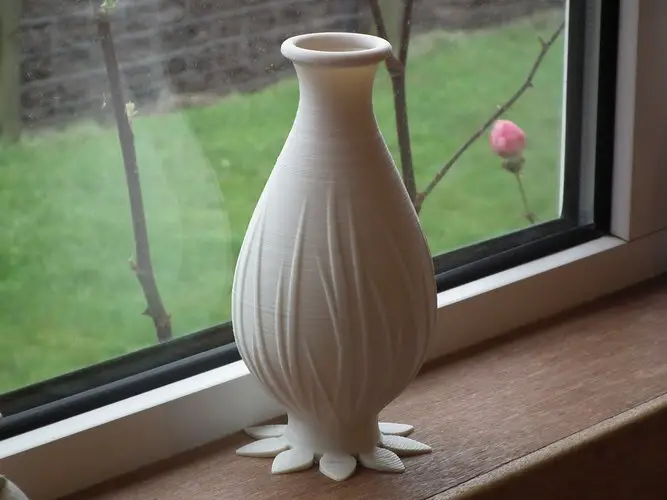 An aesthetically pleasing vase equipped with a flowery support base basically signifies one thing; a flowerpot. The Vase2 is definitely eye-catching due to the symmetry of its structure and the nice finishing touch of using floral patterns to signify its base. The body of the vase2 also consists of simple floral patterns through its body to signify what should be put into it. And with no holes, it will definitely hold the water needed for it to grow. This piece can be put to use as an indoor flower vase or given out as a gift item due to its visible beauty which will definitely appeal to everyone.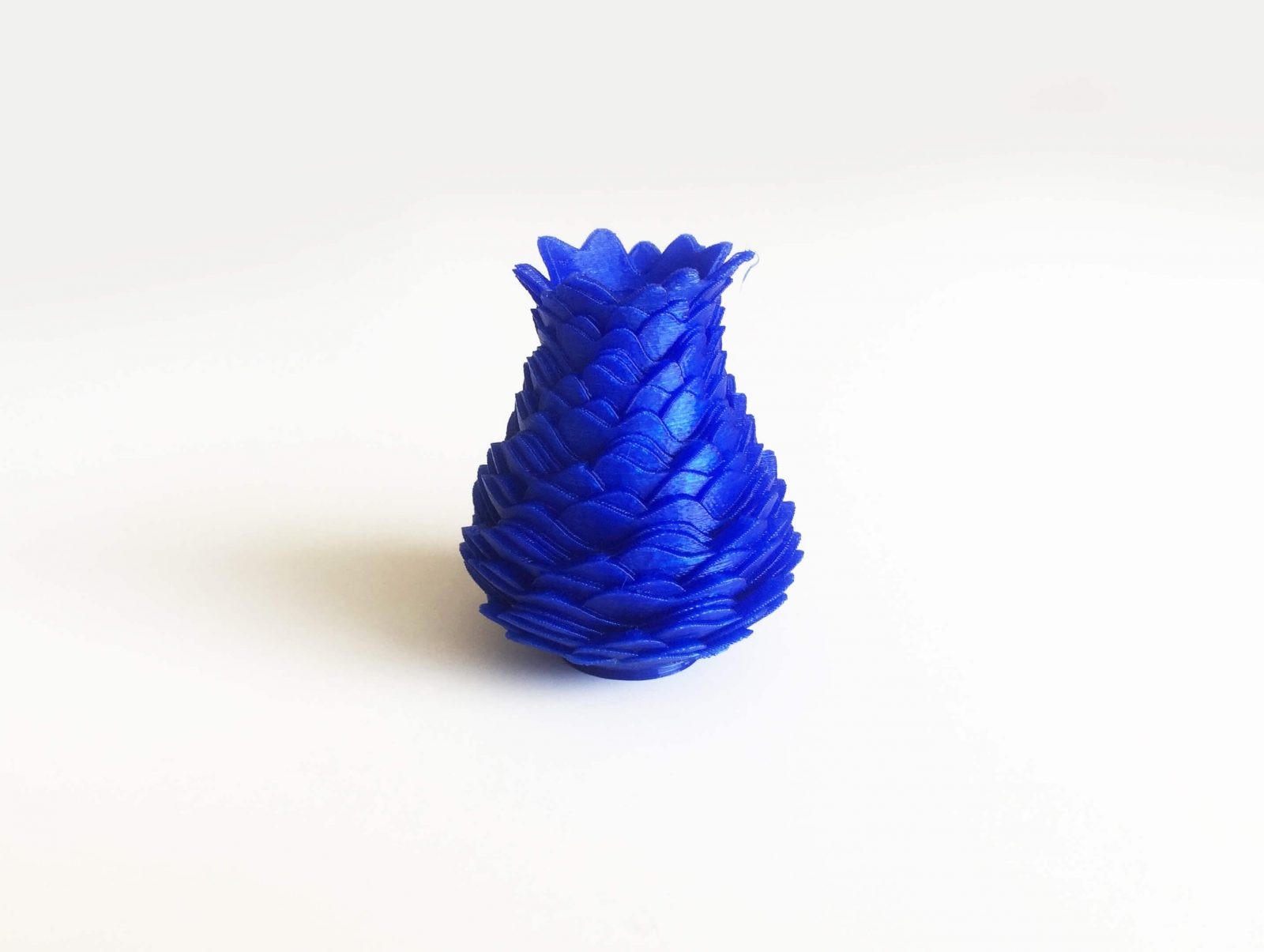 In my opinion, the leaf vase should be called the pineapple due to its leafy and spiked surface that closely looks like a pineapple. It is actually a small vase designed to serve as a flower holder for either a single flower stock or a small bunch. The leaf vase is a design that would definitely attract the attention of naturalists interested in home décor items that represent nature. Interested hobbyists can also play with coloring when 3D printing this idea in order to make it pop or more to your liking. The design can easily be printed using the average domestic 3D printer and plastic filaments.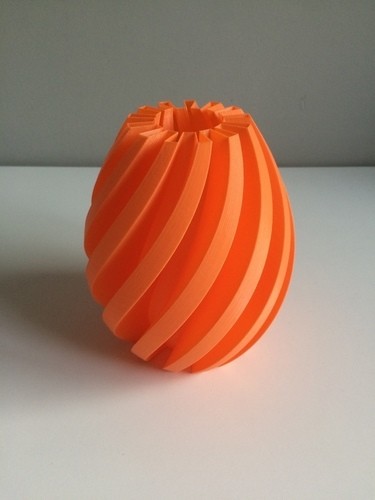 The flexi vase is a simplistic vase designed for both domestic and office use due to the little space it takes. Structurally, the flexi vase closely mirrors the bottom half of a pine cone. It comes with a cylindrical base which spirals out into a rounded surface bearing extruded stripes. The size of the Vase makes it something you can also 3D print and gift out to friends and family during holidays. The Flexi vase is made out of plastic—not flexi glass—which means you can also employ your normal 3D printing processes and materials in creating the flexi vase. The directions for 3D printing this idea can also be found and downloaded from the attached link.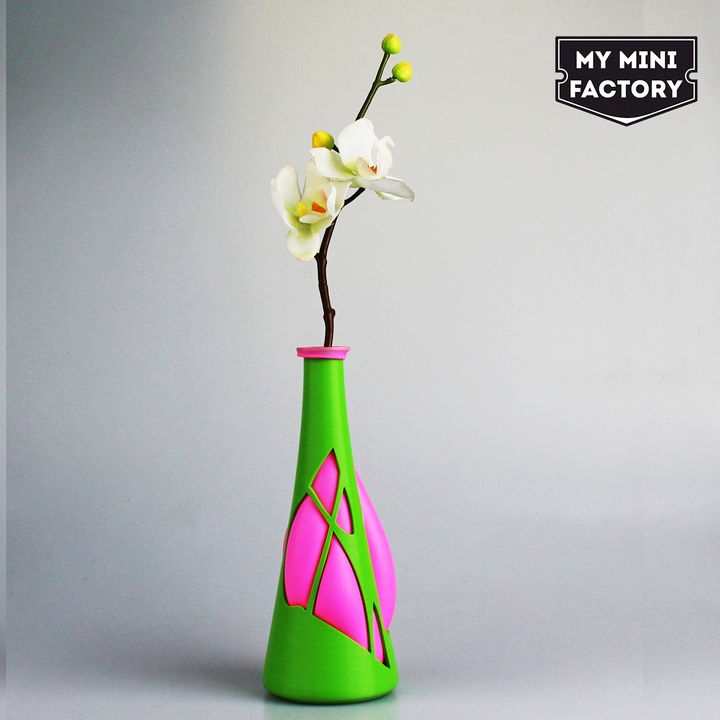 The Erlenmeyer flask is a nice aesthetically pleasing vase anyone will find captivating to 3D print on his or her own. This is due to the fact that it involves bringing its intricate digital model to life using your 3D printer. Therefore, working on the Erlenmeyer flask will definitely increase your skill sets in 3D printing. Structurally, the flask is designed to look like a cone with a spherical membrane popping out of its sides. The cylindrical base also provides enough balance to enable it to support multiple flowers. In terms of coloring, you can integrate the use of different color scheme to bring the Erlenmeyer flask to live as you choose. You can also find instructions for developing the idea by following the attached link.
Here we come to the end of this article and we believe you must have found something beautiful enough to consider 3D printing at your own time. The digital 3D models for these ideas can also be accessed by simply visiting the links attached to each vase on the list.
You might also like these